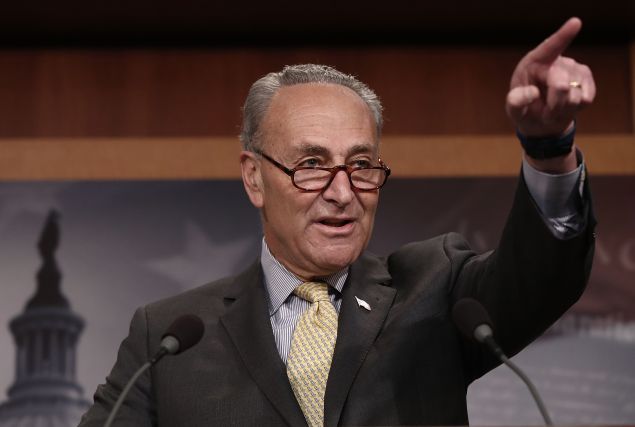 Senate Minority Leader Charles Schumer urged Republicans to "turn a deaf ear" on what he believes to be President Donald Trump's politicizing of the effort to reform the country's healthcare system after the Senate rejected the Republican "skinny repeal" legislation to replace former President Barack Obama's Affordable Care Act.
Last night, Sens. Lisa Murkowski, Susan Collins and John McCain—who voted for a motion calling for the bill to move forward on Tuesday after brain tumor surgery—joined the 48 Democrats to vote against the legislation. The legislation gets rid of penalties that come with individual and employer mandates and extends the ban on the excise tax on manufacturers and importers of some medical devices through 2020.
Trump took to Twitter to accuse the Democrats and three Republicans of letting the country "down" and suggested that the Republicans have to "immediately go to a 51 vote majority" if they want to "pass great future legislation in the Senate."
Schumer blasted Trump's tweets last night and this morning, arguing that they are "not presidential."
"His tweet last night said, 'We're gonna let the system collapse. We're gonna hurt innocent people because we're angry we lost politically,'" he said. "That is small. That is not what a president does, and I hope our Senate colleagues, our House colleagues on his side of the aisle will turn a deaf ear on that."
He also said that Trump took away from the bipartisanship that he felt McCain and other senators felt last night by saying that they should "change the rules and go to 51."
"Let him understand that the only way we get major things done in America, in the Congress and particularly in the Senate is by bipartisan and I hope he changes but his analysis is based on fluff because he had the 51 votes already with reconciliation and he couldn't get it done and then he says, 'Let's go down to 51,'" Schumer continued. "I just don't get it."
Schumer said that he doesn't think it's "fair" to say that people will blame Senate Majority Leader Mitch McConnell because there were "deep, deep fault lines" given that the legislation Trump and the Republican Party proposed was the opposite on what they campaigned on.
"They didn't campaign on what they proposed—tax cuts to the rich, slashing Medicaid—but what happened was the hard right, Koch Brother wing of the Republican Party has too much influence and for years, they've been on the outside attacking," he added. "They're pretty good at attacking."
In a report published last night, the Congressional Budget Office indicated that the bill—the Healthcare Freedom Act of 2017—would have led to an additional 15 million people having no insurance in 2018. By 2026, there would also be another 16 million uninsured individuals in 2026.
Schumer said that at the very beginning, they should stabilize the system. He suggested making cost-sharing permanent, which he said helps keep people's premiums down "and keeps the counties that are covered up."
And he reiterated that the way forward is to improve rather than completely dismantle Obamacare—and that a number of typically "more quiet and more conservative" Republicans were receptive to the idea on the floor last night.
"Nobody has said Obamacare is perfect," he said. "Nobody has said our healthcare system doesn't need fixing. The problem was when they tried to just pull the rug out from under the existing healthcare system. So change it, improve it but don't just take a knife and try to destroy it and put nothing in its place."
He called last night's vote an "amazing moment" and said that while a lot of individuals deserve credit for it, Collins, Murkowski and McCain are "at the top of the list" because they "showed amazing courage to resist the pressure and do what's good for the country."
And he said he hopes that what McCain did "will be regarded in history as a turning point" in which the Senate "turned back from its partisanship and started working together."
"We yearn to work together and there are various forces—they call them centrifugal forces—that get in the way," Schumer said. "But I think sometimes you need a little spark that inspires the forces of coming together to outweigh the forces of pulling apart, and John McCain may have done that and I intend to follow through. I'm not finished."
Sen. Kirsten Gillibrand said that while people can "breathe a small sigh of relief about this terrible Skinny Repeal bill," the fight is not over. She proclaimed that she is "ready" to work with everyday Americans to "fight for improvements to Obamacare."
"It's comforting to know that people like you will keep speaking out for what you deserve," Gillibrand continued. "Never forget that your voice matters, that you can change the outcomes when you stand up and demand action."
Gov. Andrew Cuomo said that the "reckless, so-called 'skinny repeal'" would have increased costs for middle class New Yorkers and stripped healthcare from 16 million Americans.
"I commend the members of our Congressional delegation who stood up to the ultra-conservatives in Washington who launched an assault on our New York values by pushing this disgraceful bill," Cuomo said in a statement.
During his weekly "Ask the Mayor" segment with WNYC's Brian Lehrer, de Blasio credited Collins, Murkowski and McCain but noted the "tremendous amount of grassroots energy" in their states. He also said he worked with mayors in those states who he said are actively involved on the ground with citizen, issue, labor and other groups.
"This is — what we see as the end result should not – we should not fail to notice the months and months of organizing work on the ground, and the town hall meetings, and all the things we saw along the way that helped get to this result.
But he also said that while it's a "great victory," people have to be "ready to fight up ahead to continue to protect it."