Viewing art in person is a singular experience, and there simply is no substitute for the real thing. However, that being said, visiting a museum is a time-consuming activity, and most museums don't have the space the display their entire collections all at once. So, even on a good day, when you might have all the time in the world to stroll a museum at your leisure, you'll only be able to glimpse a fraction of what it has to offer.
In an effort to make more of its collection available to the public, the San Francisco Museum of Modern Art—which just last year underwent a three-year renovation to build a brand new ten-story building—has created a customized text messaging service for art enthusiasts, which serves-up works based on users' interests. The SMS service, aptly titled Send Me SFMOMA and first noticed by Hyperallergic, asks users to text the museum keywords, colors, themes and emojis which it then uses to comb its collection and reply with a matching image.
In some cases the service, which is accessible by texting the five-digit number 572-51, appropriates requests with near literal precision: it served me a Carolee Schneemann work titled Infinity Kisses, rich with images of felines, when I prompted it to "Send me cat." Other times its algorithm works more subtly, as was the case when I asked it to "Send me green," and it replied with a pastoral painting by Eugene Berman called Vieilles femmes dans les rochers (Old Women among the Rocks). Its ability to recognize art movements also yielded a positive result when I asked for "abstract" and was provided a linear work rendered in primary colors by Jasper Johns.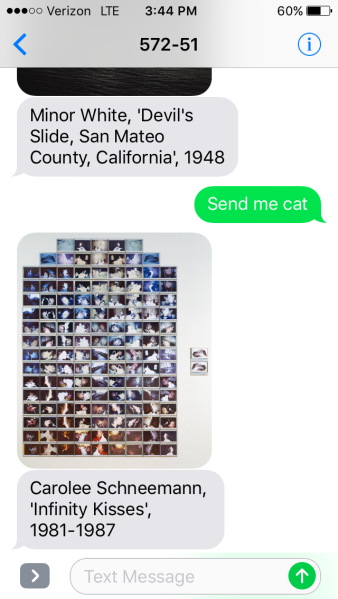 "Send Me SFMOMA was conceived as a way to bring transparency to the collection while engendering further exploration and discussion among users," writes SFMOMA creative technologist Jay Mollica in an explanation on the museum's website.
Of the 34,678 works in SFMOMA's collection, only about 5 percent of them are on view at a time, says Mollica. The texting service pulls from the museum's entire collection—which, while a portion of it is digitized and searchable online, doesn't serve up individual images based on taste with quite such efficiency.
"Many of these artworks are currently in storage and rarely seen by the public," says Mollica. "When you say 'Send me a landscape' you won't get 791 landscapes, you'll get a landscape chosen just for you. You may one day be able to visit your landscape in SFMOMA's galleries, or you may be the only person to see it for years to come."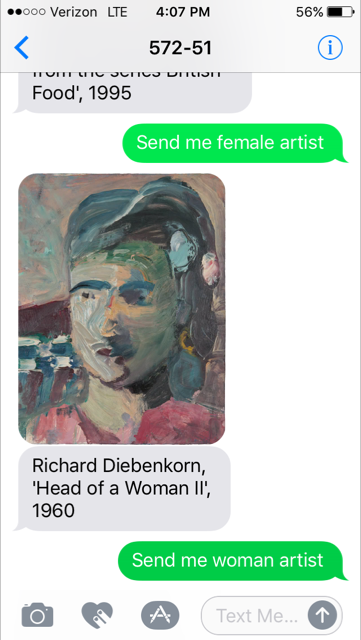 However, the service still has some kinks to work out. When I asked SFMOMA to "Send me New York," it replied with Constantin Boym and Laurene Leon Boym's World Trade Center, September 11, 2001, a sculpture from the pair's Buildings of Disaster series, depicting a gray and crumbling Twin Towers—a loaded imaged that I didn't necessarily anticipate when I asked for an artwork inspired by my hometown. When I followed up with the request "Send me something to cheer me up" it came up empty handed, unable to make a match, and instead prompting me to try "Send me San Francisco" or "Send me something purple." And two attempts to ask for a work by a "female artist" or "woman artist" turned up pieces by men.
Keir Winesmith, head of web and digital platforms at SFMOMA, said in a statement sent to Observer by email: "We're interested in engaging users with art through surprising results in a fun and unexpected way. We only launched the program in June, and we're still looking at how it's being used, so we can identify the gaps between what people are looking for and what we are sending them."
"We don't expect any single Send Me SFMOMA user to ever get through all 34,678 artworks in the collection. But what we have seen, and hope to continue to see, are thousands of people connecting with artwork in fun, new, and very personal ways," says Mollica.