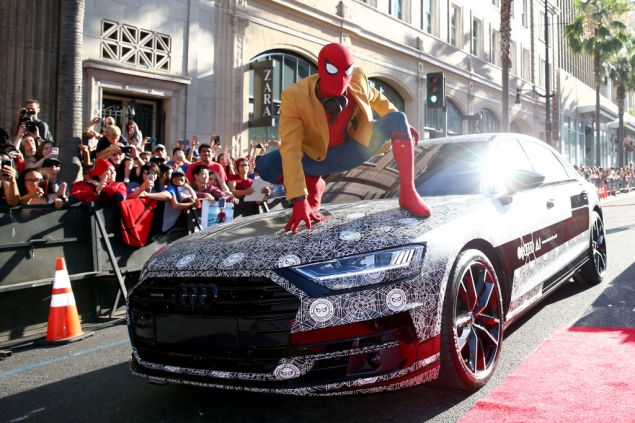 Spider-Man: Homecoming opens this weekend, and the collective Spidey sense of Marvel Comics fandom has been tingling very pleasantly. We first got a glimpse of Tom Holland's Spider-Man in Captain America: Civil War. Holland was chipper, youthful and funny. In other words, he squares nicely with how Spider-Man first behaved when he showed up in the Marvel Universe all the way back in 1962.
Marvel's movies don't completely follow the comic books, but they do echo them. It's better that way, trust me.
While knowing a character's story from the comics may not be 100 percent relevant to following the movies, it can make them a little richer. Marvel has been making this short video series called TL;DR which recaps classic story arcs really succinctly. Here's four videos that should help make this next Spidey movie make more sense (though most people can probably skip the first one).
It's hard to imagine anyone doesn't know the origin of Spider-Man at this point, but here's a video just in case. Thankfully, it sounds like this movie won't really dwell on how Spidey got his powers. Instead, it's picking up from where Civil War left off.
This is the most recent episode of TL;DR, and it's no surprise. Marvel wants to explain the comic book version of one of its oldest characters. Michael Keaton's Vulture looks hugely different than the curmudgeonly old guy searching for the fountain of youth in the comics, but it's still fun for movie fans to see where the idea came from.
Civil War in the comics is hugely different than Civil War on film. If you ask me, Captain America: Civil War is one of the best movies Marvel has done, but the fundamental fight between Cap and Tony Stark in the film is not nearly as interesting as their dispute in print. If you liked that flick (and unless you're insane, you loved it), you might find this recap super interesting. It was a very political storyline, especially publishing in 2006-2007 as it did, in the final years of Bush, Jr's presidency.
It touched on imprisoning people without trial, extraordinary government powers and loyalty tests. Heavy stuff.
This one is mainly for fun. When a comic book superhero is popular, publishers try to capitalize on it by making derivative characters. Spider-Man is the most popular character in Marvel's stable, so there's a lot of derivatives. At a certain point, the company decided to make a storyline that included every incarnation of Spider-Man ever (many of which are ladies).
Yes, there really is a pig Spider-Man known as "Spider-Ham." He's been around a long time. He's great.
One quick meta-note. It might be weird that there's been three different sets of Spider-Man movies. Sorry about that (not that we had anything to do with it), but you can forget about all the previous Spidey movies. Holland's Spider-Man and is the first and only movie inside the Marvel Cinematic Universe (MCU). The MCU is this idea that all the movies Marvel makes in-house share one big universe, which started with the first Iron Man film. It also includes all the Netflix Marvel shows and Marvel's Agents of SHIELD (but not the X-Men or Fantastic Four films, as those were licensed by other studios).
So, to that end, here's a bonus video, a recap of the last Cap movie, because Spider-Man will pick up from where it ended:
Deadline is projecting a $100 million opening weekend for the first Spider-Man in the Marvel Cinematic Universe. If it hits that number, it will be on par with the big superhero hit this year, DC's Wonder Woman.
These videos should help folks who didn't live and breathe these comics growing up and haven't seen every single one of these movies as they came out on opening night (as this reporter has).