Get the most out of the tail end of summer with the addition of exactly three words to your beauty vocab: contour, hydrate, glow. From Beauty Pie's gel that makes contouring dummy-proof (and a hell of a lot cheaper than KKW's take on it), to Fresh's glow-getting moisturizer, these new releases make summer beauty simple. Just don't forget the SPF (we're loving Dr. Sturm's sun drops for that).
Farmacy, Honey Drop Lightweight Moisturizer with GreenEnvy Echinacea, $45
Whew—that name's a mouthful—but it's because Farmacy wants to make sure you know about their patented flower, GreenEnvy Echinacea. Farmacy founder, Mark Veeder is a multi-hyphenate extraordinaire: PR exec, and owner of a very green thumb. Veeder actually discovered this flower and turned it into a skincare line. Their latest launch is this super lightweight formula containing what I like to call "the bee trifecta." That's propolis, honey, and royal jelly. It's also got the brand's triple hyaluronic acid complex, and cupuacu butter beads—the kind that burst on contact. A solid hydrating and antioxidant rich choice for all skin types.
Alba 1913, Galenic Leave-On Mask, $53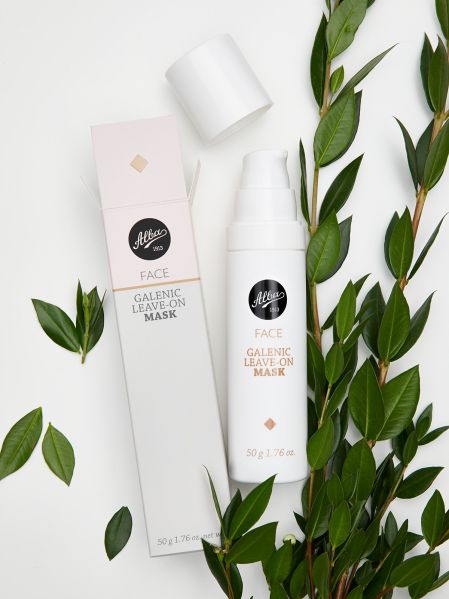 You've heard about Korean beauty traditions, French beauty traditions and so on. But this buzzy new brand creates skin, body, and wellness products based on Polish apothecary traditions. One of my favorites? This creamy leave-on mask. It has a nostalgic but subtle cucumber melon scent, and a host of botanical ingredients: parsley extract, marigold petal extract, rhubarb extract, and urea to name a few. Hyaluronic acid hydrates, while bioactive Vitamin A means you get a little bit of exfoliation. Pump some out, smooth all over your face, and wipe away the excess before you hit the sack; skin's hydration and oxygenation are replenished.
Aesop, Room Sprays, $55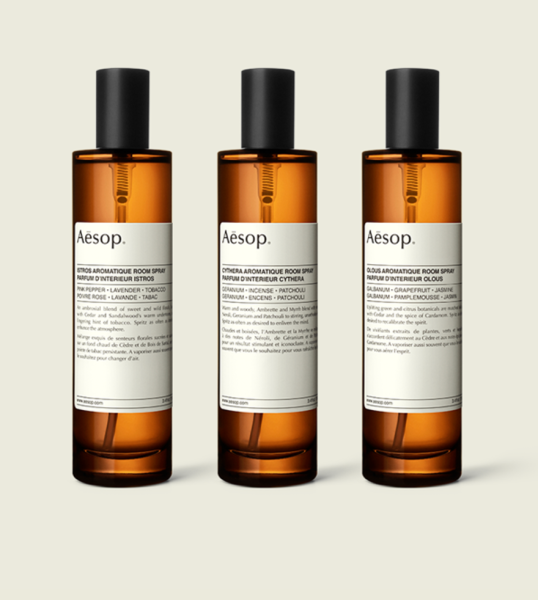 I can't think of a better way to fragrance my home than with Aesop's fresh new home sprays. There are three scents (each of which has been matched with a musical selection)—Istros offers a blend of florals and smoky tobacco, underscored by sandalwood. Cythera mixes geranium and incense with woody patchouli and warm myrhh, and Olous is a blend of citrus botanicals, cedar, and spicy cardamom.
Fresh, Vitamin Nectar Moisture Glow Face Cream, $42.00
Think of the new Fresh moisturizer as a multivitamin for your skin. Its glow-boosting factors go beyond Vitamin C (though it does contain it) and includes a proprietary vitamin fruit complex (Vitamin E, B5, lemon and orange fruit extracts, and other revitalizing minerals). Glucosyl hesperidin (a flavonoid found in citrus fruits) awakens tired skin. For normal skin types, this could work as a solid all-year-round moisturizer, thanks to its solidly medium-weight texture. Plus, it smells tropical and amazing.
IPKN, City Proof Sun Mist SPF 30, $24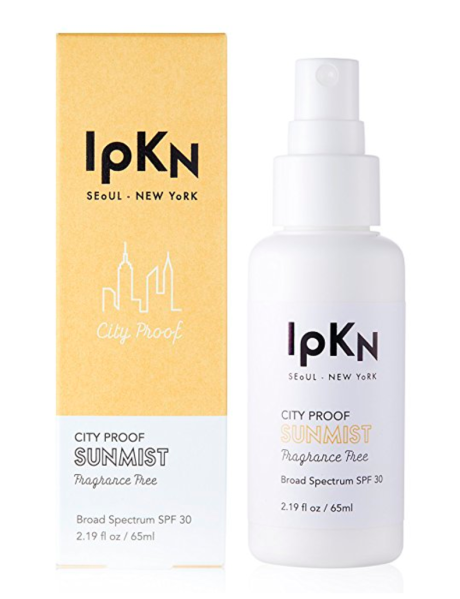 Come summer time, easy solutions for SPF that don't add time to our routines are key. This one, from K-beauty brand, IPKN, makes sun protection as simple (and refreshing) as misting your face.
Dr. Sturm, Sun Drops, $145
The final nail in the coffin when it comes to your SPF excuses. These drops blend in seamlessly with your moisturizer and foundation, and pack a very respectable SPF 50 punch. We promise there's no white cast.
Diptyque, Fragrance Gestures, Do Son Shower Oil, $50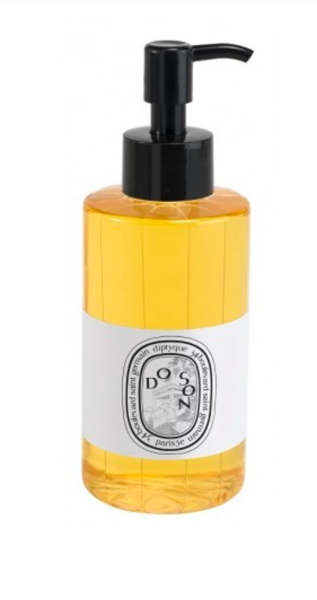 Diptyque—makers of your favorite candles-turned-makeup brush holders—are getting clever with their newest products. Gestures is a collection of their famous fragrances reimagined as body care products in inventive textures and there's no better way to make your shower feel less quotidian than to add a Diptyque shower oil to it.
Kjaer Weis, Ravishing Highlighter, $56
Just holding this angular, silver compacts is enough to make you feel a million times more put together. Golden mica combines with natural extracts including sweet almond oil, jojoba seed oil, and green tea extract to create an easily blendable, glowy cream you can apply with your fingers.
Maison Margiela, Replica Beach Walk Dry Body Oil, $60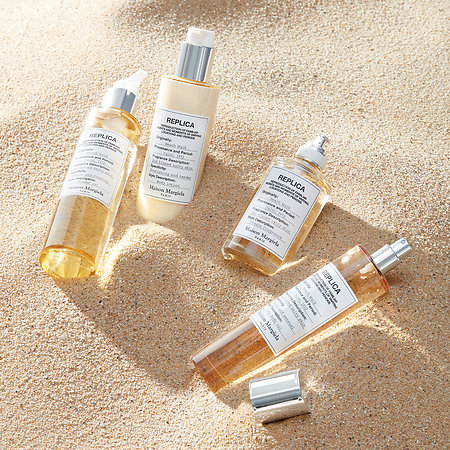 Before summer is over, be sure to slather your skin in this luxe body oil, made with one of Margiela REPLICA's best selling scents. Beachwalk combines bergamot, pink pepper, lemon, ylang ylang, coconut milk, and musky cedarwood.
Luzern, La Defense Collection
I'm new to Luzern, but the brand isn't new. The Swiss cosmeceutical, natural-in-the-most-ways collection has quickly stolen my heart (looking at you, collagen serum and oxygen cream). Their anti-pollution, La Defense cream, is totally new. It's hard to pick faves within the collection, which includes an SPF, daily moisturizer, micellar water, masque, and more. The fact is this: pollution, UVA light, and blue light (emitted by the computers we stare at all day long) are pretty much our skin's worst enemies. They accelerate aging, break down collagen, and reduce the skin's oxygen levels. To prevent all that, the brand's La Defense Urban Protect Daily Moisturizer Lotion, ($80) is a must-have. Marigold extract provides lutein which protects against HEV light (the aforementioned light from computers/smartphones), plant polyphenols are antioxidant-rich, and hyaluronic acid hydrates.
Playa, Ritual Hair Oil, $38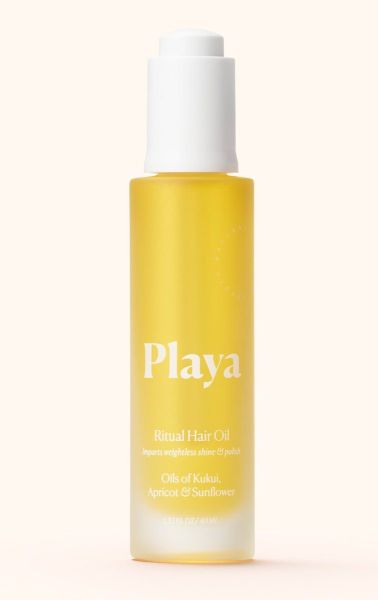 What I love the most about this oil is how lightweight it is. Putting oil in one's hair first thing post-shampoo-and-condition confounded me for the longest time, and can seem scary to oily-scalp havers like myself. But the fact is, oils work wonders. They nourish your strands and calm them down making air-drying easier and more effective (and, for the most part, are a better solution than any dedicated air dry product I've tried). Playa is a new Venice Beach-based brand dedicated to helping you fake Cali hair no matter where you are. Their oil is perfect for oil-novices because it's super-super-lightweight. A blend of apricot, kukui, and sunflower oils with a proprietary coconut oil blend, hair dries shiny and frizz-free.
Foreo, Espada Acne-Clearing Blue Light Pen, $149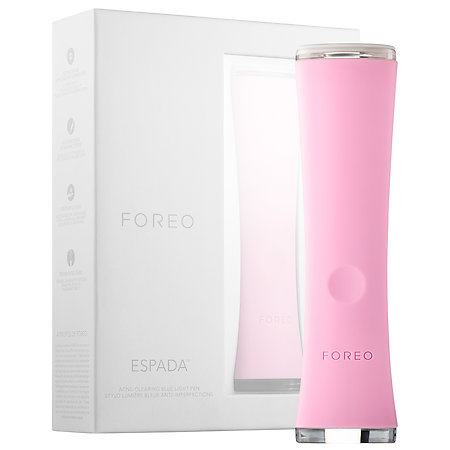 One of the most important elements in beauty consumption is trust—and so it's important to say that Foreo is a brand I trust. I've trusted their fancy toothbrush with my dental hygiene for two years (which is eons in terms of product commitments)—and now, when I get a pesky zit, I'm going straight to their new targeted light treatment to help me bid it adieu. A combination of powerful blue light (that's the one you want when it comes to acne) and T-sonic pulsations work together to kill acne-causing bacteria, leaving you with clearer skin.
James Read, Coconut Melting Tanning Balm, $38.50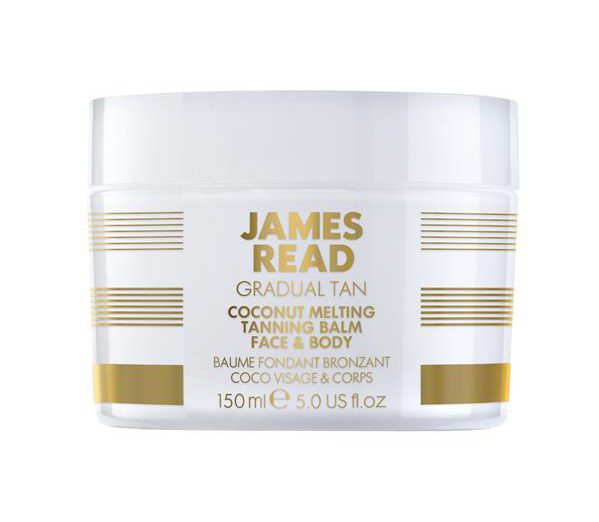 Every summer, there is one thing I am absolutely certain of: self-tanning products will come out in ever-more creative iterations. Many scare me—how could a self-tanning sheet mask possibly distribute color evenly!? James Read's new Coconut Melting Tanning Balm does not. Here's the thing: fake tanning can be intimidating, which is why the more I can pretend it's a normal part of my routine (like any other kind of post-shower moisturization), the better. This coconut-oil based balm lets me do that, while ending up hydrated and golden.
True Botanicals, Basics Collection (Hydrating Cleanser, Hydrating Mist, Hydrating Serum, and Hydrating Oil), $22-85
True Botanicals does efficacious naturals better than almost anyone on the market and now, they've taken the ease of their four-step routine and made it friendly for twenty somethings. The prices are more manageable than the anti-aging and anti-acne lines the brand is known for and focus on hydrating—a must for all skin-types. Thanks to nutrients and antioxidants, the regimen is meant to prevent signs of aging before you even see them.
S.W. Basics, Functional Fragrance in Eucalyptus, $12.00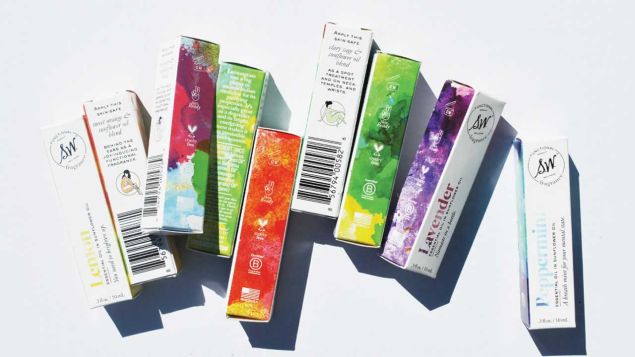 One of the best discoveries of the month? S.W. Basics' new Functional Fragrance collection. The concept is simple and in perfect adherence with the brand's five-ish ingredient-products ethos—take useful essential oils, mix them with safe carriers and make them safe and easy to use. Eucalyptus helps congestion and makes a great natural alternative to vaporub, but there's an offering for everyone.
Erno Laszlo, White Marble Bright Face Powder Mask, 4 for $80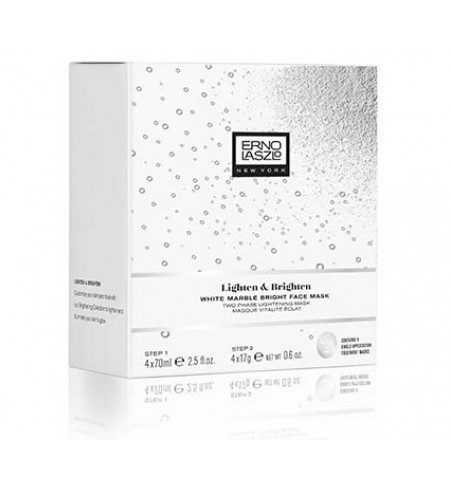 Erno Laszlo's brightening mask includes all the necessary brightening ingredients—licorice root, lemon extract, and soothing, hydrating jojoba seed oil. The mask itself is the rubber kind, so it cools on contacts. Bonus points if you can successfully take it off in one piece.
Kerastase, Touche Chromatique Kit, $101.50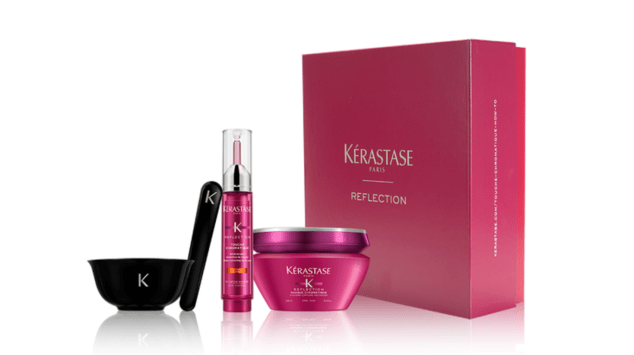 If you color your hair, you know: maintenance can feel like a full-time job. Salon visits are lengthy (and expensive), and you always need another sooner than you'd hoped. So, I'm always looking for at-home, time-saving solutions for skipping salon visits. I'll be honest, I'll try almost any red-tinted color-depositing product, but if it comes from a high-end, salon brand like Kerastase, even better. This luxe set allows you to mix your own color-depositing mask (options include Cool Blonde, Cool Brown, Copper, or Red). The set includes a bowl, a little mixing spatula, Kerastase's protective masque and the concentrated dye for vibrant color.
OILLE, Lavender + Pomegranate Facial Day Créme: Hydrating Intelligence, $98
Oille, a natural brand, distinguishes itself with its practice of GC/MS testing, which verifies that essential oils are pure and contain the plant DNA they should. This attention makes sense considering that founder, Kirsten King, is a certified clinical aromatherapist. The brand recently relaunched, adding a day créme we love in the process. It contains soothing geranium, stimulating rosemary, lavender hydroso, which helps get rid of morning puffiness, and hyaluronic acid for lasting hydration.
Beauty Pie, Quick Colour Contour Supergel, ($4.37/30.00)
Do you know about Beauty Pie? The recently launched startup has been dubbed the "Everlane of makeup," and is the brainchild of serial entrepreneur, Marcia Kilgore (founder of Bliss and Soap & Glory to name a few). The company works on a membership basis—if you pay $10/month, you get that first price—which is basically makeup minus the times a million markup we usually pay. Nonmembers pay traditional retail prices. Kilgore's claim is that her products are being created alongside all the other nearly-identical ones you're used to paying double-digit prices for. This newest launch makes contouring easy. You can apply the gel dispenser directly to your face and carve out the cheekbones and skinny nose you wish you had. Plus, the gel texture provides a natural looking finish.
Laura Mercier, Flawless Fusion Ultra-Longwear Foundation, $48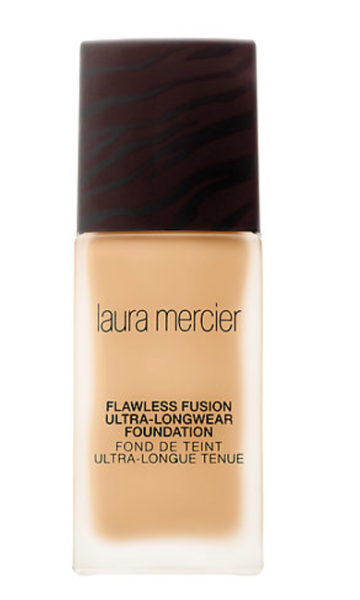 A perfect summer formula, Laura Mercier's new foundation offers oil-free, medium-heavy coverage with a matte finish for 15 hours of wear. Silky powders help control oil. It does a good job at evening skin tone, without leaving you looking dull, flat, or cakey. Hot summer days have met their match.
Stellar, Brilliant Primer, $35
An illuminating primer that obscures imperfections leaving skin looking smoother, firmer, younger, and brighter. If you don't mind the feel or effects of silicones, this primer might be the answer to your skin perfecting needs. Used under foundation, you get a brightening effect, but it can be used alone too, for a glowy, blurred-to-perfection look.
Bobbi Brown, Eye Gloss, $28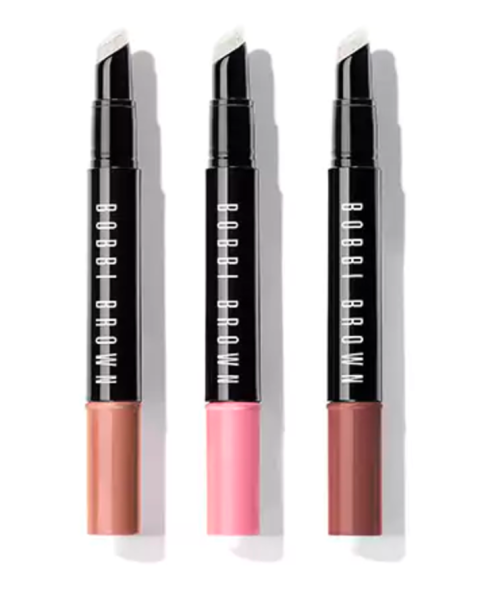 This limited-edition Eye Gloss stick makes this very trendy look easy to recreate at home. The glossy eye look is definitely for sex appeal, and these three nude hues offer that up in spades—beach nude, nude, and island pink.
Antonym, Organic Certified Highlighting Blush, $42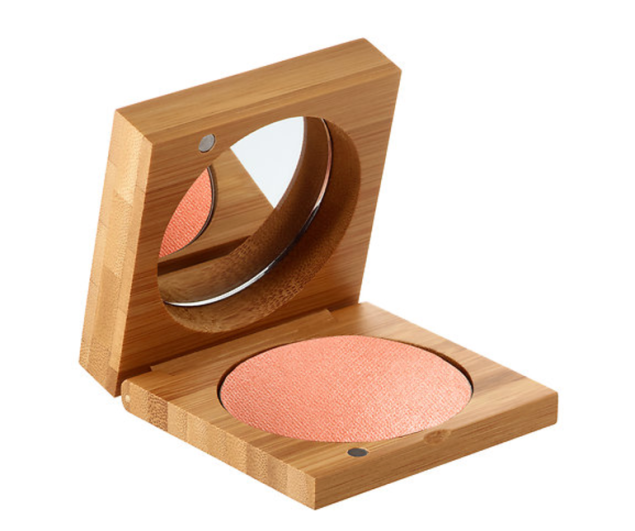 This weighted, wooden compact opens to reveal a gorgeous peachy-pink blush with highlighting shimmery particles (and a mirror). Now, as someone who typically does not want glitter in her blush, I'm here to tell you that this organic product delivers a subtle sheen your summer face is asking for.
Click here to see last month's new beauty picks.