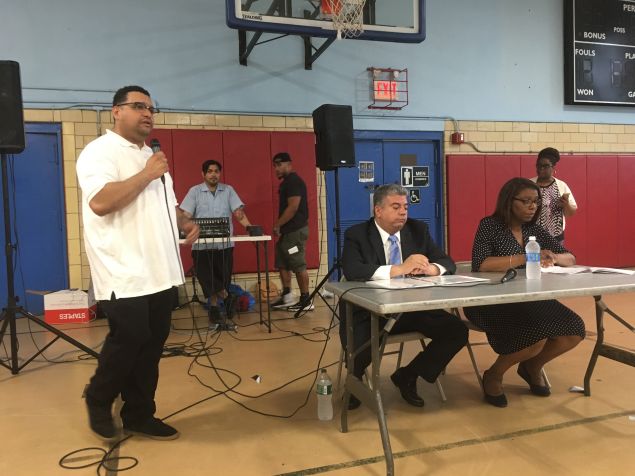 Activists opposed to the city's "broken windows" policing method and Sunset Park residents grilled Public Advocate Letitia James and acting Brooklyn District Attorney Eric Gonzalez for nearly two hours at a town hall Friday night.
Organized by El Grito de Sunset Park and the Coalition to End Broken Windows, the event drew nearly 100 people, including members of Queens Neighborhoods United, anti-police-brutality group Why Accountability, the Brooklyn Community Bail Fund, the Black Alliance for Just Immigration, 5 Borough Defenders and VOCAL-NY.
"Most of the time, we go to town halls that are controlled by elected officials, by the city of New York and it's staged and set up in such a way where questions are scripted," Dennis Flores, founder of El Grito de Sunset Park, said. "Where behind the scenes, there's a lot of control and the things that are really presented at the town hall are not really led by the community, voiced by the community and that critical voice is always missing and that's something here in Sunset Park that we make sure we won't allow."
Shannon Jones, one of Why Accountability's co-founders, said the city has been employing broken windows policing — targeting smaller crimes to stave off larger ones — since former Mayor Rudy Giuliani's administration in the 1990s. Activists say the policing method disproportionately targets communities of color and undermines the city's so-called "sanctuary city" status in the midst of President Trump's aggressive immigration enforcement agenda.
The Coalition to End Broken Windows, Jones said, consists of grassroots activists that operate without funding.
Josmar Trujillo, co-founder of New Yorkers Against Bratton and an organizer with the Coalition to End Broken Windows, said individuals get arrested for turnstile jumping or receive a summons for riding a bike on the sidewalk. Last month, the organizers hosted a similar town hall in Spanish Harlem, and they plan to host town halls in Queens and in the Bronx.
"We want to find solutions that are non-police-based to the problems in our city and we think that it's time that the residents and the community members who have been most affected have the biggest voice in how we do this," Trujillo said.
On former Police Commissioner Bill Bratton's last day, Mayor Bill de Blasio said broken windows — a staple of Bratton's term — needed to be updated but added that it was "still the right approach." He argued that the policing method helped lower crime in the city over the years, a drop that largely occurred during Bratton's first term, under Giuliani.
Hertencia Peterson, aunt of Akai Gurley, an unarmed Brooklyn man killed by former NYPD Officer Peter Liang in a public housing development in November 2014, said Gurley's family is still suffering.
In March 2016, the late Brooklyn District Attorney Ken Thompson recommended to Brooklyn Supreme Court Judge Danny Chun that Liang serve five years probation and no jail time for killing Gurley. A month later, Chun decided to downgrade Liang's conviction from second-degree manslaughter to criminally negligent homicide and the jurist assigned him five years probation and 800 hours of community service.
"He was murdered by NYPD and to date — to this date — my family is still suffering, Akai's mom is still suffering because of this unjust justice that took her child," Peterson said.
She warned residents to be careful with politicians.
"I'm gonna keep it real with you guys, you see this Brooklyn — he's running for Brooklyn DA," Peterson said, pointing to Gonzalez. "You guys need to know the type of characteristic of people that's coming for your votes."
Gonzalez — who served as counsel to the district attorney and chief assistant district attorney under Thompson — backed his late boss's move in the Liang case.
"That decision was something that was a difficult decision but Ken made that decision and I do stand by his decision," he said.
James disagreed despite her "respect" for Thompson, who was her friend.
"Ken Thompson happens to be, lived around the corner from me, but I disagree with the sentence," she said.
Both James and Gonzalez promised that they would have an open door policy for families of police brutality victims.
Despite de Blasio's insistence that New York City is a so-called "sanctuary city" for immigrants, Albert Saint Jean, a community organizer with the Black Alliance for Just Immigration, said nearly 80 percent of Caribbean deportees commit low-level or nonviolent offenses and that undocumented individuals' fingerprints go into a federal database when they are arrested.
He said a true "sanctuary city" requires looking at safety "from the bottom up." Their vision of safety, he said, "is another community's vision of safety for us."
"When Giuliani implemented that back in '94, that was about pacification, to make the city scared of black and brown people and even though we've had a different party come into play, we still have the same policies," he continued. "They just it call it by a different name, alright?"
Gonzalez said he wants to divert arrestees' case out of the criminal justice system "before they're booked on it" to prevent their fingerprints from going to a federal database. His office started with 16- and 17-year-olds and hopes to expand it to other cases, particularly drug cases.
"The City Council has given us some money to start this and one of the things that it's going to do is prevent exactly that problem, which is having those fingerprints then stay on the case," he said.
He also hired immigration attorneys to help protect undocumented immigrants who have committed low-level offenses from deportation and plans to open an immigration review unit in his office.
James stirred some controversy when she challenged the assertion that former President Barack Obama deported more undocumented immigrants than any other president in modern history. She insisted that while there was a significant number of deportations under Obama, U.S. Immigration and Customs Enforcement has been worse under Trump.
The crowd booed, and Jones said she does not see ICE at locations such as 149th and 3rd Avenue in the Bronx or at Nostrand Avenue and Fulton Street on the A and C train lines, Broadway-Junction and at Crown Heights-Utica Avenue stations in Brooklyn.
"That is the N-Y-P-D," Jones said, garnering loud applause from the crowd. "Let's be clear on that. So we're not gonna have elected officials do a song and dance and do this whole anti-Trump because the NYPD been kicking ass for 150 years in this city — and it ain't no ICE, all right?"
The public advocate said the focus should be more on gang violence and violent crime than broken windows.
"That is what is causing crime to increase," she said. "We should focus on gang violence and violent individuals in the city of New York as opposed to focusing on low-level offenses."