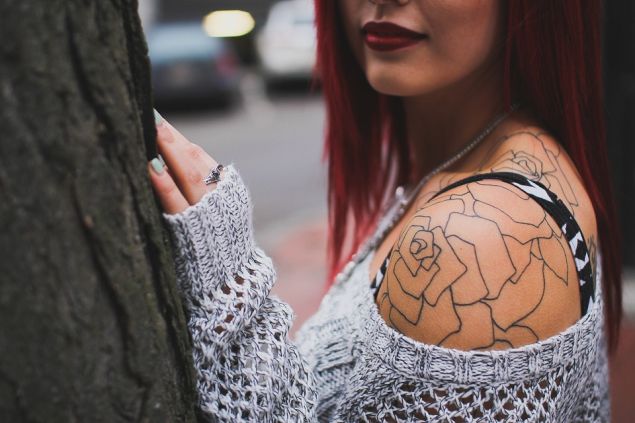 There's so much bad news in the world, from President Trump's Muslim ban to the Rob Kardashian-Blac Chyna drama. But this week the internet took a breather and had a little fun thanks to The Guardian's Tess Morgan.
Morgan (the name is a pseudonym) wrote a column called "My son's tattoo hurt me deeply" in August 2012. This five-year-old article (which is apparently completely serious and not satirical) resurfaced on Twitter yesterday, and it's given social media a new (albeit tardy) target.
The incredibly dramatic and histrionic column details Morgan's horror when her son comes home from university for the summer with a tattoo.
"I have a lump in my throat that stops me from eating," Morgan wrote. "I feel as if someone has died. I keep thinking of his skin, his precious skin, inked like a pig carcass."
She doesn't even look at the ink: she has no idea if it's big or small, whether it's a pair of devil horns or a classic "Mom" tattoo.
"He's not dying, he hasn't killed anyone, he hasn't volunteered to fight on behalf of a military dictatorship," Morgan wrote. "But I feel as though a knife is twisting in my guts."
When Morgan tells her son that  "You couldn't have done anything to hurt me more," he asks her to "reexamine (her) prejudices." But she refuses, even after he says he'll cover it up while he's in the house.
"You let some stranger inject ink under your skin," Morgan wrote. "To me, it seems like self-mutilation. If you'd lost your arm in a car accident, I would have understood…But this is desecration. And I hate it."
"My son took a meat cleaver to my apron strings," she concludes.
As the story made the rounds on Twitter, people reading it for the first time decided it was better late than never to make jokes:
Thanks, Tess. Your stance on tattoos is a little weird, but you gave the internet a much-needed outlet for snark.