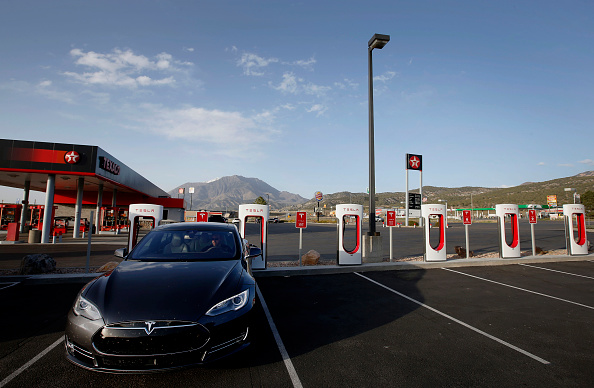 The Hyperloop isn't Elon Musk's only project making progress toward faster, cleaner and more efficient travel. In addition to secretly completing the ultra-high speed transportation system's first successful test run, Musk just announced huge news about his Tesla Supercharger Network.
The tech mastermind tweeted yesterday that "You can now drive anywhere in the U.S. (except N Alaska), most of Europe, China & Japan using the Tesla Supercharger network!" In the U.S., there are now a whopping 5,958 superchargers operating at 889 supercharger stations, according to Inverse.
In the past, one of the downsides of a Tesla was that you might not be able to find a charging station becasue their simply weren't enough. (Right now, the highest trim Model S is capable of traveling 335 miles on a single charge). But Tesla is now looking to change that, in part due to the anticipation of its new Model 3, of which the company just completed its first production model.
In a blog post earlier this year, the company detailed its plans to double the number of supercharging stations across the country by the end of 2017. These plans are now coming to fruition to the delight of Tesla owners across the country.
"We started 2017 with over 5,000 Superchargers globally and by the end of this year, Tesla will double that number to total more than 10,000 Superchargers and 15,000 Destination Charging connectors around the world," the post read. "In North America, we'll increase the number of Superchargers by 150 percent, and in California alone we'll add more than 1,000 Superchargers. We're moving full speed on site selection and many sites will soon enter construction to open in advance of the summer travel season."
The post continued that it would put an emphasis on placing many of these charging stations along the busiest travel routes in the country, along with local areas.
With no set date in mind, the company expressed its goal to make the charging stations of the future akin to the gas stations of today, by "making charging ubiquitous in urban centers."
Check out the Tesla supercharger map here to keep up with the progress.