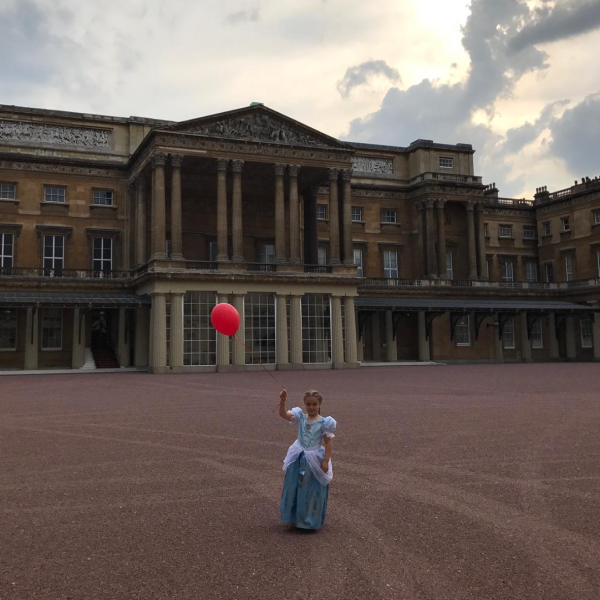 Though she might not be actual royalty, Harper Beckham must have felt like a princess when she celebrated her sixth birthday alongside members of the English monarchy.
Wearing a Princess Elsa gown, the youngest Beckham child celebrated turning a year older at Buckingham Palace with her friends, family—and the royal family. Cue jealously from six year olds (and grown adults), everywhere. There's no need for her famous parents, designer Victoria Beckham and former professional footballer David Beckham, to scrapbook a thing from this momental occasion, because her bash was plastered all over their Instagram pages.
Despite the festivities seeming as perfect as our favorite childhood fairytales, the Beckhams and the royal family have received a lot of backlash from the public—and from fashion designer, Stella McCartney. In fact, her daughter was one of the guests invited to the little Beckham's party, but she's reportedly pretty angry about the extravagant event.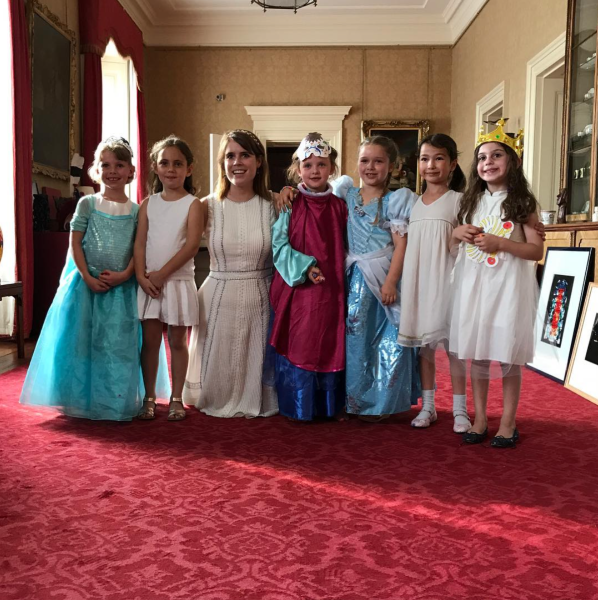 Despite her fame as the daughter of a Beatles legend and as a top fashion designer, McCartney does not like having her children in the spotlight, especially on social media. After David posted a picture of his daughter and her guests with Princess Eugenie on his Instagram page, accumulating over 879k likes, McCartney apparently became "furious" at the couple, as the photograph includes her youngest child, Reiley Willis. The two daughters were brought together by their fashion designer moms, who first became friendly when David hired McCartney's husband, Alasdhair Willis, as a style consultant in 2010.
A source close to the fashion designer told The Sun: "Stella is spitting feathers about it because she always tries to keep her kids out of the public eye and never posts about them on her own social media accounts. She is especially furious because she has an OBE and has nothing but respect for the royal family. She hoped no-one would notice it was Reiley."
But Stella isn't the only one complaining about this birthday bash. Internet commenters are in a tizzy about how outrageous it was for the Beckhams and the royal family to throw such an over-the-top soirée for a six-year-old. The Sun even referred to the party venue as "Beckingham Palace," showing the clear anger that critics have for the couple's self-pride and arrogance. The excessive posts regarding Harper's birthday made people assume that she, the daughter of two British celebrities, received special treatment at the palace, which was funded by taxpayers.
Of course, the footballer took to Instagram to defend himself and his family, with a clarifying caption: "One last picture of the birthday girl…. Just to be clear this wasn't the palace opening the gates for Harper's birthday party , this was a tea party where us and other guests were invited so it was a beautiful thing to do with My mum , Harper plus a few school friends… We were honored to be able to there… Beautiful tea party…."
Robert Jobson, ABC News contributor and author of The Future Royal Family, stated that "this was supposed to be a private event, but the Beckhams publicizing it on their public Instagram accounts was indiscreet and inappropriate and violated the protocol of those who get invited to Private events at the Palace."
Who exactly hosted the party is unclear, as Prince Andrew's ex-wife, Sarah Ferguson has denied having any part in the tea gathering for Harper. We wonder if Prince George and Princess Charlotte received an invitation to this endlessly glamorous kids party.