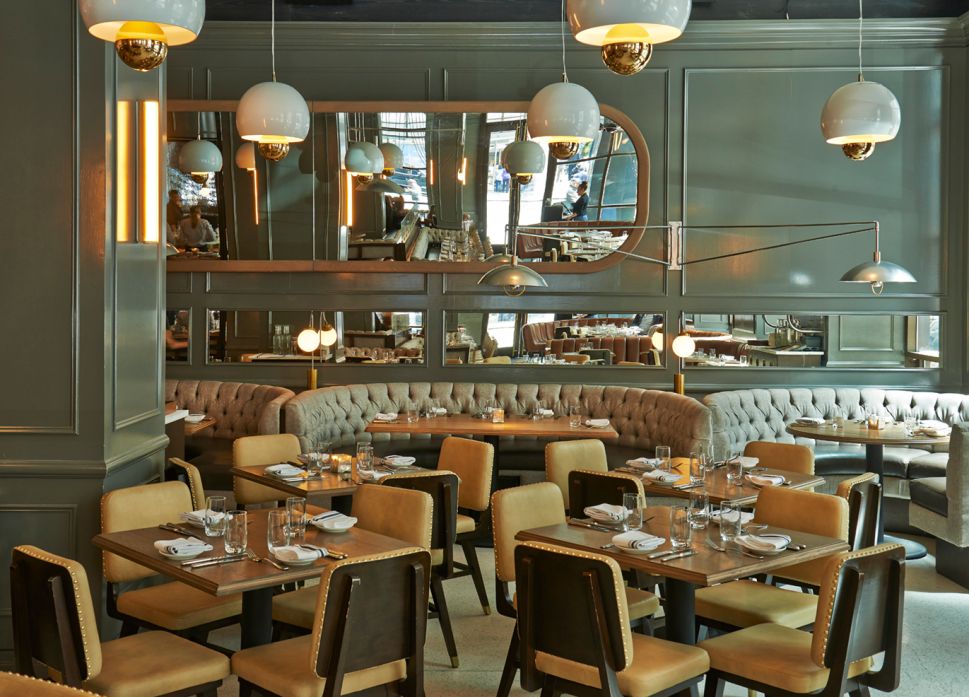 The Wayfarer in Midtown is the place to spot the people who pontificate on politics or star on Saturday Night Live. And with a newly refreshed menu, you'll want to stay for a few extra bites, even after you spot Katie Couric.
Located on the corner of Sixth Avenue and West 57th Street, this eatery is the perfect lunch spot for the hardworking people over at 30 Rock, including Colin Jost and anyone else who films around Hell's Kitchen, including Stephen Colbert. It's also not too far from the Fox News offices on Sixth Avenue, which explains why Ann Coulter has managed to crawl her way in for a power lunch. Spanning two floors, including a handful of private party rooms upstairs and a sprawling bar and dining area on the ground floor, The Wayfarer is ample enough to host an afterparty for SNL. It's an Uptown restaurant with a Downtown vibe, that just happens to be in the media-centric Midtown. Think of it as an update on the Michael's scene where you're at risk of hitting an out of work editor-in-chief or a director of nothing much any more, every time you lift a fork.
Co-owners Eric Marx and Lisle Richards opened The Wayfarer with the idea of offering a cool dining destination, without having to stray too far from your office or hotel. The menu, which includes lobster burgers, fried chicken sushi, mac and cheese, chicken dumplings, Tuscan kale chicken salad, and possibly the most amazing ricotta donuts ever, is quite appealing. There are even a few token SNL cast members who are confirmed fans of the Duck Fat Fries. Basically, there's no way you can't find something to suit your tastes here.
Since they first opened their doors in 2014, Marx and Richards have been fluid with their menu changes at The Wayfarer, preferring to offer dishes that "reflect what our guests want, what we feel the neighborhood needs, and of course, the seasons." The duo told the Observer that they consider their selection of dishes to be "the perfect storm" for the professional Midtown crowd.
Lunchtime is definitely the power hour for the media crowd, as well as some major fashion players. And if you aren't that excited by the sighting of a news pundit, just know that Tina Fey is a regular, as is Drew Barrymore, who prefers to dine at the bar. For some of the more notable diners, the size of The Wayfarer provides great privacy, especially if they aren't in the mood to be gawked at while eating their sushi. And yes, the restaurant even has secret entrances.
"I think celebs come in and out, because they feel comfortable and private taking their meetings and meals here. They know they can make a reservation or walk in without a lot of fuss and be given the respect and privacy to enjoy themselves, like any other guest would be allowed," Marx and Richards explained.