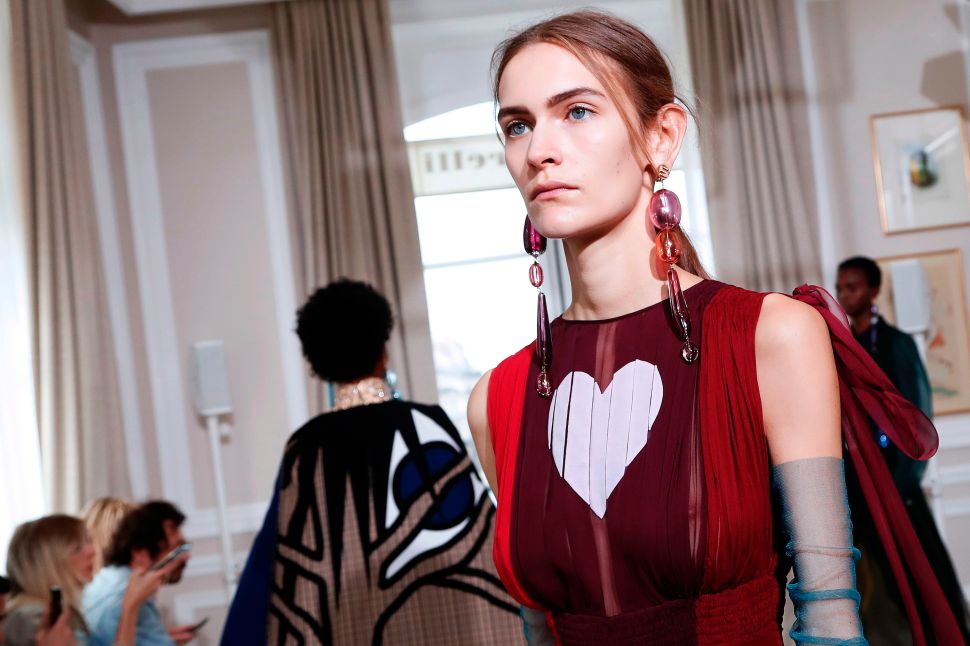 Couture Week came to an end on July 8, and there was certainly no shortage of glamour in Paris during the five days of shows. In addition to the big players who debuted intricate fall 2017 Haute Couture collections—Chanel, Dior, Fendi, Valentino included—there's a whole group of designers doing things a bit differently. They're the ones breathing new life into a decades-old system of embroidered tulle, ball gowns and exaggerated, sculptural forms. Whether they've simply been accepted as a guest designer by the Chambre Syndicale de la Haute Couture, or remain on the calendar as a permanent fixture, consider these five designers to be part of the new wave.
Christine Nielsen for Hyun Mi Nielsen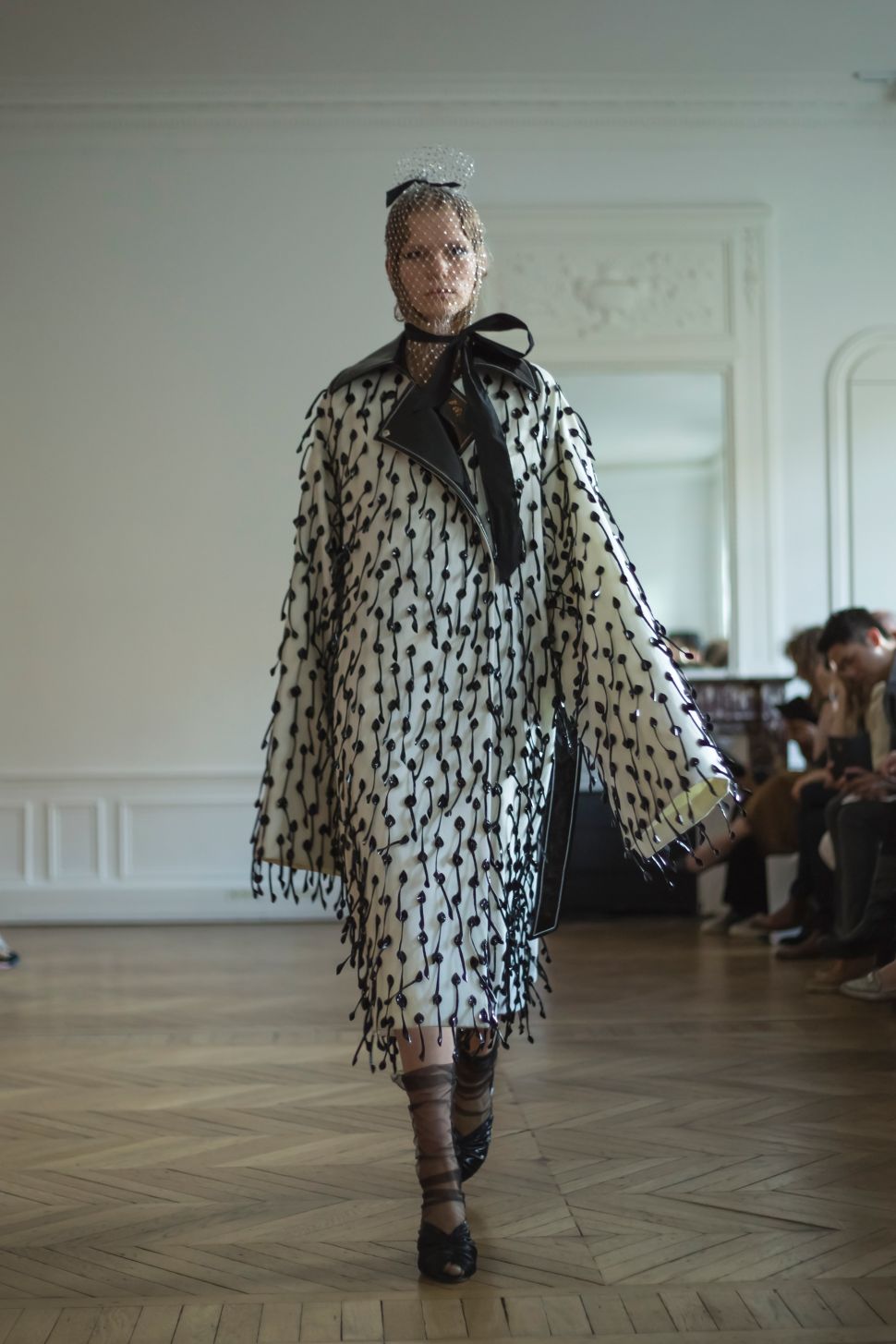 Last year, Christine Nielsen launched her brand Hyun Mi Nielsen, after years of working with some of the top French labels in the world. She was formerly head of design under Sarah Burton at Alexander McQueen and also worked as studio director at both Givenchy and Balenciaga. As a graduate of Royal College of Art and Design in London, she infuses a strong technical ability and a great sense of graphic arts into all of her pieces.
In January, she made her debut as a guest designer on the official couture calendar and presented a collection that went far beyond typical ball gowns and dresses. Think frayed organza and manipulated tulle that formed sculptural ruffles, translucent embroidered capes and pretty patchwork leather jackets. Earlier this week, her second collection shown at couture week was influenced by references like Scandinavian Midsummer and Nina Simone. On the runway, models wore architectural dresses with leg-of-mutton sleeves, vintage reworked denim and embroidered lace dresses, some with hats that looked like baseball caps. Those forward thinking details solidified Hyun Mi Neilsen as a contemporary couture label to watch. "I love denim and wear jeans on most days. I wanted to reference work wear but mix it with a 1950's couture silhouette, pointy boobs, full skirt and a tiny waist to elevate the denim," she said, following her show.
"Through different material research and material manipulation, I decided to make a coat in ivory cotton drill practical and wearable," Nielsen said of the first look in her collection. "I applied hand-cut folded stems of light black patent leather to emulate the movement and the visual of ermine tails."
Guo Pei
Most people recognize the name Guo Pei because of Rihanna's 2015 Met Gala gown—that insanely gorgeous canary yellow piece with a long, fur trimmed cape. It reportedly took over 50,000 hours, over two years to create. The next year, she was named one of Time's Magazine's World's 100 Most Influential People.
Despite the Western world's newfound interest in the designer, Pei has been successfully designing fashion for two decades. She studied fashion at Beijing Second Light Industry School before becoming a chief designer at one of Beijing's first independently owned clothing companies; in 1997, she launched her namesake label. Pei is only the second born-and-raised Asian designer that the Chambre Syndicale de la Haute Couture has invited to become a member. She's been showing her collections at Paris Haute Couture Week for a little over a year now.
For her third show on the official schedule, she presented a collection of metallic floor-sweeping gowns, structured bell-shaped dresses and dreamy embroidered pieces with glimmering jewelry by Caroline Scheufele, Chopard's brand's co-president and artistic director. The setting for the show was the elegant Hotel Salomon de Rothschild. "The new collection is more down to the earth than before. All the dresses are wearable in the daily life, it is more accessible for people to dress up in any occasion," Pei explained to the Observer.
"For me, myself and my brand, we aren't willing to follow the trend or wave. We prefer to create something that might exist eternally," she said. "I don't want my dress to be abandoned [over] time by my clients or being kept in the wardrobe forever. People think the outdated things should be abandoned. In my opinion, this kind of abandon is just the major problem that affects people's lives as well [as] this whole world."
Bertrand Guyon for Schiaparelli
Schiaparelli's history is rich in quirky art-inspired motifs, avant-garde techniques, experimentalism, quality and relationships with creative women, including Lee Miller and Anaïs Nin. All of those details were inspiration for Bertrand Guyon's latest collection for the label. He's been designing as the head of style for Schiaparelli for just over two years now; he formerly worked at Givenchy, Christian Lacroix and Valentino.
The house of Schiaparelli closed in 1954 and re-emerged on the scene in 2012, but the brand has a vibrant history in couture—always with an innovative touch. Elsa Schiaparelli gained fame for designing sweaters with trompe-l'œil bows, which she sold at her first shop in Paris in 1927; she launched her first maison de couture that same year. In 1950, Schiaparelli sent a tuxedo dress down the runway for haute couture, which was somewhat revolutionary for the time. She was also one of the first designers to use Swarovski crystals in her haute couture collections.
Guyon infuses the same innovative techniques and playfulness—even the early motif of trompe-l'œil into his collections. The most recent show saw trompe-l'œil bows on dresses, worn with colorful blown glass earrings and toughened-up leather boots. Making an even stronger case for the brand's recently revived couture line, Guyon affixed trompe-l'œil crystal zippers to gowns (Schiaparelli was one of the first designers to use a zipper as a decorative element), surreal-looking trompe-l'œil jewelry (necklaces as well as bracelets and watches) to transparent mesh and 3D Swarovski crystal embroidery. The fashion house's signature color, Shocking Pink, was also prevalent in the form of one floor-length gown. The final look was a stunning tulle cape built up in layers in the shape of a heart.
Guyon's perfected historical references combined with his technical ability and eye for surprise makes him a definitive designer to watch in the couture space.
Galia Lahav
The Tel Aviv-based Galia Lahav has been showing at Paris Couture Week as a guest designer since January 2017, and already has an enormous following, thanks to her wedding dresses, bohemian lace gowns, sequin shift dresses and heavily embellished jumpsuits.
The brand was founded in 1988, initially as shop that sold knitted and embroidered pieces, but in the past few years, celebs including Ashley Graham, Olivia Munn and Meghan Trainor have picked up on the brand.
"Once you go to Paris, you can't go back," Lahav said before her show, which was held outdoors in the stunning flowered courtyard of a high school, just a stone's throw away from the Pantheon. "We are presenting for the first time a line in which we are using many leather pieces. This is quite new to us, and it has been very challenging." Of those leather pieces the designer referenced, V-neck lambskin vests, styled over embroidered gowns and lace dresses with leather appliqués, which signified a gorgeous departure from the label's typical overtly feminine pieces.
"The new couture customer might still look for tradition, but she is modern and sexy," explained Lahav.
Maxime Simoens for Azzarro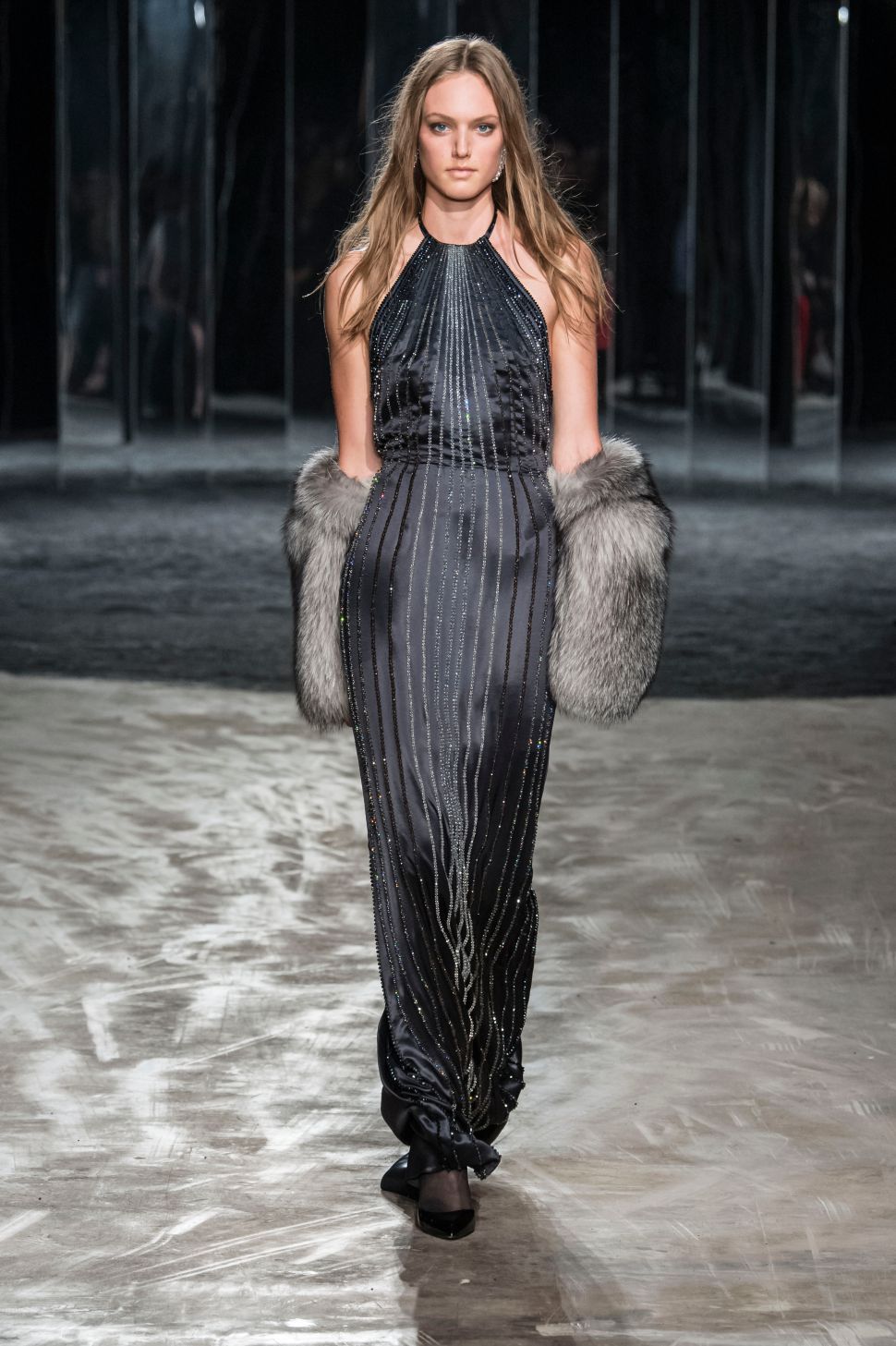 Azzaro is the kind of fashion house steeped in history and culture—but the average, non-fashion fanatic likely hasn't heard of it—until now. Founded in 1967 by Loris Azzaro, Sophia Loren, Marisa Berenson and Raquel Welch are just a few of the famous faces who have donned the brand.
This year, the company celebrates its 50 year anniversary, so they celebrated by hiring a brand new creative director, Maxime Simoens. He's been tasked with completely reviving the brand for cool women around the world and he made his debut for the label last week, for Fall 2017. While gorgeous dresses fit for a debutant ball or wedding are always a fixture of couture week, Simoens is changing it up a bit by offering floor-length structural puffer jackets, thigh-high fringed mini dresses with movement fit for a cool club kid. There were also shift dresses with crystal embellished mesh cut-outs paired with moderately heeled ankle boots or knee-high leather boots, instead of stilettos.
The 32-year-old designer held positions at Elie Saab, Christian Dior and Balenciaga before acting as creative director for his namesake line from 2010 to 2015.
"It's sexy, glamorous, it's never tacky," Simoens said of his collection. "It's always on the border and I wanted to mix [Azzaro's] DNA with my DNA which is more about structure and architecture."
With all those layered crystals underneath translucent mesh dresses, Simoens was working with the theme of "jewelry for the body." There were also a few bomber jackets and exposed garters thrown in, for added measure—we could definitely see a boundary-breaking celeb like Rihanna wearing the new Azzaro.