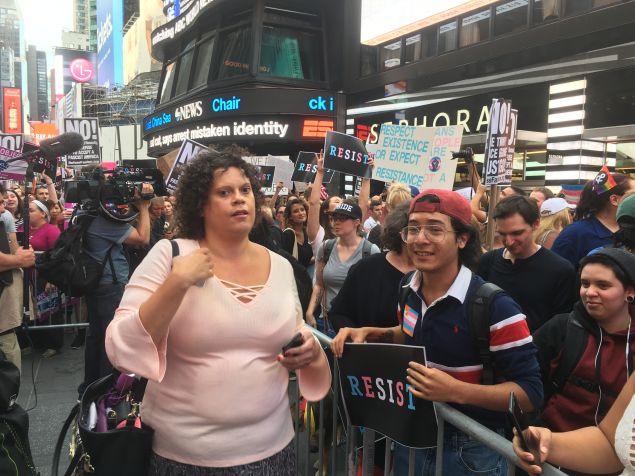 Transgender veteran advocates and New York's top elected officials and leaders blasted President Donald Trump's decision to ban transgender individuals from the military after he announced the policy change on social media.
The president took to Twitter this morning to announce that the federal government will not accept or allow transgender individuals to "serve in any capacity in the U.S. Military" after consulting with his generals and military experts.
"Our military must be focused on decisive and overwhelming victory and cannot be burdened with the tremendous medical costs and disruption that transgender in the military would entail," Trump wrote on Twitter.
Jennifer Louise Lopez, a transgender veteran who served in the U.S. Navy in 1999 and founder of Everything Transgender in NYC, said that nearly 20 years later, "we're still dealing with the same issues that I had to deal with."
"I had to hide in men's clothes," Lopez said at a rally in Times Square against the ban. "I had to hide with the men. I could not be who I was and am. This is atrocious. There are transgender people that are wonderful, that would go fight for us and now this guy in office is gonna kick all of them out? We need to stop this."
When the rally—hosted by Equality NY at the U.S. Army Career Center—concluded, Lopez led others to chant, "We're here, we're trans, we're fabulous, don't fuck with us!" multiple times.
Sue Bolton, a graduate of West Point, a preparatory school for the U.S. military and a member of LGBT military organization SPARTA, said she is speaking on behalf of transgender service members who could not participate in the rally because a few were telling their stories to the media but noted that "most of them are doing their jobs." She stressed that they are not fearful.
"They woke up this morning and they saw a tweet from their commander-in-chief," Bolton said. "I will tell you this because I've talked to them: they were alarmed, they were concerned but they are not afraid."
Kristen Rouse, president and founding director of the New York City Veterans, discussed her experience under the "Don't Ask, Don't Tell policy" signed by former President Bill Clinton in 1993 directing military personnel not to discuss their sexual orientation.
"I served in the U.S. Army for 13 years," Rouse said. "Seventeen years of my service were under 'Don't Ask, Don't Tell.' Men and women, veterans, advocates, members of communities, journalists, political officials stood up and spoke for me when I was serving in silence."
Earlier today, Mayor Bill de Blasio told reporters at an unrelated press conference in Long Island City asserted that the vast majority of Americans are tolerant and inclusive and said that the ban is Trump's "playbook going back to the 1980s."
"He has always loved to divide people," de Blasio said. "He's always loved to put people down, and he just keeps doing it but you know what? He's out of sync with the American people. No, I don't think they care. I think they admire anyone who's willing to put on a uniform and serve their country."
Gov. Andrew Cuomo  said valor "knows no race, no creed, no gender and no sexual identity."
"Nearly 70 years ago today, President Truman signed an executive order to desegregate the military of the United States — a major step forward for equality in our society," Cuomo said. "In stark contrast, the Trump Administration's directive barring transgender members of the military is wrong, intolerant and a giant slide backwards in the fight for equal rights."
Last year, former President Barack Obama announced that transgender people would be allowed to openly serve in the military. Trump's move reverses that policy.
Sen. Kirsten Gillibrand, for her part, said the decision is "harmful and misguided" and that it weakens the military, vowing to "do everything in my power to fight it."
"There are transgender service members who put on uniform and showed up to their military duties this morning, only to be told—on Twitter, no less—that their commander in chief doesn't want them in 'any capacity,'" Gillibrand wrote on her Facebook page. It is beyond insulting to the service of those willing to die for this country."
Queens Councilman Jimmy Van Bramer, one of seven openly LGBT Council members, said that his husband enrolled in the U.S. Navy when he was a teenager and was removed from the military on the suspicion that he was gay—before he was "even out of the closet" and before his parents even knew that he was gay, despite the fact that he was "honorably serving our country overseas in a very sensitive position."
"We have left that time behind and now appreciate the courage and the willingness of every American to serve our country and even risk their life for our country," Van Bramer said. "This president is a bully. This president is using his presidency to take the most vulnerable among us and separate them from us and deny them their heroism and their courage when they want to serve our country."
Former City Council Speaker Christine Quinn, a 2013 mayoral candidate and the first openly gay speaker, said that transgender military personnel "have demonstrated ten times over more valor and courage than our president ever has."
"I find the President's statement particularly offensive because it comes from a man who never served a day in his life and as a privileged youth sought and received a deferment from compulsory service, while low-income and middle class kids went to war and gave their lives," Quinn said.