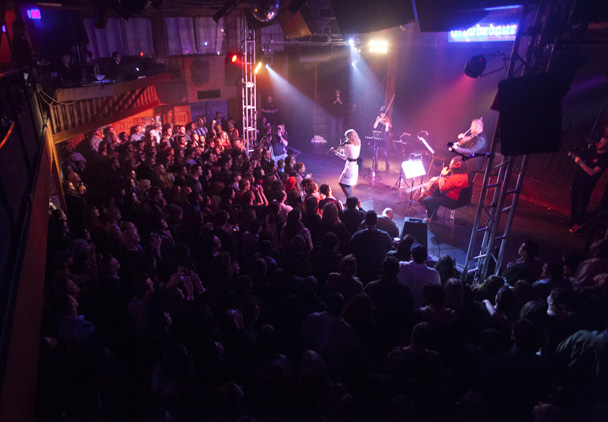 When you're a kid, playing in the high school orchestra and feeling disconnected from the popular zeitgeist means any music that incorporates classical instruments is something to be celebrated. And while we nerds flocked to bands like Arcade Fire and Ra Ra Riot because their string arrangements were baked in from the beginning, a smaller, more niche novelty type of classical recording was fast becoming a means for reflecting on what we, too, could be capable of.
The String Quartet Tribute to Led Zeppelin (1999) offered a refreshing take on the songs of those mystic, rune-worshiping hard rockers, launching CMH Label Group, and their Vitamin Records imprint, on a near-two decades long journey of infusing the classical community with the means to exist in dialogue with the popular music of our day.
What was initially consumed as a novelty has since blossomed into a well-oiled machine that's released hundreds of albums as the Vitamin String Quartet, a rotating collective of players performing at everything from geek weddings to live-streamed performances, backing bands like 30 Second to Mars, providing a soundtrack to shows like Westworld, and supplying sheet music of their arrangements to orchestral institutions hoping to shake up their repertoire for today's younger audiences.
The statistics are telling: Though millions of downloads and physical CD sales or half a million monthly listeners on Spotify might not prove anything about the quality of an organization's material, that VSQ has seen so much success in a niche space is a testament to the organization and commitment that CMH's team has shown to building out the brand's repertoire.
On Friday, July 14, CMH releases VSQ Performs the Hits of 2017, a string quartet version of those NOW compilations that tackles pop artists like Ed Sheeran, Imagine Dragons, Lady Gaga and Lorde using the quartet language—just four instruments and their players, propelling the songs forward with sheer accuracy and discipline.
"We love watching interesting music come through those instruments, through that idiom," says VSQ brand manager Leo Flynn. "It starts with A&Ring an album concept, figuring out which tunes are resonating and how are we gonna approach them, which arranger or producer feels like the right fit. Ideas can come from anywhere in the label, and it usually ends up as a conversation between James and myself about approaches, who's our best fit as an arranger, producer, players."
James is James Curtiss, a fellow A&R dude at CMH and the main project coordinator with VSQ. He says that expanding what was originally just a recording project into a living, breathing quartet that performs live was a difficult task that required wearing many hats.
"We oversee everything—that's what it comes down to. We all come together and work on arrangements for a number of reasons. Sometimes we're gonna do a commercial sheet music release, sometimes we workshop something because we want it to be in the regular repertoire for a wedding group, and sometimes we get special requests."
"Geek weddings," as they're affectionately known, are among the most common special requests. They've grown so popular that VSQ releases a Geek Wedding compilation series, featuring arrangements of John Williams' compositions from Indiana Jones and Star Wars alongside iconic video game and anime tunes.
"On these compilations, we take music from geek cultures, things that we know to be popular, and niche items and pay tribute to those," says Flynn. "Some of that's by demand, and that's where doing these things on strings starts to cross over into great practical territory for people, whether they're getting married to it or they use it every day to study, focus, work or relax."
Getting these arrangements ready to be played live was originally an uphill battle, as early Vitamin Records releases often incorporated other instruments—beyond the two violins, viola and cello traditionally associated with a string quartet—into the mix.
"A lot of the original arrangements for the studio recordings were never meant to be played live," says Curtiss. "On some of those original ones, especially before Leo and I came on board, there's a lot more studio trickery on there than we actually advocate for now. There are multiple layers, maybe 18 strings as opposed to four strings. There's also old arrangements where for some reason the A&R guy at the time got a hair up his butt and said, 'This needs a snare drum, or this needs a rock guitar.' Leo and I, the more we work together on this, want to bring this down to four players in a room coming out of your speaker. No additions, no admonishments, just pure quartet music."
"To me, a string quartet is one of the most fascinating musical structures, a really gnarly musical machine," adds Flynn. "What can you feed it to get the most out of this machinery? We want it to vibrate all those wonderful parts, the player and the instrument. That's why we've struggled with and tended to stay away from electric instruments and too many effects. There's so much to behold in acoustic strings, and then you throw a Kanye West composition into that mix? It's highly compelling."
Curtiss explains that once he and Flynn understand the driving force behind a specific song or genre, they can start working with the arrangers from there. Isolating those energetic cores for each tune not only allows them to find the optimal quartet arrangement for each song, but ensures that the four instruments will each be pulling their weight and making the most of their interplay with each other.
Translating heavy metal music, for example, "isn't [about] amplification or distortion—it's the aggression, it's the precision that come to the dramatic sense of it as opposed to elevator music. It's the same thing with pop music. You have to hear a pop tune, think what it is that people really latch on to, and duplicate that on strings. Is it the bounce, the melody, the groove? Is it laid back, is it driving?"
Sometimes, distilling that essence of a song might change the dynamics of it slightly. VSQ's rendition of The Weeknd's "Starboy," for example, intentionally left behind the groove and drive of that original track in order to mine the song's rich atmosphere and melody. Rhythm is still a component of their rendition, but the song gains an extra dreamy, atmospheric quality. "It doesn't even need that beat to drive it, it just flows," says Flynn. "When that came back in, it went to a totally different place."
Through the language of a string quartet, VSQ's songs also bring an added thematic resonance when used tastefully on soundtracks. Consider Season 1 of HBO's Westworld, when VSQ's arrangements of popular songs by Radiohead and Nine Inch Nails perfectly mirrored the show's themes of running the past through the present.
"For us, there's that same job," says Flynn. "Taking what's new and fresh and running it through a bit of musical history to see how things come through on the other side, what the results are."
The value that VSQ's brand brings to any hallowed classical institutions that might be struggling to connect with today's audiences is insurmountable. As live scores to old films and symphonic performances of video game music become increasingly necessary to put butts in seats, the reimagining of pop and rock tunes for string quartet brings the drama of mainstream compositions back into the classical community.
"As a musician myself, I really don't choose sides," says Flynn. "I think all genres are fascinating. New and old, tonal and atonal, it's all worth experiencing and experimenting with. I tend to do that as a norm, and given that, for a symphony to be playing a score live to a film, why not? What took us so long?"
"The classical music repertoire is only going to get older. We've only gotten further removed from the time that those pieces were written, from the impetus from those things being composed. That's not to diminish them as music, but culturally speaking, time is marching on. Those big halls and symphonies, like we all do, have to think of the relevance of their message and the things they're putting in the air."