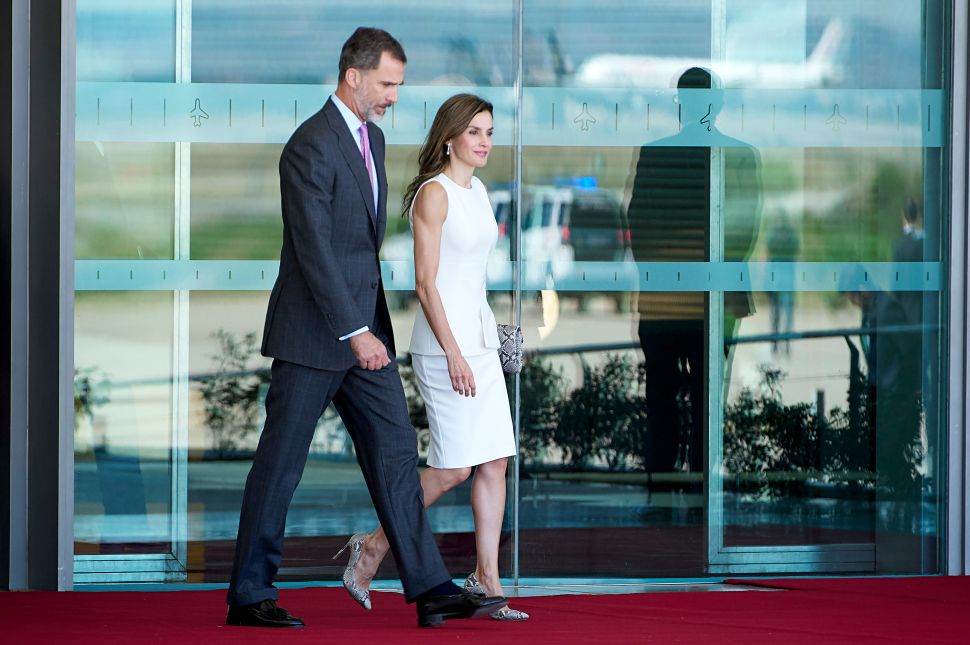 For just a moment, cast aside any thoughts of Michelle Obama's expertly toned biceps and forget about Brigitte Macron's enviable gams, as there's a new limb obsession on the rise. And it has a royal tie.
Just yesterday, Queen Letizia was photographed jetting from her native Spain to England, for a three-day state visit with her husband, King Felipe VI. For the occasion, the former TV anchor donned a white peplum top and a color coordinated skirt, both from Hugo Boss. She paired the white-out look with snakeskin stilettos and a snakeskin clutch, but her overdose on animal prints is not where the intrigue lies. It is, in fact, the Queen's guns that has lead to intrigue on social feeds, especially among fitness fanatics. While the Queens arms are not quite as insanely sculpted as Madonna's, the member of Spain's royal family is definitely serving the pop star with a healthy dose of competition.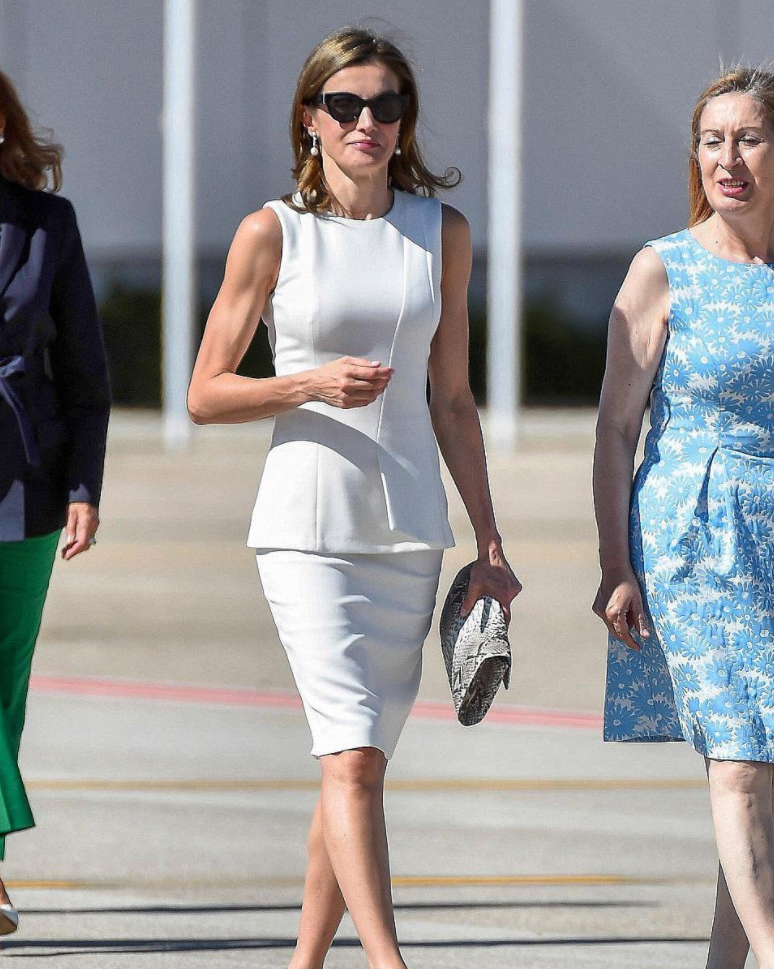 Queen Letizia is known for dressing in a rather conservative manner, at least when it comes to her arms. It seems she'd rather swathe her toned limbs in billowy blouses or layers of lace, rather than show them off. In fact, many of her sartorial choices have drawn comparisons to another famous royal, the Duchess of Cambridge. And rightly so: both women are endlessly elegant, have plenty of go-to high fashion brands and purposely dress to flatter their figures. However, while Middleton adores haute frocks from Alexander McQueen and has been known to dabble in Gucci, Queen Letizia has been known to rock Zara and Mango on occasion. However, she does have a penchant for Prada, Altuzarra, Carolina Herrera and Armani Privé, so her closet is a balanced mix of high/low.
In fact, others have pointed out that Queen Letizia's arms look similar to those of another Middleton family member: Pippa. Especially the toned biceps she acquired for her recent nuptials to James Matthews. It seems as if all the royal families in the world are connected, at least in some manner.