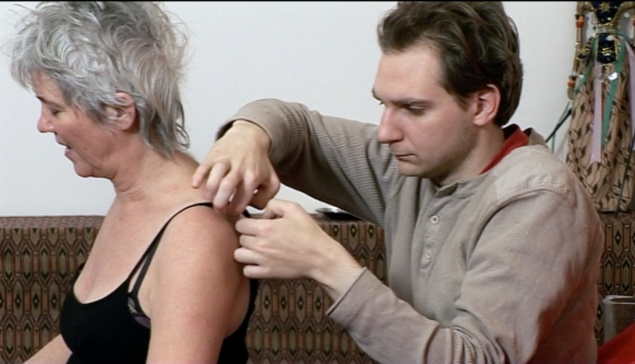 Welcome to "Weekend Stream," where every Friday, Darian Lusk—comedian and writer living large in Brooklyn—will gently recommend something new and exciting to stream, listen to or play over the weekend. Follow him on Twitter @eatpraylusk to send suggestions for future installments.
There are all kinds of amazing services out there these days. There are apps that deliver wine, Lyft Lines where you can get a ride AND make new friends from NYU (who still won't accept your Facebook friend requests…) and for the subjects of two incredible British documentaries, coaches to help you lose your virginity.
40 Year Old Virgins (2013) and Virgin School (2007), both currently streaming on Netflix, have a few things in common: They're Channel 4 films, around 45 minutes long and about a topic I know quite well (JK, sort of): adult virginity. During the course of these films, we meet three different patients who will work with licensed sex surrogates (a real thing) to overcome their anxieties and perhaps even do the deed.
And, strangest of all, it's sort of heartwarming.
Virgin School follows James, a 26-year-old man who lives with his dad and stepmom in Kent, England. James is well above the average age of virginity in the U.K., which is (impressively) 16. Also, being sexually inexperienced overseas also must mean being inexperienced with responsibility, as James's only job is delivering local newspapers. But alas, with his meek body, ill-fitting glasses and the fact that he shops for clothes exclusively with his mom, we feel for him.
James heads to Amsterdam where, for three months, he will learn the "art of intimacy" at a sex school called Aquarian. Much like Kill Bill's Beatrix Kiddo with Master Pei Mei, James studies the craft with 50-something coach Marion. Each cringe-worthy session, they take things a step further physically when James is comfortable doing so, from kissing to spooning to viewing the vagina, which apparently he has never done. In one of the most visceral moments of the film, Marion gives him a detailed tour. Finally, she passes our nervous hero off to a coach who is (slightly) closer to his own age to complete the "final leg" of the course. But will James be ready?
Virgin School is unintentionally funny and even borderline moving as James unexpectedly bonds with his coach over their sessions. Also it features full nudity. Yes, we see James stark naked. It's a lot. Which begs the question: If he is so scared of intimacy, why is he okay with this? Kudos to him I suppose.
Meanwhile, 40 Year Old Virgins follows two virgins, Clive and Rosie, and thankfully features zero nudity. Clive is a likeable 45-year-old chap who shaves his bald head before every session. He has extreme anxiety about even speaking to women, and has trouble just saying the names of sex parts out loud. We get to see him work on this a lot. And Rosie, an Irish-born 29-year-old, has given up on even trying to meet a partner completely. The pair head across the pond to California where, unbeknownst to me, the Aristotle of sex surrogates awaits. She's had sex with more than 800 men, was the inspiration for the Helen Hunt movie, The Sessions.
During 40 Year Old Virgins, visiting a prostitute is likened to dining at a restaurant, while Surrogate Partner Therapy is learning to cook. This metaphor, though slightly "teach a man to fish"-esque, holds up. These treatments are not just about boning, but also about helping patients learn human intimacy in a safe, gentle environment. Much like any other therapist, these surrogates take their work helping people overcome their sometimes crippling anxieties extremely seriously. It's a modern, head-on way of tackling something people may laugh off as a non-issue. But let me tell you, (or let senior year of college Darian tell you) it can be one. Luckily for me it didn't involve a surrogate, just downloading Grindr and coming to the realization that straight guys aren't secretly waiting to be converted. Well except for that one time.
You'll ultimately be happy for these patients, and to know programs like these exist. Though there will be parts of both films you will wish you could unsee. Forever.
Other great things to stream this weekend:
 On Spotify:
Something To Tell You by HAIM: Beloved California sibs and Taylor Swift squad members, HAIM, are back with their highly anticipated sophomore album. "Something To Tell You" delivers on what made this group famous to begin with but is also a huge step forward. It grooves harder, offers more hooks, is more Fleetwood Mac-esque and it's definitely going to be on a lot of playlists this summer. (Added July 7)
On Netflix:
Punch Drunk Love: Paul Thomas Anderson's fabulous, weird, dreamy 2002 rom-com is one of Adam Sandler's best serious performances (also shoutout to Spanglish), plus it features a Jon Bryon soundtrack, so you can't really go wrong. Sandler plays an unstable plunger salesman with a lot of sisters who falls deeply in love with the equally out-there Lena. It's a simple, very charming film and Philip Seymour Hoffman is also great. As always. (Added July 1)