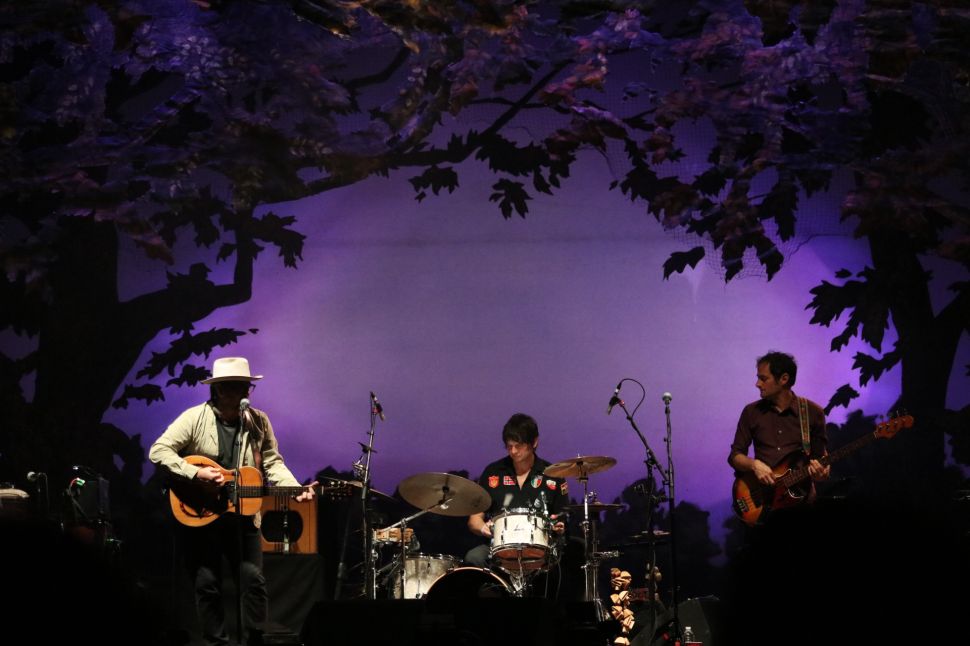 While the charred, littered remains of empty firework mortars and lingering smell of burnt gunpowder are sure signs that summer is in full swing, New York's culture vultures celebrate their independence in a tradition equally tried and true: copious amounts of live music. With free programming from SummerStage and BRIC's Celebrate Brooklyn, we're spoiled by two free series of quality shows, and that doesn't include three top-tier, flagship music festivals, countless outdoor food fairs, and all-day beach parties. Why travel?
We travel because there are some adventures that simply can't happen in town, site-specific happenings that weave similarly resonant memories out of weekends spent away. With so many options for summer entertainment at our fingertips right at home, a place must truly offer something unique in order to make a trip worthwhile.
Ten albums deep and headlining festivals around the world, Chicago alt-country band Wilco is a venerable American institution at this stage in their careers. But it's their own festival, Solid Sound, just having wrapped its fifth weekend at contemporary art museum the Massachusetts Museum of Contemporary Art (Mass MoCA) in the Berkshire Mountains town of North Adams, Massachusetts that sets a strong precedent for how to throw a destination festival properly. Here are five things they did differently.
1) Create a Truly Site Specific Experience
Large scale art has become common at corporate music festivals, but unsurprisingly, it's all branded content. Festival organizers slap a Hewlett Packard or Google logo on some interactive piece of technology and call it art—they understand that the best way to promote a brand is to monetize an experience. As media outlets fight for audience impressions and engagement time, branding someone else's work and putting it smack in the middle of your festival is a win-win.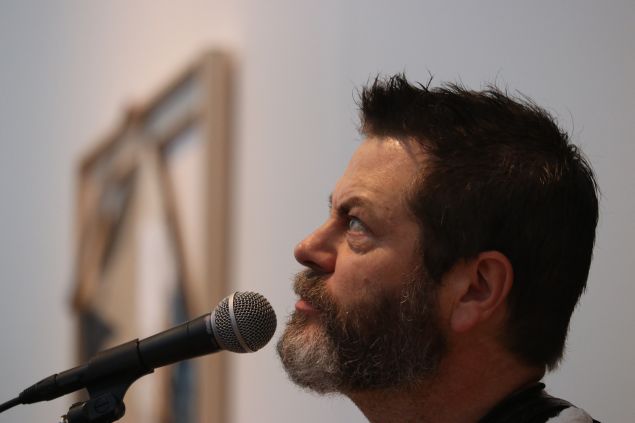 But this practice also reeks of being inauthentic, and by utilizing our cultural institutions to create those experiences organically, audiences are similarly engaged, only not subversively being marketed to. Solid Sound has mastered this since its inception in 2010, offering guests unlimited access to MASS MoCA's buildings throughout the festival and throwing intimate, pop-up performances around its many galleries. It's a move that other site-specific festivals, like Houston's Day For Night, have learned well from.
2) Use the Social App to Foster Community
Having a schedule of the weekend's performances at the ready on your smartphone is a wonderful convenience, but many attendees avoid downloading official festival apps because they don't want to connect their personal information to advertisers. Additionally, many festival apps encourage sharing to create a digital footprint of the attendee's activity throughout the weekend, in concert with the RFID chip found inside festival wristbands. What would it look like to use this technology for good and not evil?
Solid Sound figured out that their app's notifications can be used for far less nefarious ends by informing attendees of last-minute performances in its galleries. Whether you saw Wilco's lead guitarist jamming experimental jazz with his wife next to some Louise Bourgeois sculptures, or Parks and Recreation funnyman Nick Offerman playing dirty hobo songs and Tom Waits on an acoustic guitar in the abstract gallery, these are moments far more resonant than that Ford Fiesta photo booth. Social tools can be used for more than just expanding advertorial reach, who knew?!
3) Keep Food and Drink Cheap
Dollar bottles of water and reasonably priced, wholesome meal options aren't just a solid way for a festival to show that it actually cares about its guests, but it's good business as well. Late last year, Brooklyn Bowl owner Peter Shapiro told the Observer that he intentionally keeps at least one beer priced at five bucks because when drinks are reasonably priced, people drink more of them. It's a mutually beneficial decision.
Solid Sound doubled down on this logic by offering their own Lagunitas beer for the festival (the only sponsored presence the whole weekend), along with their own craft cider. And by offering them for six or seven bucks, they sold a whole lot more to the kids who spent the bulk of their money on tickets.
4) Involve the Community
The success story that is MASS MoCA ultimately involves the community of North Adams, which was hit hard by unemployment in the '80s and didn't start to pick up until the museum opened on the site of the town's old electrical components factory. Between offering educational programs for kids and art residencies for creatives from areas around town, the institution owes much of its success to community engagement, as does the town.
Solid Sound followed suit by recommending attendees eat local with maps of the quality spots around town. They offered free wi-fi at the fest from a local provider. Most of the food vendors were local, too (the rotary club even had the best meal, a full fried chicken dinner for ten bucks.) The feeling was mutual, too. All around town, signs and marquees welcomed Wilco back to North Adams and thanked them for throwing Solid Sound in their town.
5) Tone Down the Bombast By Keeping it in the Family
Solid Sound was rife with cool dads sporting their latest souvenir tour shirt and carrying small children outfitted with noise-reducing headphones. Much of the family friendly vibe felt intentional. Wilco's members hosted pop-up playdates for kids that featured acts like Story Pirates catered to expanding young minds. We'd take cute babies running around over rolling EDM teens any day.
The larger effect of the family-friendly programming, though, was more leaning toward utopia. Sure, people were partying, getting stoned and carrying on, but there was far less of a pervasive, sordid druggy vibe than is found at larger festivals. The general effect of this was that everyone was just nice, respectful of each other's space in crowded places and mindful of the energy they were emitting. An attentive EMS team also kept everyone hydrated, offering free sunblock and strategically positioned misting fans, while museum staff kept crowd traffic flowing smoothly. These factors added up to create an experience that was high on vibes and low on douche-baggery.
While many of these factors that made Solid Sound special seem counterintuitive toward the capitalist expanse that has rooted itself in the glut of American music festivals, they're worth noting. Attendees can have it so much better when organizers and businesses foster an environment that thinks local, puts the fan experience first, and uses its surroundings to create a special experience.
Justin Joffe writes about music, art, technology, and other cultural leavings.