It's about 11:00 PM at night. I'm tired. I have had several drinks. I get out at the subway stop that's a 15 minute walk from my house. I set a skateboard on the ground, turn it on and just let it glide me back to my place on the power of motors built into its wheels. With lights glowing out in all directions underneath it, it's easy for the guys walking around Bed-Stuy to see that I'm not riding your little brother's skateboard.
Some dude yells, "Hey, skateboard!" I ignore him. I'm focused on not falling. It's not going very fast, but I haven't stood on many of these things.  There's a corner I need to turn soon. I'm only moderately sure I know how to take it.
The theory behind electric skateboards is more about getting to work or meeting friends on your schedule without working up a big sweat than it is about escorting a semi-drunk writer home, but that's not how I chose to take my first solo ride. This was a true real life test, from my real life.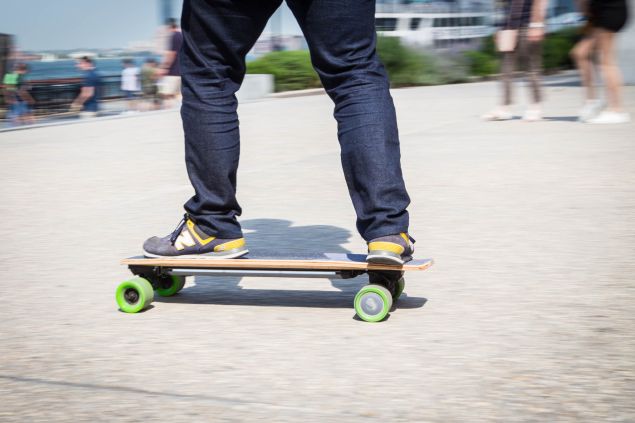 Getting around cities can be a bummer. That's why it's great to have lots more ways to do it. Some trips take a subway. Some take an electric skateboard.
I've previoulsy checked out the Blink boards and the Boosted Board, but this reporter is not an experienced skateboarder. Those limited experiments didn't tell me too much about the experience of riding around on a strip of wood with an engine on the bottom.
Acton, the makers of Blink, suggested lending me a couple of their boards to try out over time in real life. They sent a Blink S ($699) and the Blink S2 ($999). I spent a lot of time one weekend with them and then also tried using them to commute a bit.
Here's my take.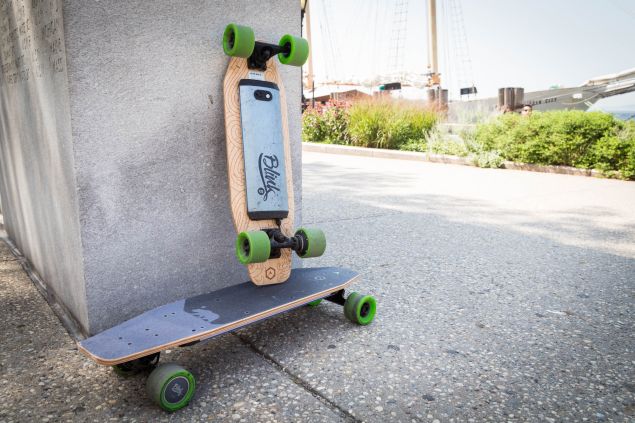 To review: how the boards work
Electric skateboards are controlled by a remote control the user carries in their hand. Both the controller and the board itself need to be turned on and off before they can be ridden with power.
The Blinks use hub motors, which means the power comes from within a wheel. Only one wheel has power on the Blink S and two have it on the S2.
The hubs also have regenerative brakes, so users can stop without setting foot on the ground (but when waiting at a stoplight you'll probably still want to).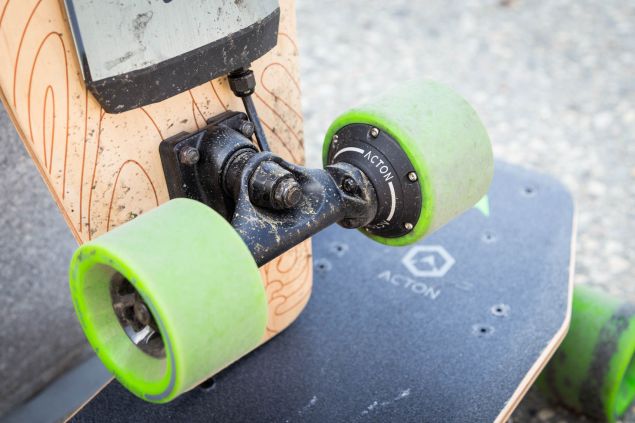 Owners can change the setting and overall power for their board using a free app from Acton that connects via Bluetooth.
Recreation
The first time I rode one of these skateboards, I had the Blink S set to beginner mode. That's a good place to start, but it's much too slow once a person gets at all comfortable with one. I was passing pedestrians fairly slowly as I took that first ride back to my apartment. The next time I got on one, I set it to normal. It also has advanced.
Most of the riding that I did on these boards took place over one weekend. My friend Eric Blattberg, who knows how to skate a city, took them out with me. "Cruising up a slight incline, fast, without pushing felt a bit magical," he wrote in an email. "These boards enable that sort of endless carving typically reserved for snowboarding, or absurdly-long downhill stretches."
This was his first time on an electric skateboard, but he flipped to the fastest mode right away. We rode them down to a park near my place in eastern Crown Heights, Brooklyn, road the length of Eastern Parkway, did the full loop inside Prospect Park and then found a taco place on Flatbush. He was on the Blink S and his battery didn't make it up the hill on the far side. It only has a range of seven miles.
Eric skated up that long hill after the power died (I thought we should just get on the subway there, but he wanted to try it). One of the advantages of the hub motor design over a belt drive is that there's no resistance if someone has to skate because of a dead battery. That said, "the battery adds a ton of weight to both models, even the smaller one, to the point where it's pretty unpleasant to use as a normal skateboard," Blattberg wrote. It's also completely rigid. The soft wheels take some of the bumps and jerks out of a city road, but it has none of the spring regular decks provide.
I road the park on the S2 however, which has a range of 14 miles. I rode it up the long climb on the east side of Prospect Park. There I was, on a skateboard, going uphill without kicking at all. I was passing runners and cyclists, weaving around each just by leaning a bit from side-to-side. It was one of the most fun things I've done in a while.
The part that surprised me the most was how quickly I became comfortable with going fast on the S2 (when I wasn't riding in traffic). My first time on the S2, I was surprised by a difference in its controller. Both controllers look the same, but the S2's will lock its accelerator in if you push it forward far enough. This means that on a long run you can just set it on full power and let go.
On my first attempt, I both immediately lost control of it and stuck the throttle in the on position. Fortunately, it was pointed in the direction of a nearby wall and didn't get very far.
The idea of the control sticking at top speed seemed crazy, but when I made my run around Prospect Park (which is a long smooth road with no cars and plenty of space to navigate around cyclists and runners), I pushed it all the way and just left it there. Even on the long downhill side, it felt fine and I just let it go. I braked a little going down just to try it, but I was surprised to find that once I really got going, it didn't make me nervous anymore to go faster and faster.
It's worth noting that on a decent downhill, the brake on the Blink S won't be enough to actually stop you. Riders will need to know how to use their feet. On the other hand, it is enough to slow a descent so it doesn't become terrifying to a n00b.
Another experienced skater friend of mine tried it out and he found the controls a little too jarring. He was riding the Blink S, and I largely agree. Strangely, though it is more powerful, the Blink S2 controller seems to work a bit more smoothly. The Blink S controller also had a bit of a delay. Sometimes we'd nudge it forward and nothing would seem to happen, so instinctively we'd nudge it further forward. Then when the motor kicked in, it would kick too hard.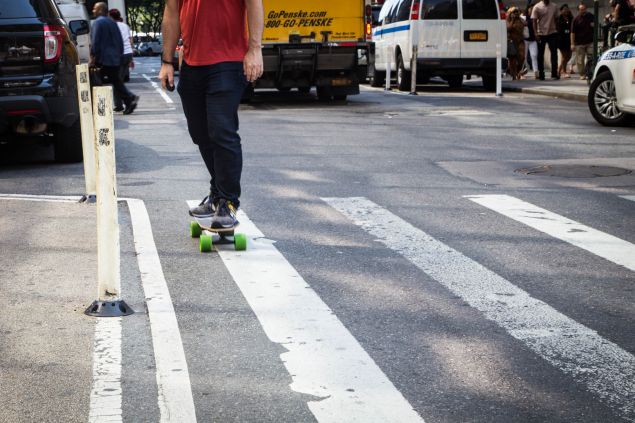 Daily Life
Riding the Blinks on the park's smooth road where cars are banned didn't translate easily to navigating Brooklyn. The next day, when I used one to go for a 4 mile ride to go visit some people on Sunday, I never quite felt completely at ease. It was fun* more than it was fun.
One day, I actually commuted to work on the board, and it shaved off an appreciable amount of time. I took it to the second subway stop from my place, which gets the express train. Then it turned my 10 minute walk from the stop where I get out in Manhattan into a five minute ride. But New York's transit authority has banned hoverboards and it made me nervous that one of the cops in the heavily patrolled station where I get out in the Financial District would see it.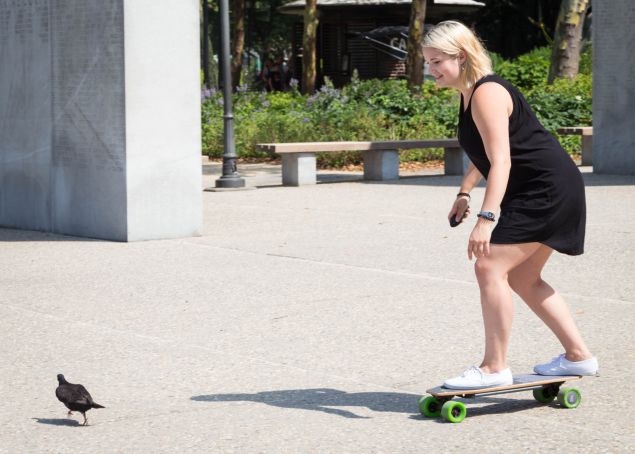 Nevertheless, I did it again to try going to another express stop even further from my house, on a different line that I've never tried before. The train gets in faster, but the advantage gets lost with the long walk. The skateboard made up the differences. Still, it made me wonder if a $50 scooter wouldn't be just as good.
"The Blink S just doesn't go that far without needing a charge, making it impractical for, say, commuting," Blattberg wrote. I agree. On the other hand, they do charge crazy fast. If you don't mind carrying a charger around with you (it's bulky, like a laptop charger), it could work okay. Or maybe buy a second charger to leave at the office.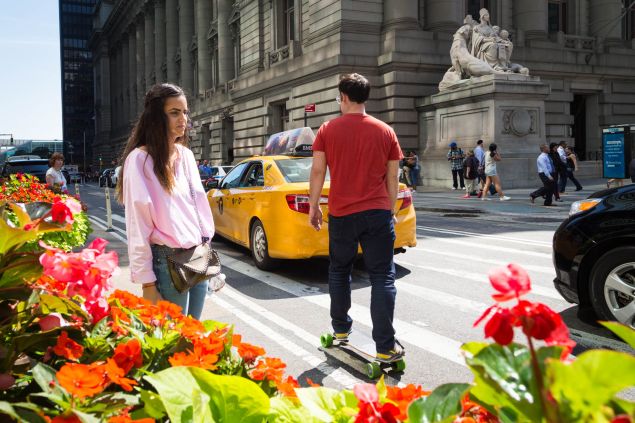 Non-skaters should watch some YouTube videos on basic board mechanics, because it is easy to make some key adjustments that really help. I tightened up the trucks on one board and that made it handle a bit better for me (I made them too tight for Blattberg).
The boards come equipped with big, soft tires, which really took the cracks and bumps of Brooklyn well.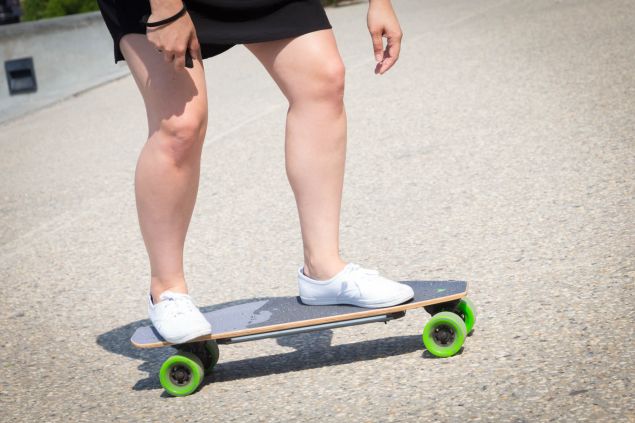 Drawbacks
Lights. Both of these boards have lights on them, and the lights are always on if the board is on. This is a safety feature, but I live in a neighborhood where if anything stands out, passers-by are going to talk to you about it. A lot. "The gadget attracts enough unwanted attention on its own," Blattberg wrote, "but in one Brooklyn cruise, I had to apologetically ward off about a dozen kids, who I don't have to interact with on my normal board."
Controller. The controllers just don't seem to be smooth enough. The Blink S's controller seemed to need to be really pointed at the board to work, and seem to have a bit of a delay. Both could use to be more refined on braking and accelerating. Also, the controllers have a reverse mode, but to go backwards the user still pushes forward after flipping a switch. This doesn't make a ton of sense intuitively. Also, the lanyards need larger loops. My hand broke one immediately.

The Blink S2, in the wild. Kaitlyn Flannagan for Observer

Weight. Carrying these boards is awkward because of the weight, and the griptape wrecks pants. I've seen boards with handles built in before, and that could really make sense for these. Either way, it's a lot to lug around if you're socializing. I met up with one friend who was on foot and we did some walking around Prospect Heights together. I did not love dealing with the board as we went.
Price. These things are fun and if I had one, I'm sure I'd use it. Would that use be worth the price of a decent new laptop though? Your mileage may vary.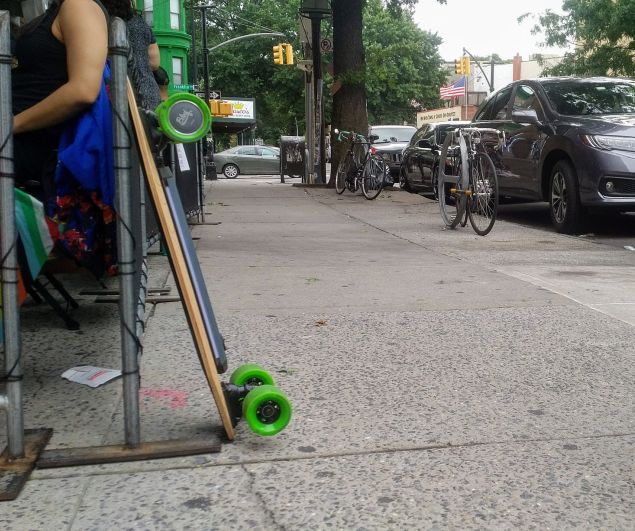 Conclusion
Acton argues that these boards can be learned by non-skaters, and I think that's true. I let a lot of people try them when I took them out, and I saw folks who have never been on a skateboard do better than me, right away.
There is a learning curve, though, especially to using it on the street. New skaters should go in ready to show some patience. On the other hand, experienced skaters too tired to kick anymore might really love these motors.
In a smaller city or a suburb, these boards could be a great way to get around, but New York might not be the ideal setting. It would be nice to imagine some of the world's pointless one person car trips being replaced with electric skateboards. In an autonomous car future, where aggressive driving has been programmed away, these could be a fun way for people to make their way to work or out on the town.
As technology does more to disrupt city streets, it will be interesting to see how this product category evolves.