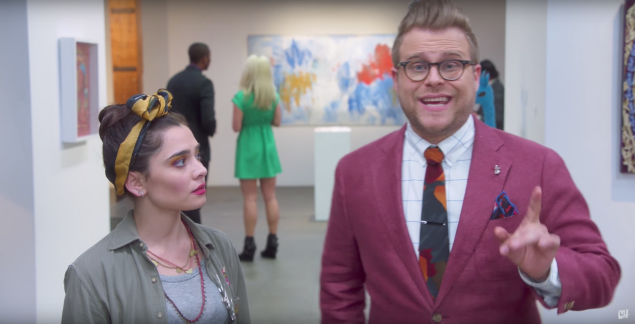 Anyone who has watched Adam Conover's show Adam Ruins Everything has learned by now that pretty much all we know to be true and good in this world is a lie, a construct and scam. At least that's the basic gist of Conover's expose-style, satire-laden show for TruTV, in which he dispels commonly accepted myths across a spectrum of subjects, from the food service industry to voting and online dating. In his latest episode, which aired a short clip on August 8 online via College Humor, the comedian takes on yet another complicated industry: the art market. What does he conclude?
"Good news, aspiring artists! The world of fine art is manipulated financially AND extremely exclusive!" reads a brief description on the clip's YouTube page, which had garnered over 1.3 million views after just 24 hours of being posted.
The segment, which covers how the pricing hierarchy of the gallery system is non-transparent and often highly subjective, why auction houses use tricks and tactics to control bidding and how mosts artists face slim chances of achieving stardom without the invisible hand of the market acting in their favor, may be eye opening for the unfamiliar but is well-trodden territory for insiders. The art market's unregulated nature and seemingly ever-rising record sales prices sales have been well-documented in the past several decades. (Filmmaker Barry Avrich tackled many of these subjects in his documentary Blurred Lines, which just premiered at the Tribeca Film Festival this year.) But, Conover's takedown of the industry does make the seemingly harsh realities of the art world ecosystem entertaining in this shortened, condensed and comical tour.