Alexander Skarsgard is moving into this East Village penthouse. Scroll through to see inside the actor's new abode.
Compass
He paid $2.3 million for the co-op.
Compass
It's currently configured as a one-bedroom, one-bathroom.
Compass
There's a wood-burning fireplace and beamed ceilings in the living room.
Compass
The kitchen is newly redone.
Compass
A surplus of exposed brick walls.
Compass
Parker Posey once owned this exact apartment.
Compass
And Chloe Sevigny once occupied the ground-floor unit.
Compass
A standing claw footed tub in the bathroom.
Compass
In December last year, Alexander Skarsgård was spotted checking out apartments in the East Village. The Swedish actor reportedly toured a duplex penthouse at 415 East 6th Street, but it seems that it just wasn't meant to be, as Skarsgård has now purchased a different top-floor residence in the same neighborhood, at 119 East 10th Street.
The Big Little Lies actor's new co-op is currently configured as a one-bedroom, one-bathroom, but could easily be converted into a two-bedroom, says the listing shared by Compass brokers Lois Planco and Amy Mendizabal. It occupies a full floor atop a 26.5-foot-wide prewar townhouse, with plenty of south-facing windows and wood-beamed ceilings in the living room, as well as an oversized skylight.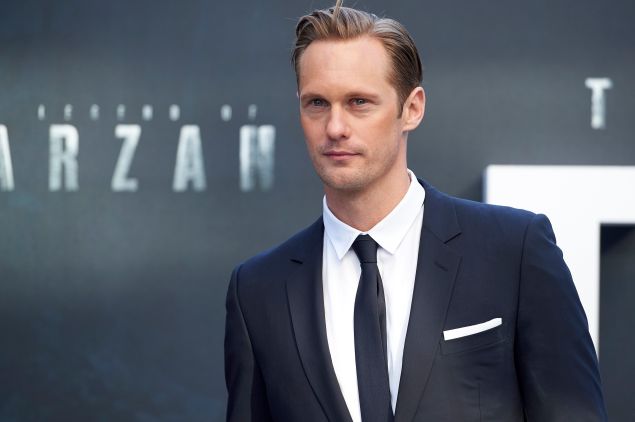 The kitchen is "fully upgraded," and there are original wide-plank floors and exposed brick throughout. There's even a working wood-burning fireplace.
The apartment went into contract at its listing price of $2 million, but the former True Blood actor must have been very taken with the home, or perhaps a bidding war broker out, as he paid $2.3 million for the unit—$300,000 over ask.
Skarsgård isn't the first famous face to grace the walls of this particular apartment, though. Indie queen Parker Posey once lived in this very unit, before she sold it for $1.3 million in 2008—she subsequently moved to 30 Fifth Avenue, but left that apartment in July last year.
It's also the very same building where Chloë Sevigny previously lived—the actress owned the garden-floor apartment in the East Village townhouse, which she sold in 2013 for $1.76 million. Sevigny then declared she could "cry at the state of [the East Village]…it's like a frat house everywhere. I don't know if it's a sign of the times, but where are the real weirdos? The real outcasts?" She proceeded to decamp to Park Slope, claiming she decided upon the Brooklyn nabe because it was the "dorkiest" neighborhood of all. 
Alas, Sevigny recently sold that co-op on Prospect Park West for $2.7 million. Perhaps after all that, she'll make a return to the East Village.