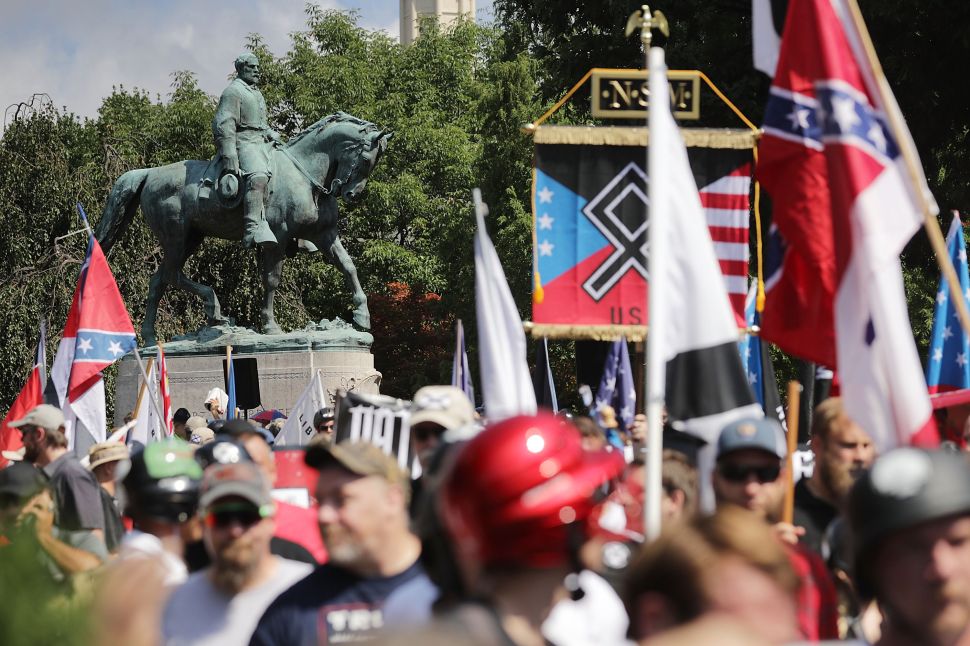 For the alt-right marchers who came to Charlottesville to intimidate the city and its people for trying to remove the statue of Robert E. Lee, I have some bad news. General Lee would have never supported their hate-filled, racist march. He called slavery evil, prayed for its abolition, conducted himself like a gentleman, and worked to unite the country after the Civil War. Nothing about that "Unite the Right" march shares Lee's values.
General Lee Called Slavery "Evil"
On numerous occasions, General Robert E. Lee called slavery an evil institution. For example, on December 28, 1856, he told President Franklin Pierce:
"There are few, I believe, in this enlightened age, who will not acknowledge that slavery as an institution is a moral and political evil. It is idle to expatiate on its disadvantages. I think it is a greater evil to the white than to the colored race. While my feelings are strongly enlisted in behalf of the latter, my sympathies are more deeply engaged for the former."
Lee describing slavery as a "moral and political evil" can be found in his public statements and his private beliefs as well. He had slaves through his family, but he felt that Christianity, aided by his prayers, would help terminate slavery, as he noted in the same letter to the president.
"Their emancipation will sooner result from the mild and melting influences of Christianity than from the storm and tempest of fiery controversy. This influence, though slow, is sure. The doctrines and miracles of our Saviour have required nearly two thousand years to convert but a small portion of the human race, and even among Christian nations what gross errors still exist! While we see the course of the final abolition of human slavery is still onward, and give it the aid of our prayers, let us leave the progress as well as the results in the hands of Him who, chooses to work by slow influences, and with whom a thousand years are but as a single day."
Lee also opposed secession, according to David Brooks with The New York Times. The only reason he fought for the South was because Virginia seceded, and they only did so because they balked at being forced to attack other Southern states.
General Lee Conducted Himself Like a Gentleman
Almost everyone—including the men who fought for and against him, historians who have studied his life, and politicians both liberal and conservative—either extoll or grudgingly concede that General Lee conducted himself like a gentleman in all matters, as Brooks writes.
Lee was so respected that Northerners like President Abraham Lincoln and General Ulysses S. Grant opposed execution or prison time for Lee. His tactics hardly reflect the in-your-face style of the professional provocateur who organized the march this weekend, who was more interested in money and fame than anything else.
General Lee Sought to Unite the Country After the Civil War
As Dan McLaughlin with the National Review writes, Lee played a key role in the post-Civil War reconciliation. While a few politicians and zealots in the army wanted to wage a bloody interminable guerilla war that would have torn this country apart, General Lee would have none of that.
Though he hated to surrender, he did so for the good of the country and convinced others to do as well. Anyone who reads Jay Winik's April 1865 book will say that the entire country could have shared the bloody post-Civil War legacy of Missouri and Kansas if it wasn't for men like Lee and Grant.
Lee is hardly the only Southern military officer who sought reconciliation. Many, such as General Longstreet, did so for the good of the country. Others who perished in the Civil War, like Stonewall Jackson and Pat Cleburne, had little tolerance for racism. And General Nathan Bedford Forrest, after forming the Ku Klux Klan, realized how destructive the group had become. Forrest went on to serve under General William T. Sherman, working to destroy the KKK and arrest white men who had lynched a black man.
General Lee Didn't Serve in the Military to Get a Statue
Last weekend's events were sparked by a plan to remove the statue of Lee from Charlottesville, but Lee wasn't the type of soldier to demand a statue. He was a humble man who sought to serve; he wasn't a statue-seeker.
I agree with Brooks that we need Lee's name on educational institutions like Washington and Lee to reflect his postwar service, instead of building monuments to his Civil War activities, of which he himself was clearly conflicted about.
There is nothing in the Charlottesville march that General Lee would be proud of. Those marchers opposed what Lee stood for, which can be found in these words in a letter he wrote to his son Rooney in 1864:
"We should live, act, and say nothing to the injury of any one. It is not only for the best as a matter of principle, but it is the path of peace and honor."
John A. Tures is a professor of political science at LaGrange College in LaGrange, Ga. He can be reached at jtures@lagrange.edu. His Twitter account is JohnTures2.