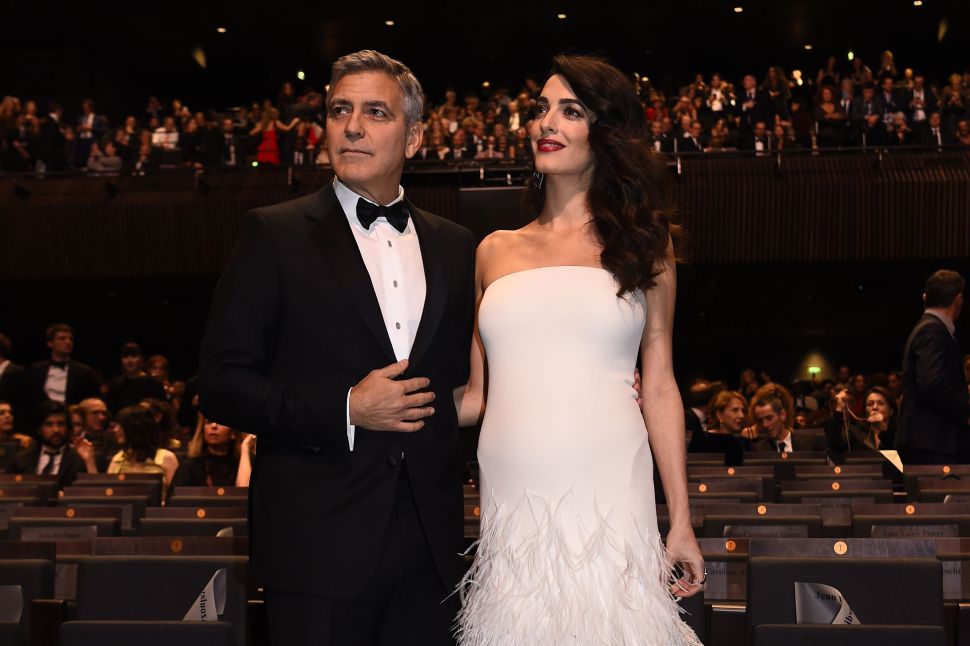 Even though human rights lawyer Amal Clooney is spending her Italian vacation in the company of her three-month-old twins and George Clooney, she appears to be having a rather relaxing time. For proof, just look at her holiday wardrobe.
Gone are the tailored dresses and structured coats she's often photographed wearing as she steps into a courthouse. She seems to have ditched the figure hugging, thigh-skimming frocks she usually wears to dine out with her movie star husband in New York and London. And you better believe she is not squeezing her feet into any stilettos.
Instead, during her time spent in Lake Como, Amal has embraced a more flowing silhouette—which is ideal for night after night of pasta, pizza and red wine. So let's break down her looks, one paparazzi photo at a time.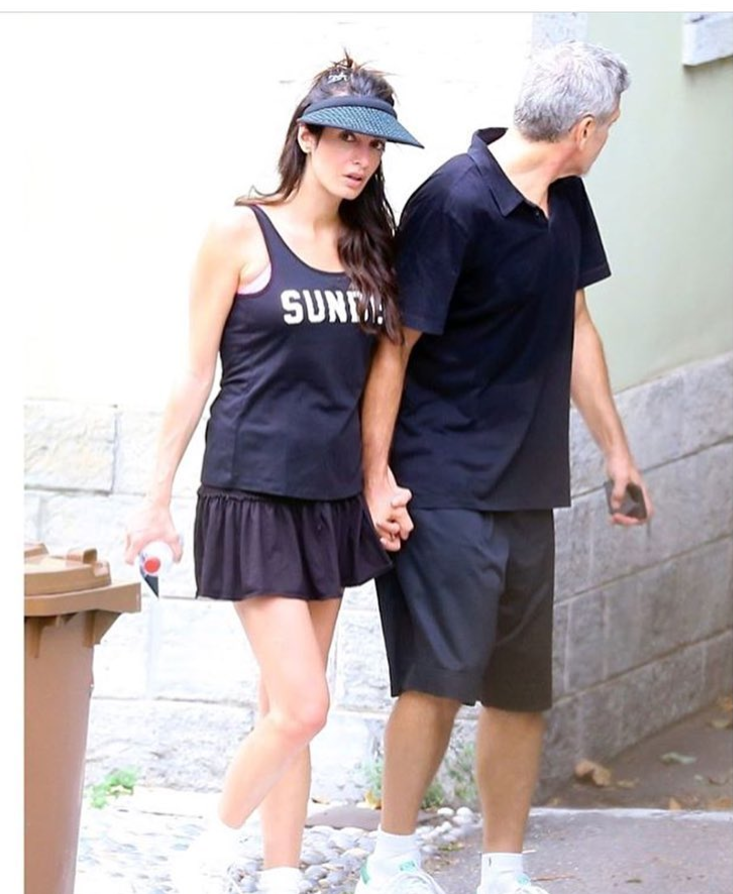 The first shot from her vacation provided a front row view to Amal's workout gear. Dressed in head-to-toe navy—and color coordinating with her husband—she eschewed traditional tennis whites for something a bit edgier. Along with a navy ruffled skirt and a "Sunday" tank top from Sundek (that retails for just $39), she slipped on a raffia visor that perfectly matched her color scheme. Though this workout look was rather matchy-matchy, the loose silhouette is really laid back and happens to be a far cry from the skintight Lululemon leggings that are a uniform of sorts in gyms around the globe.
Amal did turn up the glam factor for a night at Harry's Bar, slipping into an emerald green frock by Stella McCartney. This might be the most dressy look from her Italian getaway, but you'll notice that she's still favoring a loose silhouette, which is directly related to a chilled out attitude.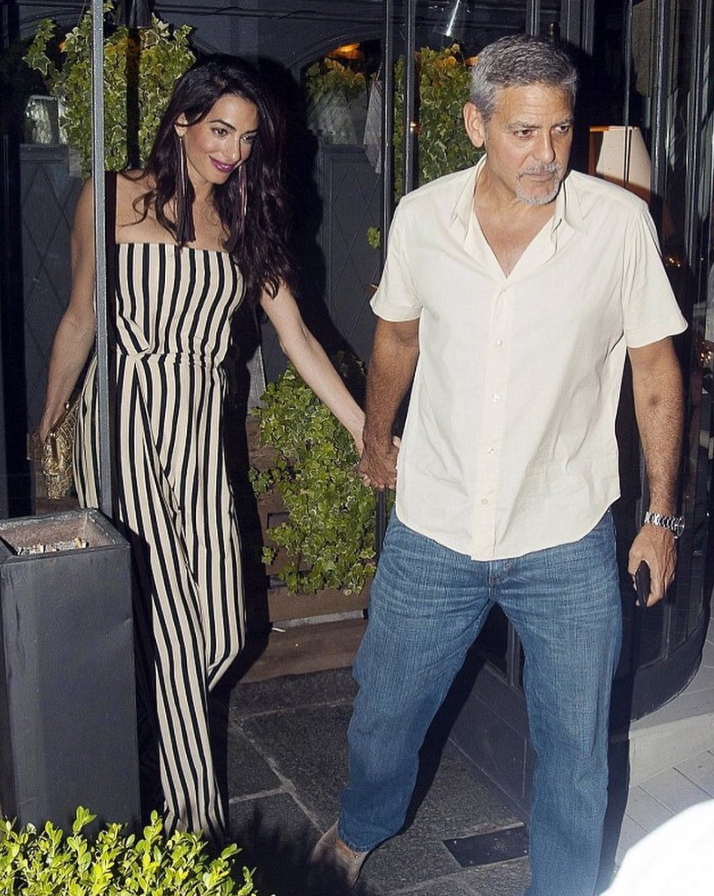 By slipping into a black and white striped jumpsuit from Elisabetta Franchi to dine at Il Gatto Nero, Amal decided to show off her technical fashion knowledge. Though the jumpsuit is nipped in at the waist, the overall hourglass shape is both casual and cool. She smartly opted for vertical stripes, which add inches to her already impressive height. Topping off the jumpsuit are a pair of tassel earrings from Totally Tala, a brand helmed by none other than Amal's sister, Tala Alamuddin.
For a dinner at Villa d'Este, a stunning hotel that provides sweeping views of Lake Como, Amal opted for billowing pants from Rosie Assoulin. Featuring yet another striped print, this time Amal chose a flattering chevron style in red—and the style icon paired her wide-leg pants with a rouge camisole from the same designer. Easily accessorized with just a gold watch and clutch in the same color, this outfit was a welcome reprieve from the usual go-to ruffled shirt dress that appears to be the biggest trend of 2017. Plus, the trouser and top pair is far more polished any rumpled linen outfit.
Sure, the human rights lawyer might be dressing like she's on vacation, but she's still rather pulled together. What more would you expect from Amal Clooney?