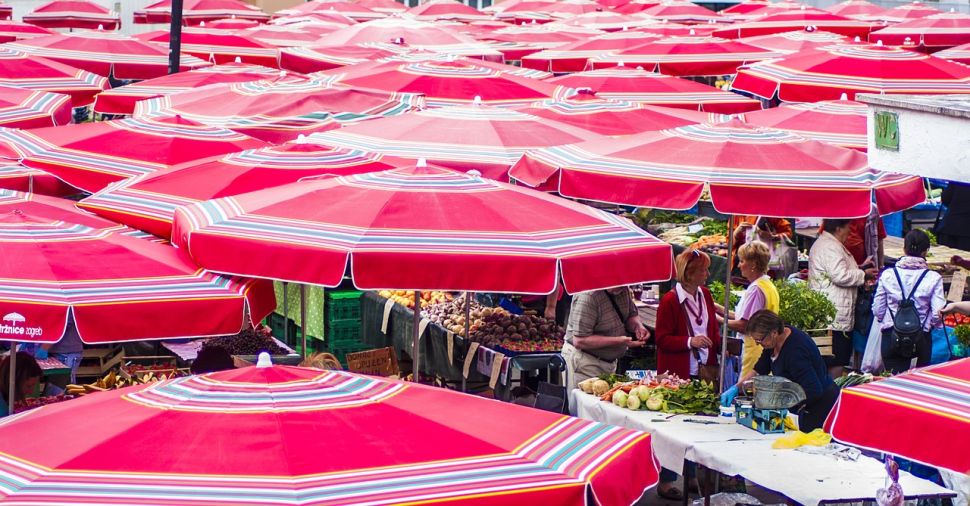 Walmart's marginal profits got shaved over the last quarter, while Chinese ecommerce giant Alibaba reported strong profits. Walmart's stock is down slightly and Alibaba's is up. That's perhaps not surprising, except for the fact that both saw strong revenue growth, with Walmart actually beating analysts' expectations for earnings per share by a penny.
Meanwhile, Amazon continues to be one of the most talked about companies in technology. It's a brand primarily known to most people as a place to acquire goods online. In fact, by one measure, it's the most talked about company in the world. It came up on more earnings calls for other companies than any other brand, by far. It also has been generating conversation in Congress. Yet with Amazon, few analysts ever talk about profit, trusting Jeff Bezos to aggressively reinvest all returns into new sectors that will establish the Seattle giant in more facets of our life than the telephone.
For example, see Amazon's addictive line of talking Alexa products.
In its last quarter (reported in late July), Amazon's earnings fell 77 percent over the same quarter last year. Worse, its earnings came in at 40 cents per share, more than a dollar under the expected $1.41 expected by analysts. Amazon has paid a price in the market for the hard miss. Its stock price has fallen almost $100 per share since the last earnings announcement, down to $968 per share this morning.
That said, when looked at over the last year, Amazon's share price is still up 25 percent. Walmart's is up only 11 percent. Alibaba's is up 73 percent.
So which one is really the strongest company and what message is the market trying to send about growth versus profits?
The debate about profit at Amazon has been raging for a long time, but the long term trajectory shows that Amazon's base is acclimated to a company whose growth strategy favors an extended time horizon. So it's not surprising that on balance, shares are up.
If investors understand that in this climate, survival requires sacrificing profits for growth, one would expect Walmart to have been more rewarded more richly after 12 straight quarters of revenue growth, as Fortune reported. In fact, it has recently been making strides in taking advantage of its existing infrastructure to hit Amazon where it counts: ecommerce. With 4,000 physical stores around the country, Walmart doesn't have to buy a physical infrastructure to provide curbside pickup. It's got it already, and that's what it's been doing.
Yet its growth in stock price has been tepid and its stock is down since the recent profit announcement. This may reflect an investor-base accustomed to the old Walmart's way of doing business, sharing with investors the bounty it generates as the world's largest retailer. They may be reluctant to reward the firm for cutting off the spigot of brick-and-mortar profits. The company's executives are probably smart to stomach the lackluster response from Wall Street, because the biggest story of 2017 has been the death of retail. Walmart's size buys it time, but only so much.
Yet Alibaba really does seem to be getting judged by a different yardstick than the other two. It has had dramatic growth in value as a stock, yet it has the lowest earnings per share of any of the three. Its strong profits suggest it doesn't have as many ideas about what to do with all the money it's making.
In fact, as Techcrunch has reported, its best ideas usually seem to involve imitating other companies. It has a healthy cloud services business (Amazon's the leader there, followed by Microsoft) and a Chinese-language video-streaming service that looks much like YouTube.
Amazon as the modern conglomerate
Each company has something that makes them special, though. Alibaba is protected in its Chinese market by a government that's reluctant to let Western rivals in. This gives it a customer base of more than a billion people that its rivals can't reach, especially online. This also gives it access to China's globally important base of manufacturers, making it the Amazon of B2B ecommerce. Thanks to China's protection, it's unlikely that Seattle will be able to compete with it in this area any time soon.
On the other hand, if Alibaba has maxed out the potential of that market, CEO Jack Ma is likely to stumble if he has to chase growth on Bezos' turf.
Walmart has been getting inventive with its base of retail stores, many of them built in the last places that Amazon will try to reach (such as small and mid-sized cities). In Walmart country, the habit of going to the store is tough to break. If the Arkansas behemoth can squeeze out more sales from those stores as a place to pick up goods bought online (such as fancy pants), that could protect it from eradication for years.
Which is far cry from actually threatening Amazon. Walmart's a long way from building the deep relationship with customers that Amazon has.
This is at least party because Amazon has Prime, and this might really be the company's true killer app. When customers pay for Prime, they get access to both Amazon's rich entertainment and e-commerce offerings. Last week, Quartz uncovered that many of the new brands growing on Amazon are actually Amazon companies. When Amazon sells other comapanies' brands, it only profits off the difference between the wholesale and retail price. When it sells its own stuff, it also keeps the difference between the wholesale price and protection cost.
By controlling that whole value chain and making it more likely that people will buy through Amazon by locking them in with Prime, Amazon may have found a modern way to run a conglomerate, a business model that's largely out fashion, but there are exceptions.
With Prime, Amazon can build hardware businesses—such as the Echo and Kindle line of products, an e-commerce supply chain and an entertainment empire while aligning each and every one to a core base of customers that pay an annual subscription fee to the company. In that way, Amazon really does have a core competency: making Prime as valuable as possible. In fact, this summer it announced a Prime tier aimed at low-income customers, helping to spread the Amazon addiction beyond the upper-middle class.
There may be a class of investor disappointed by each quarter it doesn't post strong profits, but its base seems to understand that it is the company leading where everyone else is following. Neither Walmart nor Alibaba seem to have enough tent poles to build an enclosure that can hold as many customers as comfortably as Amazon does.