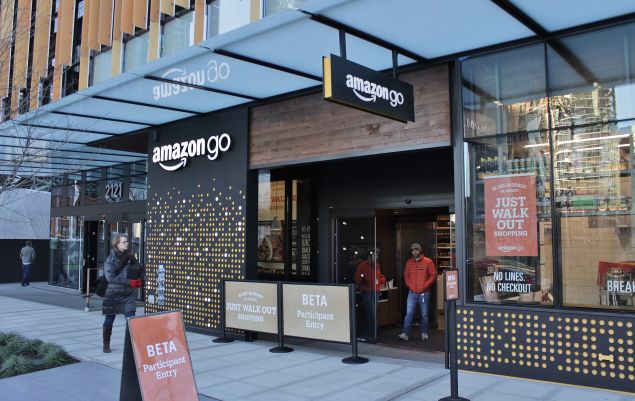 A transgender woman and her husband are suing Amazon, claiming they endured repeated discrimination and harassment while working at one of the company's warehouses.
Allegra Schawe-Lane and Dane Lane filed the lawsuit today in U.S. District Court in Covington, Kentucky. They allege they were targeted with threats, slurs and sexual harassment by co-workers at a shipping facility in Hebron, Kentucky.
According to the complaint, Schawe-Lane was referred to by male pronouns, and she was also called "it," "man," "sir," "he/she," "chick with a dick" and "shemale," among other insults. Coworkers brought her pornography and sex toys, and asked her questions about her genitalia. And at one point, the brake line of the couple's car was severed while parked in the warehouse lot.
The couple, who were hired by Amazon in October 2014 and resigned a year later, also claim that management didn't take any steps to halt the abuse—instead they retaliated against them.
"My husband Dane and I were devoted to our jobs. In return, we were treated atrociously by our co-workers and our bosses, simply because I am a woman," Schawe-Lane said in a statement. "No one deserves to be singled out and abused the way we were."
"We continue to pay a huge price for Amazon allowing bigotry to go unchecked," Lane added.
Two months before resigning, the couple filed discrimination charges with the Equal Employment Opportunity Commission (EEOC). The agency found that Amazon had violated both the Civil Rights Act of 1964 and the Americans With Disabilities Act, because Schawe-Lane's status as a transgender woman was perceived by her employers as a disability. As such, the couple had grounds for a lawsuit.
The suit asks for both compensatory payment and punitive damages, with the amount to be determined by a jury. It also seeks a court order requiring Amazon to implement programs that would ensure respectful treatment of transgender employees.
Louisville lawyer Amanda Walker is handling the case on behalf of the Transgender Legal Defense & Education Fund (TLDEF). Jillian Weiss, the organization's executive director, said she was "particularly disheartened" about this case because Amazon has supported transgender rights in the past, and also because it produces the Emmy-winning show Transparent, whose protagonist transitions from male to female.
"We call on Amazon to examine the disconnect between the message of its hit show Transparent and the discrimination perpetrated against Allegra and Dane," Weiss said in a statement.
TLDEF is using CrowdJustice to crowdfund the costs of the legal case. The campaign is asking for $2,000—it's only raised $75 so far.