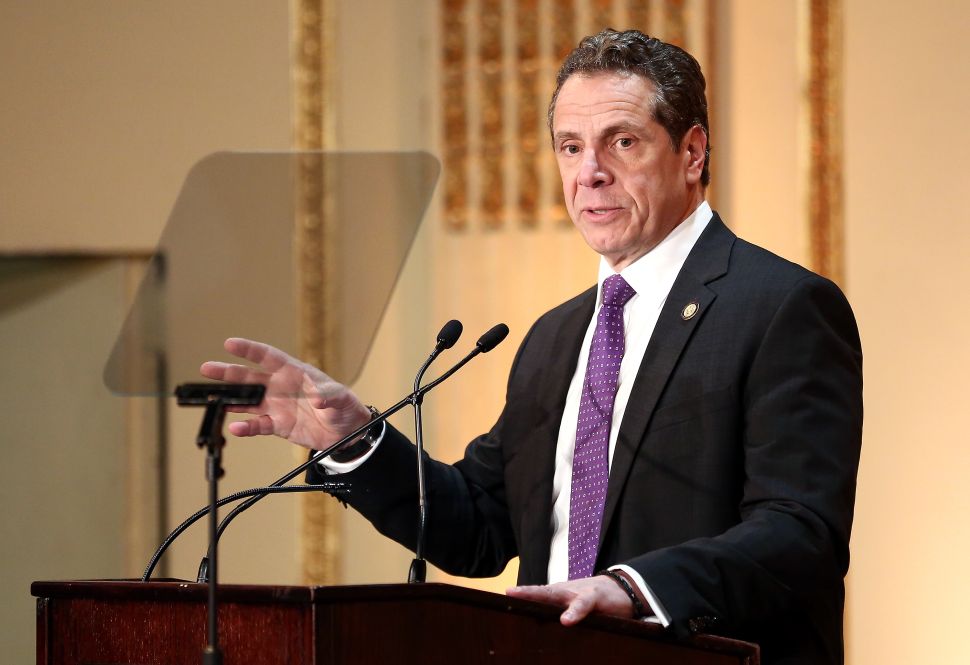 In the aftermath of violence stemming from a white nationalist rally in Charlottesville, Va., Gov. Andrew Cuomo announced today that he is advancing legislation that would classify inciting to riot and rioting directed at protected classes as offenses uhder the state's Hate Crimes Law.
Under the proposed legislation, the penalties for engaging in orninciring riots would be upgraded on the scale of felonies, meaning they would carry harsher punishments.
The legislative changes — which have been dubbed the "Charlottesville provisions" — will reiterate that while peaceful demonstrations are allowed, the state will not condone advocacy for or the incitement of imminent violence against protected classes within its communities, Cuomo said.
"The ugly events that took place in Charlottesville must never be repeated, and in New York we're going to stand united against hate in all of its forms," he said in a statement. "Our diversity is our strength and this legislation will help protect New Yorkers and send a clear signal that violence and discrimination have no place in our society. New York is one community and one family, and we will never stop fighting to ensure the safety and equal treatment of all New Yorkers."
A group of neo-Nazis and white supremacists marched through the University of Virginia's campus last week with tiki torches, yelling blood and soil," a Nazi slogan. They surrounded counter-protesters and hurled their torches at them.
White nationalist and alt-right groups subsequently held a "Unite the Right" rally to protest the city's decision to get rid of a statue of confederate General Robert E. Lee. James Alex Fields Jr., 20, of Ohio, drove his car into counter-protesters and killed 32-year-old Charlottesville resident Heather Heyer, while injuring at least 19 other counter-protesters. Fields's high school teacher told CNN that he "was very big into Nazism" and "really bought into this white supremacist thing."
In another altercation, white nationalists beat Deandre Harris, a 20-year-old who moved to Charlottesville from Suffolk, Va., in 2015 for a job at a local high school, with a pole. The U.S. Department of Justice has also opened a civil rights investigation, and Virginia Gov. Terry McAuliffe called on white supremacists to "leave America."
Under current state law, a hate crime is defined as a specified set of offenses in which victims are targeted due to a perception or a belief about their race, ethnicity, ancestry, gender, religion, religious practice, age, disability or sexual orientation — or when the act is committed as a result of that type of perception or belief. And the law states that hate crimes can be carried out against an individual, a group of individuals or against public or private property.
Cuomo also called for expanding the state's Human Rights Law to protect all students. At the moment, only private school students are protected by the law.
President Trump said that he denounced "in the strongest possible terms this egregious display of hatred, bigotry, and violence on many sides" — drawing outrage from Democrats and Republicans over the fact that he did not blame white nationalists alone. After the criticism, Trump on Monday specifically condemned white supremacists, KKK, and neo-Nazis.
In November 2016, Cuomo announced a new State Police unit to investigate reports of hate crimes, an expansion of the state's human rights law to protect all students and an emergency legal defense fund for immigrants.