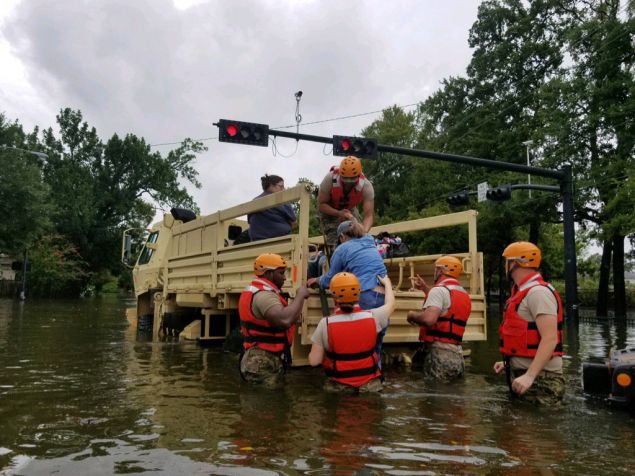 Gov. Andrew Cuomo is sending more New York Air National Guard personnel and aircraft to support relief efforts in the aftermath of Hurricane Harvey in Texas.
Cuomo announced that an HC-130 search and rescue aircraft carrying 15 more Airmen from the 106th Rescue Wing is scheduled to leave Gabreski Air National Guard Base this morning and arrive at Fort Hood in Texas later today. A Regional Medical Plans Officer will leave for Texas on Thursday to help evacuate and transport patients from area hospitals.
"As our neighbors in the south continue to grapple with the aftermath of Hurricane Harvey, I am deploying additional personnel and equipment to assist in continued search and rescue operations," the governor said in a statement. "New Yorkers are no strangers to the destruction that can come at the hands of Mother Nature, and we are prepared to continue to support these efforts in any way we can."
Texas officials have counted 10 deaths that may be connected to the storm, according to the New York Times. The National Weather Service anticipates that more rain will hit the Houston-Galveston area, the upper Texas coast and southwest Louisiana today.
Texas Gov. Greg Abbott activated the entire National Guard to help with the recovery process. On Friday, Trump agreed to his request for a disaster declaration enabling the Federal Emergency Management Agency to assist Texans more quickly. President Donald Trump is in Texas today.
Cuomo had previously sent 104 Airmen, along with three HH-60 Pavehawk rescue helicopters, another HC-130 and several boats and watercraft. On Monday, rescue teams in the three helicopters and three boat rescue teams rescued 255 residents in the Houston and Katy, Texas, areas.
Cuomo noted that the state offered similar assistance to Florida in the aftermath of Hurricanes Matthew in 2016, Dennis in 2005 and both Frances and Ivan in 2004. He also said that New York deployed a multi-agency team of more than 300 people to help Louisiana following Hurricane Katrina in 2005 as well as another 18-member team after Hurricane Gustav in 2008. And he added that the state sent crews of firefighters west multiple times to help subdue wildfires.
Mayor Bill de Blasio, for his part, announced on Sunday that the city was sending 120 emergency workers to Texas from the NYPD, FDNY and EMS. The mayor told reporters yesterday that the team left at 5 a.m. on Sunday and was just reaching the affected area. He also said that the city was sending 75,000 meals to Texas in addition to personnel.
Joseph Esposito, commissioner of the city's Office of Emergency Management, also said that a portion of all 28 federally funded Urban Search and Rescue Rapid Response Teams — one of which is based in New York — have been deployed to Texas.