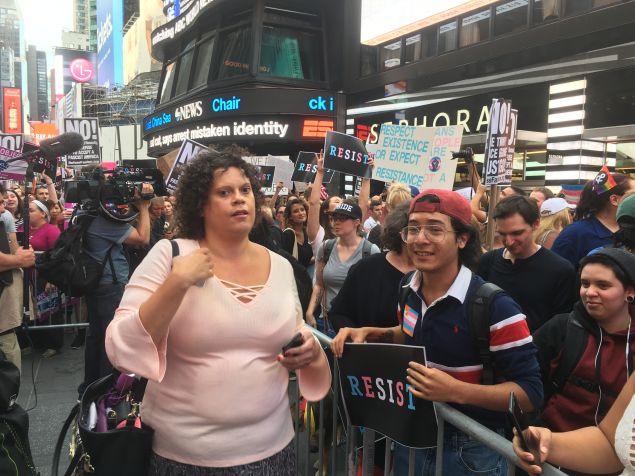 Gov. Andrew Cuomo today ordered that health insurers cannot discriminate against or deny coverage to people based on their gender identity, a move that bolsters protections for transgender individuals.
A Department of Financial Services circular letter issued today directs health insurers to assess whether an insured individual qualifies for the services before denying a claim. Cuomo previously  issued guidance stating that insurers cannot deny medically necessary treatment for gender dysphoria.
"In New York, we believe that health care is a right, and we are committed to protecting that right for all New Yorkers, regardless of income, age, race, sexuality or gender identity," Cuomo said in a statement. "Now, more than ever, we are leading the nation in furthering protections to all New Yorkers that those in Washington seek to eliminate, and we will continue to work to combat discrimination in all forms and ensure equal treatment for all."
Financial Services Superintendent Maria Vullo echoed the governor.
"Transgender persons should not be discriminated against and denied health insurance coverage because of their transgender status nor denied treatment simply due to insurance coding issues," Vullo said in a statement. "DFS will ensure that all New Yorkers, regardless of gender identity, receive the health insurance coverage they need."
In the letter, Lisette Johnson, Bureau Chief for the state Department of Financial Services' Health Bureau today, said that they learned that issuers may be denying transgender individuals' claims because the gender with which the individual identifies does not correspond to the gender of someone to whom those services are normally given.
Johnson gave the example of a woman who identifies as a man being denied a claim for cervical cytology screening because the issuer's information indicates that the individual is anatomically a male. She also gave the example of a man who identifies as a woman being denied a claim for prostate cancer screening because the issuer's information sites that the individual is anatomically a female.
"In order to ensure that transgender individuals are able to access covered services, an issuer should not deny a claim for a health service provided to an individual because the individual is seemingly not of the gender to whom the service is typically or exclusively provided without seeking additional information to determine whether the service was appropriately provided to the individual," Johnson wrote.
In June, Cuomo directed DFS to promulgate new emergency regulations prohibiting health insurance providers from discriminating against New Yorkers with preexisting conditions or based on age or gender in addition to protecting the 10 categories of essential health benefits guaranteed by ACA.
Last month, Gov. Chris Christie of New Jersey signed legislation barring health insurers from discriminating against trans individuals.