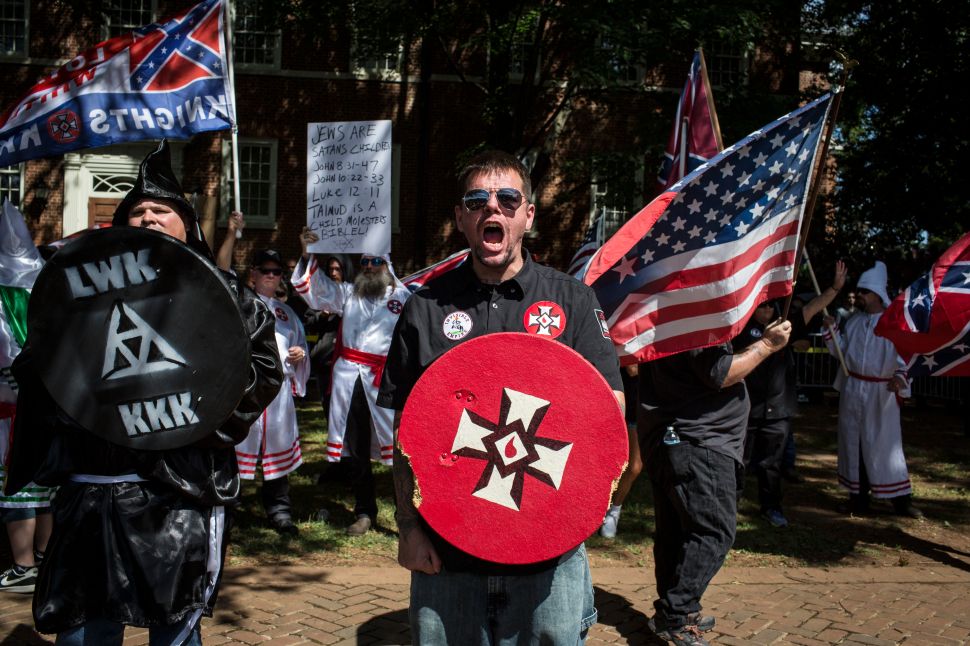 Al-Qaeda columnist Ibrahim al-Qosi, a former Guantanamo detainee, wrote in the May issue of the terror group's Inspire magazine that white nationalist groups in the United States most helpfully "see the federal government serve the interests of the Jews" and realize they "must be curbed."
How they must have smiled watching coverage of the "Unite the Right" rally, where the assembled white supremacists and neo-Nazis chanted "Jew" at any derisive mention of Charlottesville's Jewish mayor, Mike Signer. Chants included "Jews will not replace us," "the goyim know," and the old Nazi rally slogan "blood and soil." Some marchers wore Nazi armbands and carried swastika flags and signs denouncing Jews as "Satan's children"—boy, Islamic terrorists are vigorously nodding their heads in agreement—along with a vile range of racist slurs.
On the alt-right /pol/ 4chan site, a nickname thread for James Fields Jr., the Ohio man accused of running over counter-protesters and killing one woman, suggested "James 'The Jews went too far so I got my car' Fields" and "James 'Mow Down the Kikes, Even the Tykes' Fields."
Fields is accused of killing by a method often described in do-it-yourself terrorist guides: ramming a car into a crowd, while first waiting until enough people have massed and gathering enough speed to do real damage.
Though many of these haters would chafe at the mere suggestion, it's a devastating cooperative relationship: domestic anti-Semites, while cherry-picking useful tips on online organizing and youth recruitment from Islamist terror groups' successes, are also emboldening terrorists.
Some of the people you'll hear spreading anti-Semitic views are blatant apologists for extremism, justifying a car barreling into an Israeli bus stop or a random knife attack on the street as a legitimate expression of frustration at the lack of a Palestinian state, Jewish victims be damned. And some of the people you'll hear spreading anti-Semitic views, from as overt as holding aloft a neo-Nazi slogan at a rally to covert online trolling, simultaneously fancy themselves to be great foes of al-Qaeda and ISIS as they also denounce Islam and non-white people, places and cultures.
And they're helping terrorist organizations.
Everyone who tweets a photo of a Jewish journalist in an oven, who spreads canards about Jews controlling the media and global financial system, who spews hatred for the Jewish people in thinly veiled criticism of the Jewish state is helping terror groups hone a talking point. Every time anti-Semitism is brushed aside as Twitter trolls or spray-painted swastikas on a synagogue and busted-up Jewish headstones are dismissed as youthful pranks, the complacency gives terrorists another reason to believe that they, too, can target the Jewish state and Jewish people with a fair number of westerners looking in the other direction. And when westerners actually do the job of trying to stoke antagonism against Jews, you can basically hear ISIS pulling out the thank you cards.
A culture of anti-Semitism is a fertile ground for breeding extremism and terrorist sympathizers, while a society with no tolerance for anti-Semitism presents a unified front against their agenda.
An ISIS e-book published in the early days of the Islamic State encouraged readers to check out anti-Israel protests with non-Muslims calling for "the fall of Zionism," if not to draw recruits from this demographic then relying on their rhetoric to hammer away at the "financial elite."
Another e-book from the terror group on the sacking of Israel spewed blood libel, claimed Jews control social media, called Israel a hotbed of hedonism and cited hoax "The Protocols of the Elders of Zion" as source material. ISIS questioned why Jews were entitled to a homeland after World War II while claiming Judaism was "imitating the Satanic culture" and the Star of David was "a symbol of sorcery."
That's pretty much interchangeable with the neo-Nazi rhetoric spewed on the streets of Charlottesville and by other tentacles of the movement.
When it comes to fighting anti-Semitism, we must not only consider who is hurt by the hate but who is served—and not be afraid to underscore when rhetoric, vandalism, threats and policies are, in a nutshell, hate sponsors of terrorism.
Bridget Johnson is a senior fellow with the news and public policy group Haym Salomon Center and D.C. bureau chief for PJ Media.