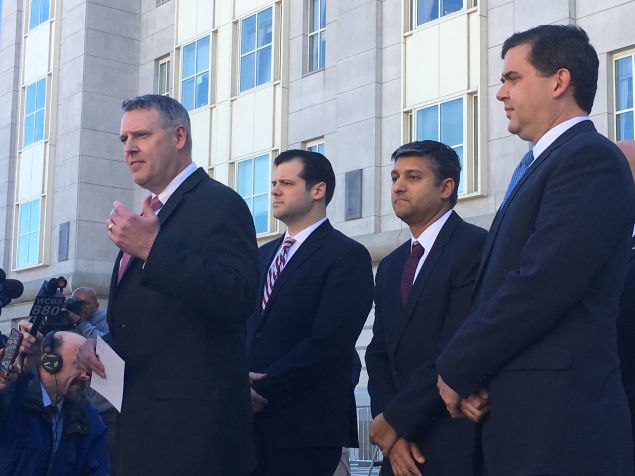 A federal appeals court on Friday upheld a 35-month prison sentence for Joseph Ferriero, the former chairman of the Bergen County Democratic Organization, who was convicted on bribery and fraud charges.
In 2009, Ferriero was convicted of accepting bribes and using his position as BCDO chairman to convince municipalities to use a certain software company, C3 Holdings LLC, for municipal business. In his appeal to the 3rd Circuit, Ferriero claimed that there was insufficient evidence to convict him of bribery or fraud and argued the U.S. Supreme Court's decision to toss out former Virginia Gov. Bob McDonnell's bribery conviction should also clear him.
A three-judge panel of the 3rd Circuit found that the evidence was sufficient. "Nothing in McDonnell changes the outcome for Ferriero in this case," the court added.
"Ferriero pushed Democratic officials from Bergen County towns to contract with C3, and four of the localities on his list eventually did so," Judge Anthony J. Scirica wrote for the court. "He was paid thousands of dollars based on those four contracts in checks listing out which payments corresponded to which town. But none of the local Democratic officials to whom Ferriero recommended C3 were aware he stood to profit."
The U.S. Attorney's Office in Newark said in a statement that the court noted that as the BCDO "party chair, Ferriero's recommendations carried great weight."
The appeal also claimed that it was Ferriero's First Amendment right to recommend the company (the court rejected that argument). According to the U.S. Attorney's Office, Ferriero would receive "one-quarter to one-third of the gross receipts from any contract obtained because of Ferriero's efforts" from software developer John Carrino of C3 Holdings. That financial interest was hidden using two shell companies.
Following his 35-month prison sentence, Ferriero faces three years of probation. He will also have to pay restitution. Ferriero was sentenced in 2015. Ferriero was BCDO chairman from 1998 until 2009.