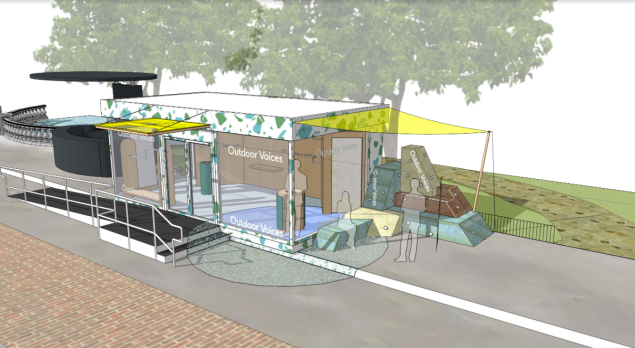 In just three years, Outdoor Voices has become the cool girl athleisure brand of choice. You've surely spotted it on every fashionable SoulCycle, Barry's Bootcamp and ModelFit participant, if not in street style snaps of Karlie Kloss, Lena Dunham, Leandra Medine and Allison Williams.
So it comes as a bit of a surprise that the brand has actually never had a brick and mortar store in Los Angeles, or anywhere on the West Coast, for that matter. But that's about to change, as the activewear brand is opening a pop-up in one of the ultimate LA lifestyle destinations, The Grove.
"We're drawn to areas of recreational electricity, and use our shops as a way to engage with each local community in a way they're already recreating," the brand's founder and CEO, Tyler Haney, said. "Expanding to Los Angeles was a natural step, after establishing shops in New York City and Texas. We love the city's carefree vibe and admire its focus on wellness and activity."
McGuire Moorman Hospitality Group's Will Fox designed the space at 189 The Grove Drive; it's the same group behind the creation of Outdoor Voices' Nolita and Austin storefronts.
The LA showroom is in the center of The Grove; it's a freestanding glass structure where shoppers will find the brand's apparel in new seasonal colors, as well as six towels that are exclusive to the LA store and a new iteration of the Outdoor Voices tote, in a limited edition flamingo hue—for trips to the beach, of course.
Aside from the athleisure in the temporary location, the pop-up also aims to be a community space for Los Angeles residents who wants to partake in recreational activities—there's apparently a special focus on rock climbing, as the storefront has a pebble print exterior as well as "strategically placed" climbing holds, and there will be additional seating to encourage lingering.
This isn't Outdoor Voices' first pop-up. Aside from the brand's three permanent storefronts (two in New York, with one on the Upper East Side and one in Nolita, as well as a store in Austin, Texas), they've also had temporary shops in Aspen, Dallas and Soho.
Sadly, the Outdoor Voices space at The Grove won't be there for too long. It opens this Thursday, August 10, and ends by September 14. If you're in the mood for chic athleisure and a potential rock climbing excursion, head to The Grove before the pop-up closes its doors.