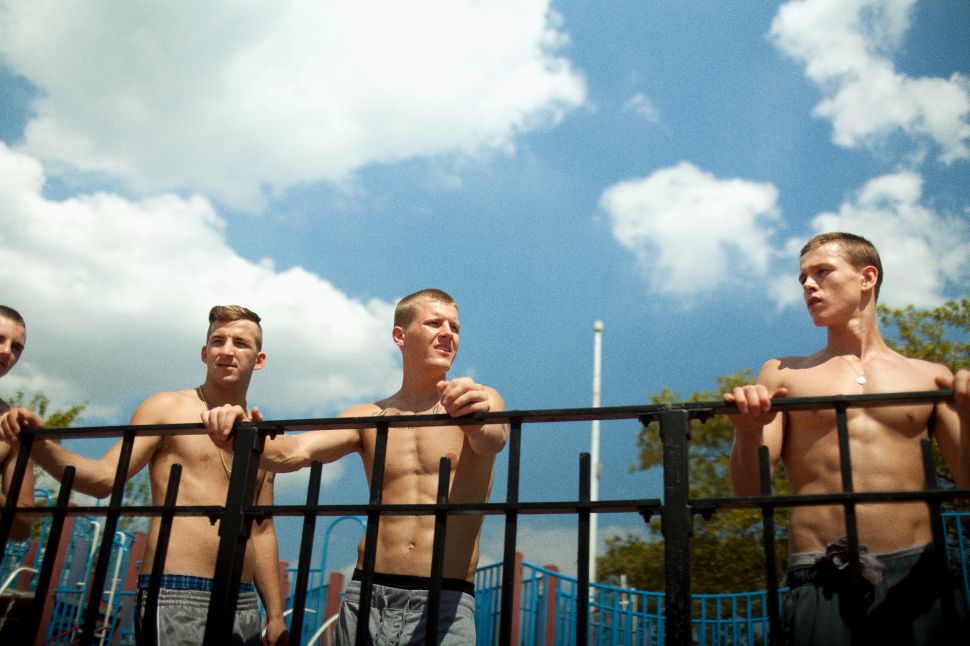 In the expanding genre of gay cinema, coming out dramas are now yesterday's mashed potatoes. A lot of things about the arresting dynamics of Beach Rats—a sad, thoughtful look at the life after high school of a bored, directionless Brooklyn teenager searching for sexual identity on the brink of manhood—make this a film worthy of special attention. But the most memorable thing about it is the profoundly understated sensitivity of Harris Dickinson, a (surprisingly) British actor to keep an eye on. It's the best career-making debut since Lucas Hedges in Manchester by the Sea. He may have been trained in a London drama school, but his hesitant, awkward accent is as natural to the far shores of Brooklyn as the Coney Island boardwalk, where his character, Frankie, spends most of his time.
Written and directed by Eliza Hittman, Beach Rats is  a moving coming-of-age story filmed in annoyingly grainy 16-millimeter about Frankie, a handsome 19-year-old who doesn't know what to do with his pointless existence. He's a high school graduate with no ambition, no imagination, and no focus, unemployed with no prospects, living at home with a hostile younger sister, a chain-smoking mother, and a father dying of cancer from whom Frankie steals an occasional opioid painkiller to  share with his buddies. Like his gang of macho cronies, he passes the summer days lifting weights, smoking pot, riding the Coney Island bumper cars, soaking in the rays, and picking the occasional pocket. At night, he's glued to his computer, watching gay porn, scanning gay hookup sites and chat rooms and shyly posing naked. He eventually progresses to actual dates in the shadows of the sand dunes and alleys near the beach, usually with older men. He's not a criminal, because he only steals to be one of the gang, and he's not really gay (at first) because he confesses, when his tricks ask him what he's into: "I don't really know." He has no particular loyalty to his buddies, although they envy his natural ability as a babe magnet. He has a girlfriend named Simone (a terrific Madeline Weinstein) but shows no interest in sex, preferring the company of surrogate father figures who take him to bed and provide a fleeting affection he never got at home. Frankie, in fact, is a lost boy, shiftless and confused—experimenting with sex out of desperate loneliness and very much the tragic victim of a stagnant, empty environment from which there is no escape. The script is non-linear, but eventually leads to one bold move in which Frankie tries to prove his manhood by inviting his pals to scam a lonely, clean-cut college student for his weed—a dumb decision that ends in violence.
---

BEACH RATS ★★★
(3/4 stars)
Directed by: Eliza Hittman
Written by: Eliza Hittman
Starring: Harris Dickinson, Madeline Weinstein, Kate Hodge and Neal Huff
Running time: 95 mins.

---
Director Eliza Hittman explores Brooklyn's growing reputation as a mecca for confused young hipsters through focusing on one closeted young man, who knows he's different from the rest of the herd but clueless about how to do anything positive with the knowledge. The directorial style is the kind of evocative naturalism favored by John Cassavetes, yet entirely conventional, eventually inconclusive and emotionally shallow. Focusing on closeups of Frankie's abs, fingers, ripe lips and naked buttocks, it's eroticized without being graphic. The characters seem real in their inarticulate immaturity, but they all lack definition, including Frankie. He's the one you want to save, but he never really progresses beyond indifference to the prison of his own passivity. The subplots never amount to anything substantial, and the film has no ending. Frankie just dissolves into the Coney Island seascape in a blur to await the next sexual encounter.
The saving grace—the thing that keeps you interested and caring—is Dickinson, the newcomer with phenomenal potential, so honest and self-assured I can't wait to see what he does next. His perfect, laid-back New York drawl and loping beefcake stride belie his disciplined professional polish. When he trips over words, it's a touching attempt to hide his true feelings, or apologize for having any feelings at all.  He's really worth seeing. The film he dominates, alas, fades from memory long before he does.