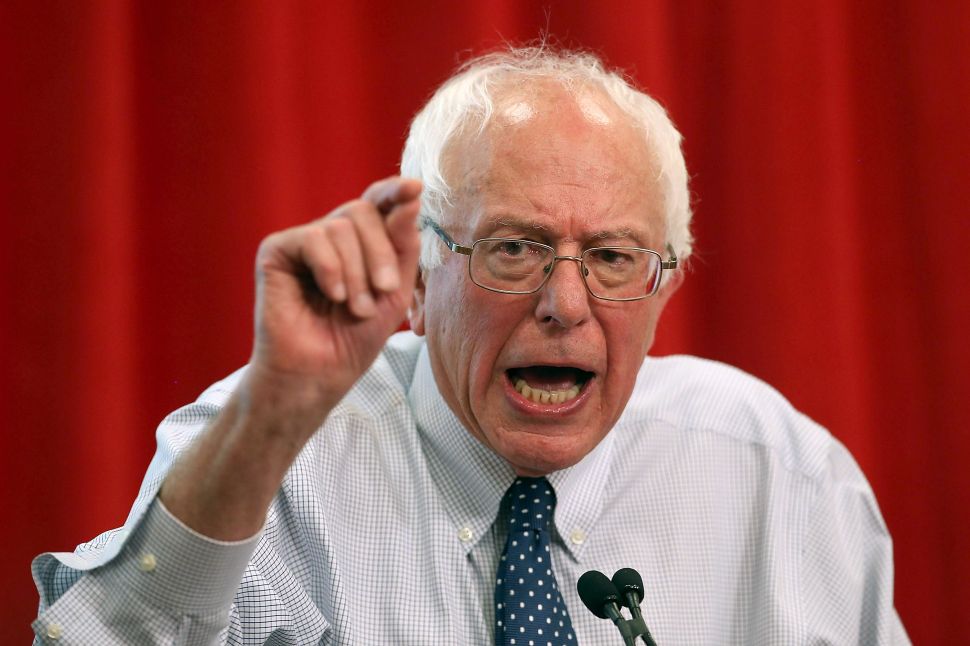 During the 2016 Democratic primaries, Clinton advisor Joel Benenson said that if Sen. Bernie Sanders wanted more debates, he would have to change his "tone"—even though the debates were scheduled to benefit Hillary Clinton. Now the same Democratic establishment forces are back to policing the tone of Sanders and his progressive movement. Since the primaries, the establishment has used smears, attacks, and condescension to ensure that party unity will be achieved on their terms. In February 2017, an anonymous Democratic senator told the Hill that Bernie Sanders needed to fall in line with the rest of the party. According to the senator, Senate Minority Leader Charles Schumer set up a meeting with Sanders and other senators to send a message to Sanders that he needed to "play nice." On August 9, BuzzFeed published an article with the same attitude toward Our Revolution President Nina Turner.
Mocking Turner's viable criticism of the DNC, the lede of BuzzFeed's article reads,
" 'Dictatorial.' 'Arrogant.' 'Pompous.' 'Superficial.' 'Tone-deaf.' 'Tone-dead.' 'Out of line.' 'Insulting'—'absolutely insulting.'
These are the words that Nina Turner, president of the group founded by Bernie Sanders to further his 'political revolution,' used in an interview to describe the Democratic National Committee."
The article, which echoes DNC talking points, claims, "She's taking on the same institutional forces that are allied with Sanders." This is demonstrably false: Sanders is not allied with the DNC and Democratic establishment. The article tries to ostracize Nina Turner, as though she is causing trouble by speaking out against the DNC, which has done very little to change since the 2016 election. The article cited an incident in which Turner and several dozen supporters were met with barricades outside the DNC headquarters a few weeks ago when they tried to deliver an Our Revolution petition. Barricades were set up due to large crowds in the area. The article conveniently omitted that Turner was told to stay on the outside of the barricades when trying to deliver the petition. BuzzFeed also neglected to mention that one year ago, the DNC and Clinton campaign banned Turner from introducing Sanders at the Democratic National Convention.
Of course, the DNC disputed Turner's account of the events. The organization argued that they have tried to include Our Revolution in discussions, citing a July meeting they didn't show up for and a Unity Tour with DNC Chair Tom Perez and Bernie Sanders in April. Sanders supporters perceived the Unity Tour as a joke, a poor effort to manufacture unity by using Sanders to try to make Perez more palatable to progressives. While supporters showed up in droves to hear Sanders, Perez received boos.
BuzzFeed went on to undercut Sanders' political revolution:
"Turner's rise and Weaver's departure promise a new dynamic between Sanders and Our Revolution, likely one with more distance, current and former aides said. Although Weaver managed the group from something of a remove, spending much of this year working on a new book, he did serve as a central link to Sanders. To some of Sanders' hands, his exit was a signal that the senator's political focus lies elsewhere. To others, it meant a step away from the group's state and local campaign effort, which has struggled to secure victories under the Sanders banner."
The claim that making Nina Turner president of Our Revolution means that Sanders' interest in the group has dwindled is entirely baseless. Additionally, Our Revolution has not "struggled to secure victories." Of the candidates the group endorsed in 2016, more won than lost. In 2017, most of its candidates are still in the midst of campaigning, but they already have several victories, such as Chokwe Lumumba's election to mayor of Jackson, Miss., and Christine Pellegrino's New York State Assembly election victory in a district that Trump won. Our Revolution aims to challenge both Republicans and the donor-backed Democratic establishment. That it has been successful in this endeavor speaks to its power, enthusiasm and momentum.
The hit piece's notion that Sanders is allied with the Democratic establishment is naive at best. This week, Sanders wrote in an email to supporters about his push for single-payer health care, "We will be taking on the most powerful special interests in the country: Wall Street, the insurance companies, the drug companies, the corporate media, the Republican Party and the establishment wing of the Democratic Party." Nothing has changed except the Democratic establishment reverting to pushing back against Sanders and his increasingly popular surrogates like Nina Turner. It appears the establishment is feeling the Bern from progressives and independents who have grown weary of a DNC and Democratic establishment that refuses to address the needs and interests of working-class, middle-class and low-income voters.