With the sad, slow death of print media, there's one unlikely phoenix that has risen from the ashes of the glossy magazines that have folded in the past decade.
We'll let fashion illustrator Bil Donovan explain: "Social media has re-energized fashion illustration. Anyone can see it." He pointed out these fanciful paintings or drawings once lived only within the pages of a glossy magazine, but now can be consumed on apps like Instagram and websites like Facebook or Tumblr. "It's created a new audience, so to speak. It's an audience that really has an appreciation for the work, which to me, is incredible."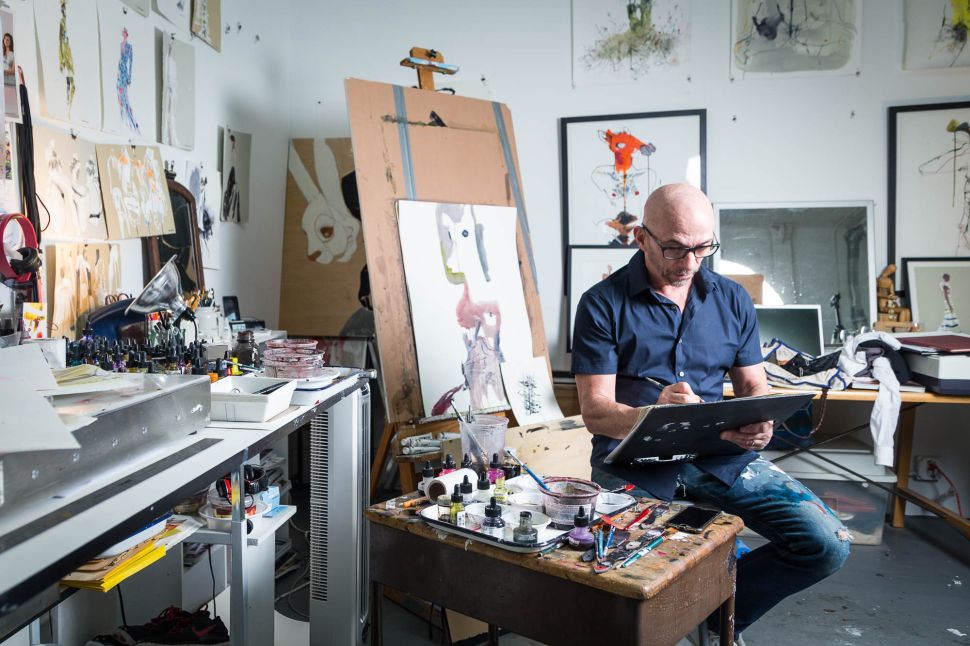 Donovan, a notable member of the fashion illustration community, mostly works in watercolor, brushing life into a gown presented on the runway or a model posing in his Bushwick studio. He has watched his career take off alongside these very visual social media platforms. Though he had years of experience under his brush—receiving a bachelor's degree in fine arts from the School of Visual Arts plus a fashion illustration degree from FIT and working in Milan for six years with clients such as Marie Claire Italia and Italian Vogue—the late aughts was when he really blossomed.
In December 2008 American Vogue hired him for a series of three events, the third of which was for a Christian Dior party on Madison Avenue. Dressed in a suit and a dior (CHDRY) tie (that the brand lent him), Donovan was tasked with drawing portraits of over 50 top clientele. The Dior shoppers loved the attention and the executives loved the outcome. However, Donovan had to return the Dior tie at the end of the night.
Just a few months later, in April 2009, they approached him with a job offer and he became the first Artist in Residence for Christian Dior Beauty. It's quite a hefty title, but what does it entail? Well, Donovan goes to various store events and creates fashion portraits for the big spenders—though the high profile shoppers do have to reserve a spot ahead of time and receive a Dior makeover. Sometimes, Donovan works with the fashion side of the brand, painting the women who shop the couture selection from the boutique on New York's 57th Street or the ready-to-wear in Miami. But there's one Dior project that seems to be his favorite—and it all started with a cocktail.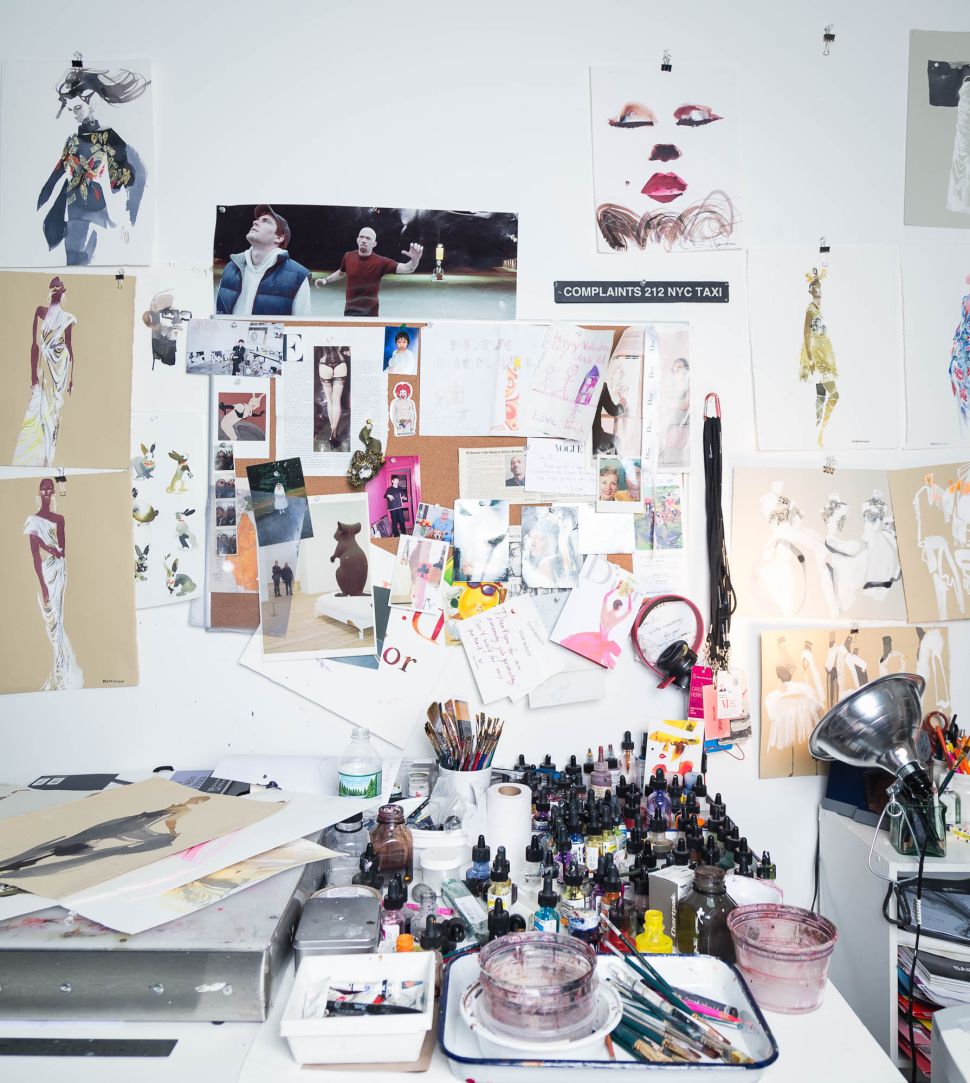 "I also work for the St. Regis. Years ago, the creative director for Starwood asked me if I could draw a cocktail the same way I painted a dress. So I said, 'Sure.' Now, I do all the illustrations of their cocktails when they open up a new establishment," he explained with a paintbrush in hand, pausing to ask the model in his studio to change her pose. When the hotel decided to renovate the Christian Dior Suite in New York, they wanted to decorate the walls with an illustration of some frocks and knew Donovan would be great for the job—without realizing he was already affiliated with the brand. Naturally, Pamela Baxter, Dior's president at the time, loved the idea and Donovan's couture watercolors are now immortalized on the walls of the iconic New York hotel. 
Dior isn't the only brand that Donovan has wooed. The illustrator has created masterpieces from the runway collections of Rosie Assoulin, Ralph Rucci, Carolina Herrera and Thom Browne, the latter of whom is notoriously selective about who he lets backstage.
"I was trying to be as inconspicuous as possible," explained, when he arrived at the Thom Browne show in 2014. "I remember they were doing makeup and I went to a corner and I found a little trunk and I was drawing. [Thom] came out and I thought, 'Oh, I'm in trouble.' Then he came over and said 'These are beautiful.' I asked, 'Is this okay?' And he said, 'Make yourself at home.'"
His work has also been acknowledged—and acquired—by the Met. When Harold Koda, the longtime curator-in-chief of the Anna Wintour Costume Center, retired in January 2016, the museum banded together with Vogue to present him with a book that depicted 36 of the outstanding pieces he had garnered via donations over the years. Donovan illustrated 11 of those pieces, included the iconic Safety Pin Dress that was created by Versace and famously worn by Elizabeth Hurley. That book now sits on the shelves of the Library of the fashion institute.
This fall, Donovan and a few other fashion illustrators will be celebrated at the "Drawing On Style: Original Fashion Illustration" exhibit, pulled together by London's Gray M.C.A., at Cheryl Hazan gallery. Work from modern master Jason Brooks and legendary creative Kenneth Paul Block will also be on display. If you can't make it to a fashion show this season, this is certainly a must-visit New York fashion event, as it will be on display from September 5 to 10.