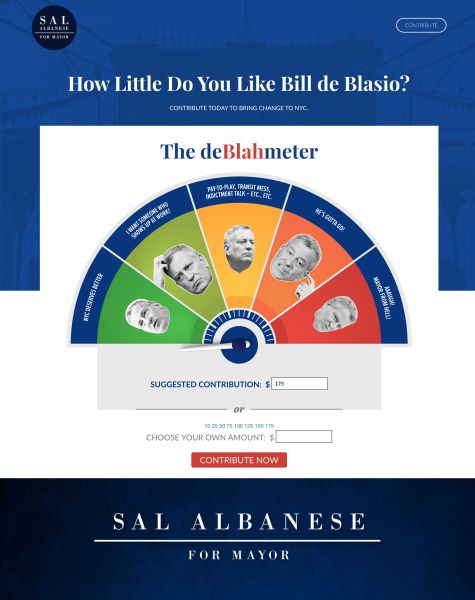 The New York City mayoral contest—which so far has been about as interesting as a cup of day-old coffee—just got a jolt of caffeine. Former New York City councilman and Democratic mayoral candidate Sal Albanese unveiled yesterday the first of a series of blistering (and comical) digital ads that take aim at the increasingly unpopular incumbent, Bill de Blasio.
The centerpiece of the campaign is an app that enables New Yorkers to gauge their level of disappointment with their mayor. Called the "deBlahmeter," visitors are encouraged to rate their level of dissatisfaction with de Blasio by clicking on a dial that ranges from "NYC Deserves Better" to "Mayor from Hell."
"I want someone who shows up for work!" says one wedge of the online meter. "Pay-to-play, Transit Mess, Indictment Talk, Etc., Etc." says another. "He's Gotta Go!" reads another.
The New York City tabloids are having a field day with the jabs Albanese is taking at his opponent.
"Everywhere I go, I have yet to find even one person who can't wait to vote for de Blasio. Not only are we finding that there's absolutely no enthusiasm for him, we're finding a very regular undercurrent of anger and frustration. The mayor doesn't seem to be really interested in the day-to-day operation of the City and pays little to no attention to the bread and butter issues that most people care about. It's this frustration that the 'deBLAHmeter' hopes to capture," Albanese told the Observer.
Pronounced de-BLAH-meter, the app serves as a fundraising tool for the Albanese campaign. The campaign is promoting the app on social media as well as prominent New York City news, sports and entertainment sites. Albanese needs $175,000 in donations to qualify for the Democratic primary debates and another $250,000 to qualify for matching funds from the City's generous campaign finance matching funds program.
Perhaps the real purpose of the Albanese campaign's deBlahmeter is to get under de Blasio's famously thin skin. If so, they may have already accomplished their goal: The mayor's spokesman has already fired back at the deBlahmeter, defending the mayor's record. "Crime is at record lows, jobs are at a record high, New York City is building affordable housing at a record pace, and rents were frozen for more than 2 million tenants. That is the mayor's record, and it is one that New Yorkers are rallying around," said Dan Levitan, a spokesman for de Blasio.
Arick Wierson is a six-time Emmy®Award-winning television executive and former political and communications adviser to New York City Mayor Michael Bloomberg. He is the founder of NYC TV and NYC Media Group, the largest publicly-ownder broadcast entity in the United States. Currently, Wierson is a political strategist and branding consultant to clients in U.S., Latin America, and Africa. You can follow him on twitter @ArickWierson.