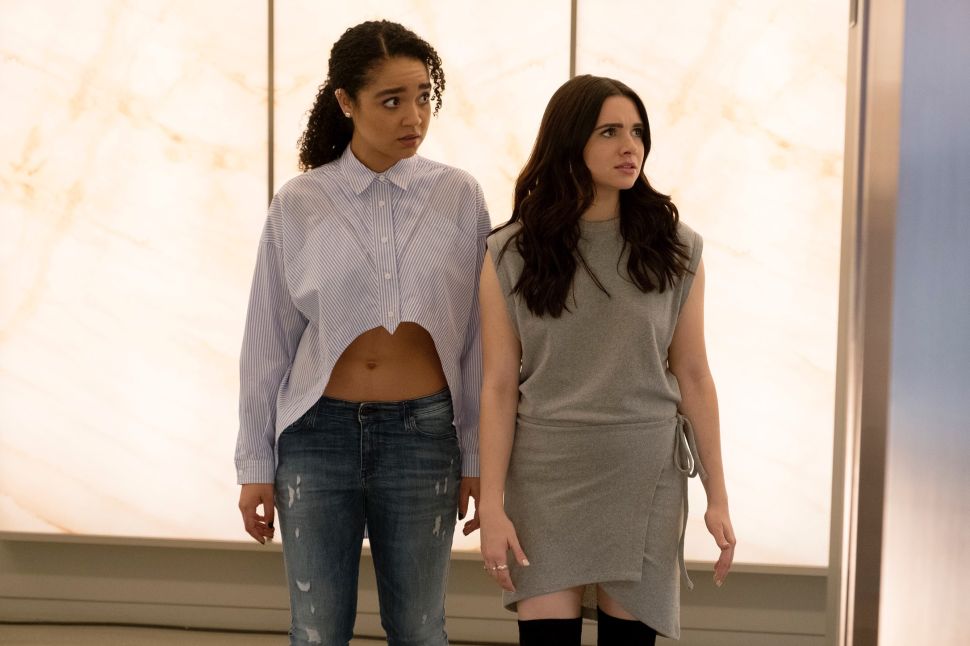 Striped shirts have come along way since their maritime origins, and the Breton shirt has gone from a nineteenth century French navy uniform to a wardrobe staple. Named for the province of Brittany (Bretagne) in France, and traditionally consisting of twenty one stripes—representing the number of Napoleon's victories—they have also been referred to as a mariner, or a sailor's shirt. It's visual shorthand for effortless, French girl style, which sounds like the chic sister of the ultimately unrealistic cool girl and manic pixie dream girl tropes.  
Let's go back to when stripes crossed over from navy uniform to leisure wear. Coco Chanel's 1917 collection was heavily influenced by nautical attire, and Chanel also often sported the style. So when it comes to this classic, it's clearly held that title for at least the last century. Contemporary TV costuming has stripes in spades, and Freeform's summer fashion hit The Bold Type is a prime example. Embracing both the traditional Breton, as well as some of the more recent stripe fads, this show, along with Insecure, The Mindy Project, and Elementary all put their own sartorial stamp on the trend.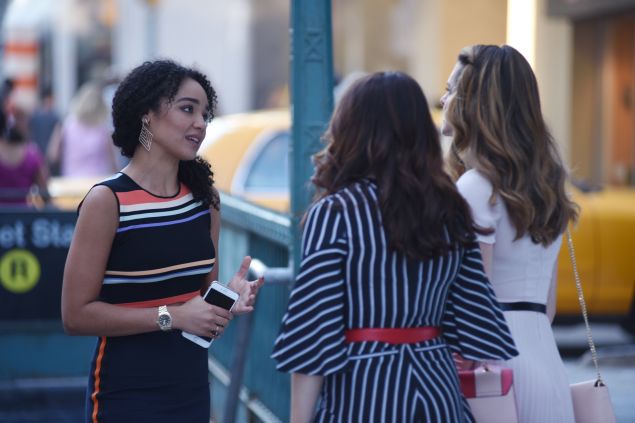 Frank Fleming's costume design in The Bold Type mirrors a lot of the current takes on stripes; starting on the runway and trickling down to mainstream stores. The Bold Type is set at the fictional fashion magazine Scarlet, which looks a whole lot like Cosmopolitan (and is inspired by the the life of editor in chief of that venerable fashion rag, Joanna Coles). While lead characters Kat, Sutton and Jane might not be in a financial position to wear all the designer threads that feature on the pages of this magazine, they do have access to the fashion closet in their office. This helps suspend our disbelief as assistant Sutton wears a cropped Fendi sweater that featured on a slew of fashion magazine covers earlier this year. (She also makes it look a lot more wearable than they did.)  
Speaking of wearable, a recent trend has seen the traditional button-down shirt get the deconstructed treatment with cut-outs, wonky buttons, frills and added slouch. I am still very much on the fence with the re-imaging of this once pretty standard item of clothing, but The Bold Type is clearly on board with this brave new shirt world. Kat wears a striped and cropped Opening Ceremony shirt in the episode, "If You Can't Do It With Feeling." This isn't her only foray into the blouse-with-a-twist craze. In the following episode, "No Feminism in the Champagne Room," she wears a Sacai sheer-panel bib striped number. Topshop, H&M, Zara and ASOS have you covered if you want to copy Kat without spending a month's rent on one shirt.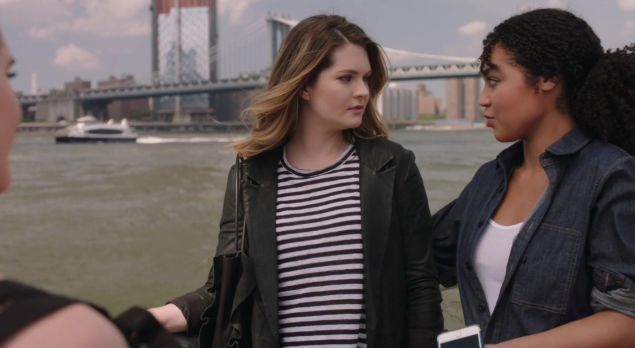 Sutton's J.W. Anderson striped tie-neck blouse is another take on tops that go further than your typical blouse. This one is no longer available, but you can get this much more affordable Levi's version.
Jane's take on stripes is a little more whimsical and romantic; in last week's episode, "Three Girls in a Tub," she wears this beautiful floral and stripe mix Philosophy di Lorenzo Serafini pussy-bow blouse. It's reminiscent of another pattern clashing queen—Mindy Kaling will sport this Mary Katrantzou graphic print dress in the forthcoming and final season of The Mindy Project, as previewed by costume designer Salavator Perez. Perez and Kaling are both prolific Instagram users, giving viewers a sneak peek into the character's pattern-filled wardrobe long before an episode airs on Hulu.
There's a lot more to stripes than just Breton, and The Bold Type makes sure that it includes timeless classics. Sutton has worn a number of striped tees from brands such as G-Star RAW.
Tops are not the only way to show your fondness for this geometric pattern and in the recent episode, "The Breast Issue" Kat wore a horizontal striped knitted mini dress by Jacquemus. Adena's Johanna Ortiz's horizontal and vertical striped tie waist silk culottes also feature in "No Feminism in the Champagne Room."
Stripe subtly is also an option; in HBO hit Insecure, BFF Molly shows off her super stylish credentials wearing a stunning Marco de Vincenzo Resort 2017 pleated and fringe dress to an art-gallery opening in the season two episode "Hella Questions." Lawrence, ex-boyfriend to main character, Issa, is earning a lot more money this season and Insecure costume designer Ayanna James signals this through a wardrobe upgrade, including a fitted blue shirt with gold collar stripe accent detail in "Hella LA."
While the clothes on these screens (and in fashion magazines, real and fictional) are always changing—including just what kind of stripes are en vogue—there are some looks that will never go out of style. The Breton top has proved it is a timeless classic.