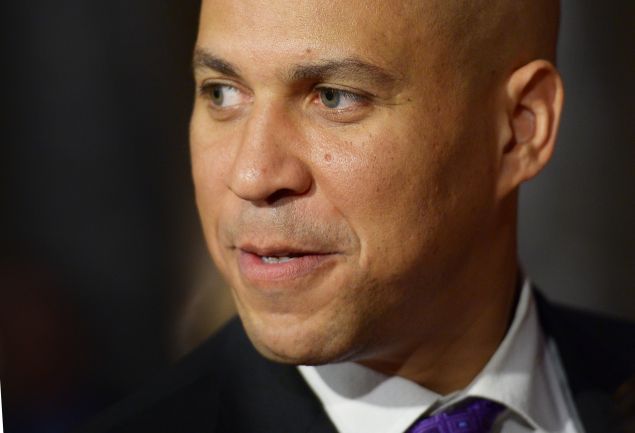 Sen. Cory Booker unveiled legislation Tuesday that would remove marijuana from the federal government's list of controlled dangerous substances, effectively ending a longtime ban on the drug in what would be a sea change for the U.S. criminal justice system.
Booker, a former mayor of Newark, is calling on Congress to legalize marijuana so that minority communities that have been disproportionately punished for low-level drug offenses are treated more fairly. His plan also would provide incentives for states to legalize the drug if their laws were found to punish minorities on a disproportionate basis and allow judges to retroactively review sentences for marijuana-related crimes.
"We believe that states should be moving in the same way to legalize marijuana, to end racial disparities in enforcement of marijuana laws and, frankly to end the disproportionate targeting of poor people," Booker said during his bill announcement on Facebook Live. "It is not enough just to say that marijuana is going to be legalized. Let's move forward. This has done serious damage to our communities. It has serious damage to American families."
Booker's legislation — the Marijuana Justice Act — is an ambitious effort to overhaul the nation's criminal justice system. Progressive and libertarian groups have long called for removing marijuana from Schedule I, the federal government's classification for the most dangerous substances. Several states have legalized and regulated marijuana in recent years despite the federal ban, with New Jersey Democrats planning to join their ranks as soon as next year if they win the governorship.
"This bill is the most ambitious marijuana bill we have seen in Congress," Queen Adesuyi, policy associate at the Drug Policy Alliance, said in a statement released by Booker's office. "Uniquely, it recognizes the fact that people of color have borne the brunt of the failed war on drugs and seeks to repair the damage done. We applaud Senator Booker for his leadership on this issue."
But the senator's plan faces long odds in the Republican-controlled Congress. In addition, U.S. Attorney General Jeff Sessions opposes marijuana legalization efforts and has vowed to crack down on states where it has been legalized. President Barack Obama's Justice Department took a more lenient stance toward those states, although there were some legal battles then, too.
"I believe the federal government should get out of the illegal marijuana business and it disturbs me now that Attorney General Jeff Sessions is not moving as the states are, is not moving as public opinion is, but is actually saying we should be doubling down and enforcing federal marijuana laws even in states that have made marijuana legal," Booker said. "This to me is outrageous and unacceptable."
Eight states and Washington, D.C., have legalized recreational marijuana use, but Congress has blocked D.C.'s efforts to implement its program. In New Jersey, Democratic gubernatorial nominee Phil Murphy — the odds-on favorite to replace Gov. Chris Christie in the November election — has said he favors legalizing marijuana. State Sen. Nick Scutari, the chairman of the New Jersey Senate Judiciary Committee, has introduced legislation that would tax and regulate the drug.
Booker's bill is still in its infancy and the New Jersey senator does not have any co-sponsors for the legislation at this time. According to Booker, he plans to reach out to both Republicans and Democrats as he pushes for legalization.