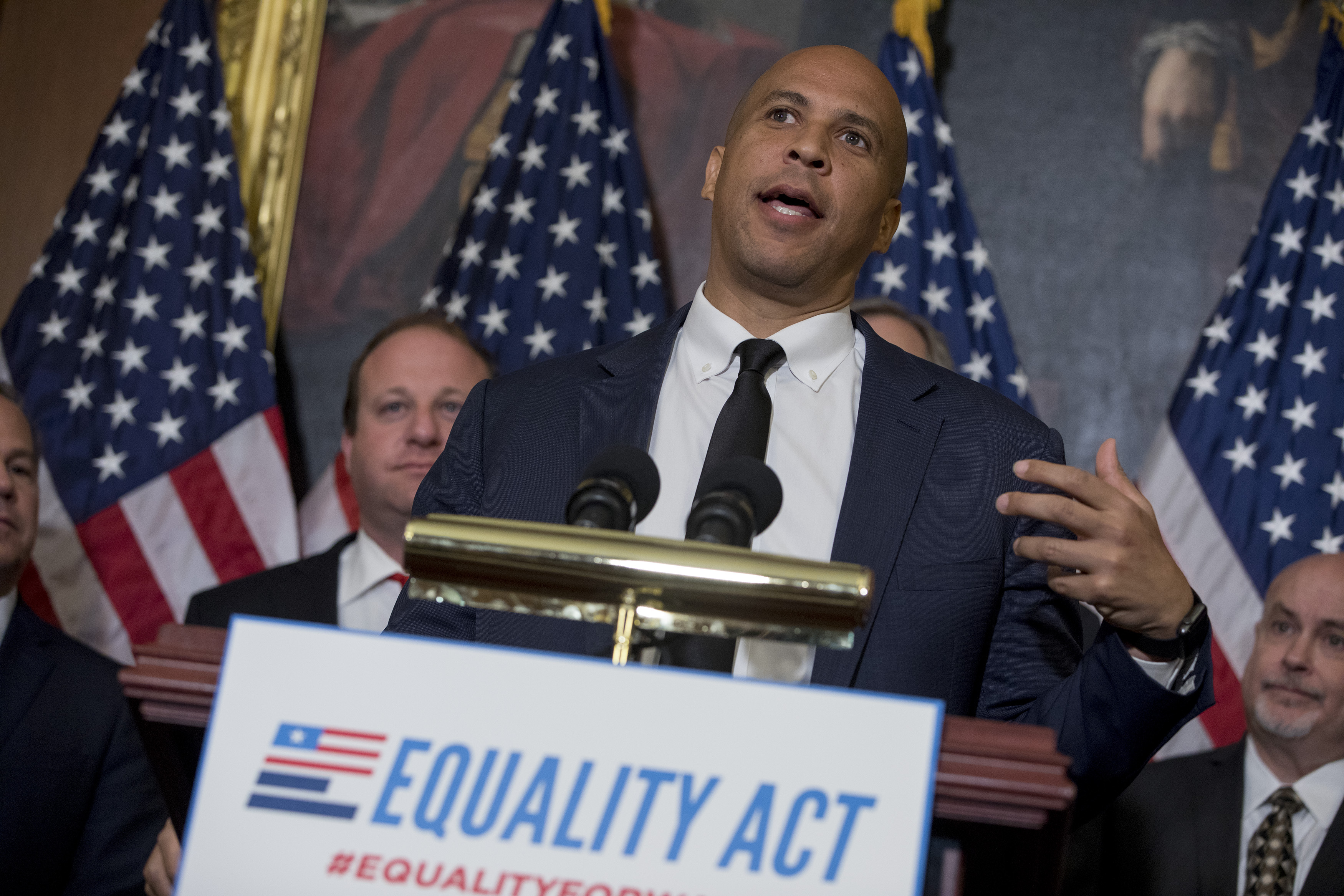 Sen. Cory Booker introduced a bill Thursday that would restrain President Trump's ability to fire Special Counsel Robert Mueller, who is investigating whether the Trump campaign colluded with Russia during the presidential election.
The bipartisan bill, introduced with Sen. Lindsey Graham (R-S.C.), would require judicial review before the attorney general or acting attorney general removed a special counsel from office.
Under the senators' Special Counsel Independence Protection Act, the attorney general would have to petition a federal court and establish that there was "misconduct, dereliction of duty, incapacity, conflict of interest or other good cause" for removing a special counsel, according to a news release.
The bill comes amid fears that Trump could try to fire Mueller or Attorney General Jeff Sessions. Trump has publicly derided both, and he fired FBI Director James Comey in May because of "this Russian thing," he said at one point. Although Sessions is recused from the Russia investigation, if Trump fired him, a new attorney general would not necessarily be recused and could then choose to oust Mueller.
The Wall Street Journal reported Thursday that Mueller in recent weeks has impaneled a grand jury to investigate Russia's interference in the 2016 election.
"A special counsel's duty is to follow the facts and the law wherever that leads," Booker said in a statement. "They should never be subjected to interference or intimidation because of where an investigation takes them. This bill would subject any decision to fire a special counsel to a review by a panel of federal judges, ensuring any removal is for legitimate reasons instead of political motivations."
Congress recently took action to limit the executive branch's authority in regard to sanctions against Russia, which U.S. intelligence agencies say interfered in the presidential election. The House and Senate overwhelmingly passed a bill last month that imposed new sanctions against Moscow and restricted Trump's ability to remove existing ones. The White House initially signaled opposition to the bill, but Trump signed it Wednesday after Congress approved it with veto-proof majorities.
"Checks and balances have served the country well for the past two hundred years," Graham said in a statement. "Our legislation would allow judicial review of the firing of any special counsel that was impaneled to look at the president or their team — regardless of party. I think this is a good check and balance, both for today and in the future. We should all be interested in making sure that special counsels have oversight. Special counsels must act within boundaries, but they must also be protected."
Booker has emerged as one of Trump's toughest critics in the Senate and has also been fiercely critical of Sessions. The bill is co-sponsored by Sen. Sheldon Whitehouse (D-R.I.) and Richard Blumenthal (D-Conn.), and would apply to current and future special counsels, according to the news release from the senators.