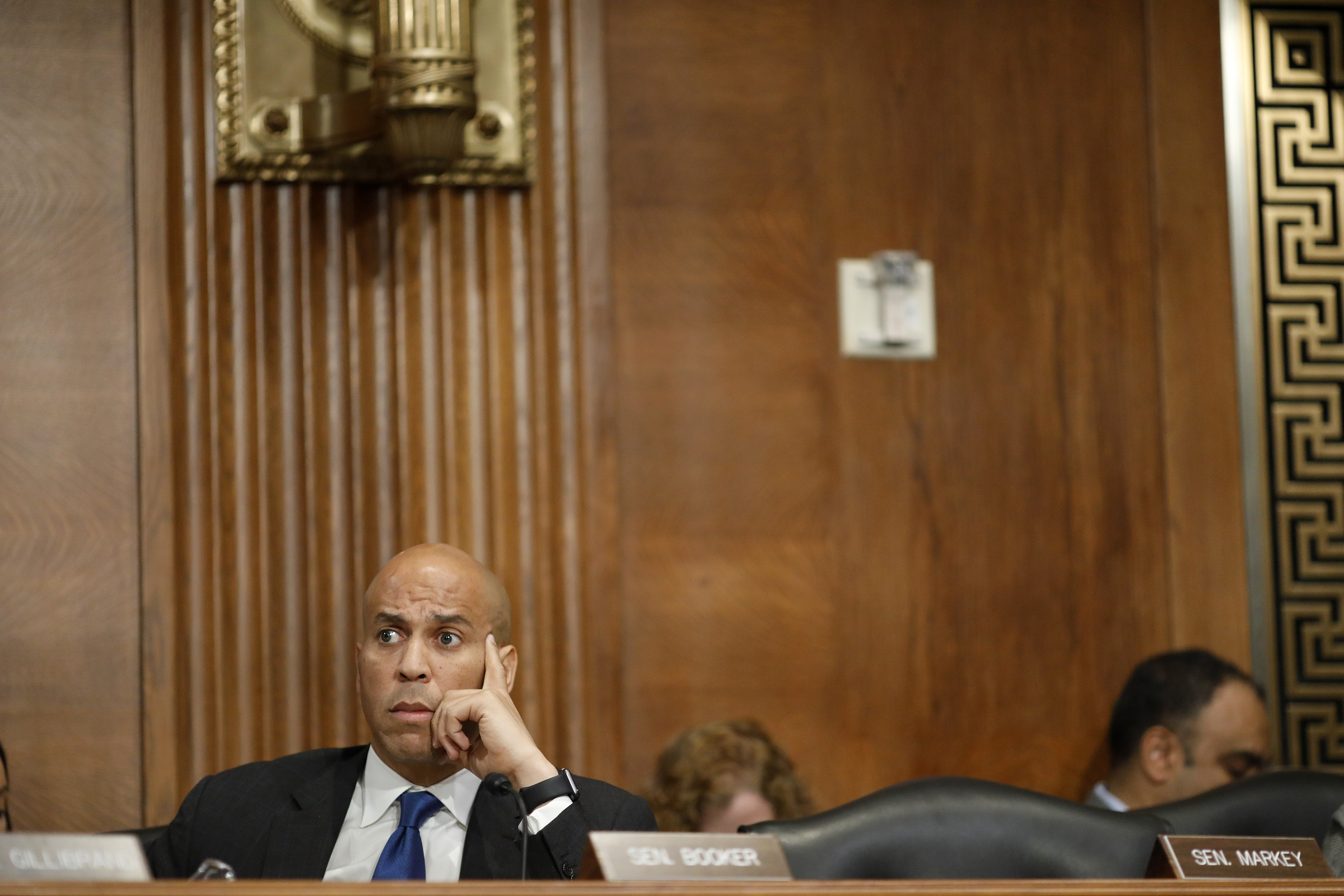 The deadly neo-Nazi rally that shook Charlottesville, Va., over the weekend spurred several members of New Jersey's congressional delegation to announce or support legislative plans to counteract the recent spurt of white nationalism in the United States.
U.S. Sen. Cory Booker announced Wednesday that he plans to introduce legislation to remove all confederate statues from the U.S. Capitol building.
Last weekend's white nationalist protest was a response to Charlottesville's decision to remove a statue of the confederate general Robert E. Lee and rename "Lee Park" as "Emancipation Park."
A group of right-wing activists including self-identified KKK members and neo-Nazis organized a "Unite the Right" rally to condemn the city's move, and they clashed for days with another group of counter-protesters.
The Charlottesville violence left one dead and 19 injured after a white nationalist rammed his car through a group of counter-protesters. President Trump ignited a firestorm of controversy this week by arguing that some of those marching with the neo-Nazis were good people there for principled reasons, and on Thursday he posted a series of tweets arguing against removing confederate statues because it would be "sad to see the history and culture of our great country being ripped apart with the removal of our beautiful statues and monuments."
The Capitol's statuary hall "should be a place of honor for patriots — those who have served, sacrificed, or made tremendous contributions to our nation," Booker said in a Facebook post.
"Individuals who were treasonous to the United States, who took up arms against their own country, and inflicted catastrophic death and suffering among U.S. citizens, are not patriots and should not be afforded such a rare honor in this sacred space," he wrote of the confederates.
"These statues must be moved not just because of who they were in the past, but because of who we are now as a nation and who we must be to ensure an even better and brighter future."
Rep. Leonard Lance (R-7) in a Thursday interview on 101.5 FM with Bill Spadea said that he supports a new version of the Voting Rights Act, a landmark 1965 law written to prevent racial discrimination at the polls.
A divided U.S. Supreme Court invalidated key sections of that law in the 2013 case Shelby County v. Holder, with the majority reasoning that the Justice Department could no longer review and potentially block changes to the voting procedures in several Southern states and some districts in New York City with a history of discrimination because the statistics and data on which the Voting Rights Act was premised were no longer up to date four decades later.
Chief Justice John Roberts said in that opinion that Congress was free to update the law, but there has been no movement on that issue since the court's ruling.
"We are going to have to work very hard in September," Lance said. "What I do support is a new Voting Rights Act."
Lance said he supports a version of the Voting Rights Act introduced by Reps. Jim Sensenbrenner (R-Wis.) and John Conyers Jr. (D-Mich.) in July.
Sensenbrenner's proposal "would make all states and jurisdictions eligible for coverage formula based on voting violations in the last 15 years," according to a July press release, and supporters say it would create more transparency in the event of any changes to polling times, dates, locations and protocols.
"Every American — no matter the color of their skin — needs to know that we understand their right to vote is sacred," Sensenbrenner said when the legislation was introduced.
Rep. Bonnie Watson Coleman (D-12) on Wednesday announced that she had joined with Reps. Jerrold Nadler (D-N.Y.) and Pramila Jayapal (D-Wash.) to introduce a resolution censuring Trump for his Aug. 15 comments in which he blamed "both sides" for the violence in Charlottesville. They plan to introduce the resolution on Friday during a pro forma session of the House.
According to the text of the resolution, the aim is to "censure and condemn President Donald Trump for his inadequate response to the violence in Charlottesville." The lawmakers also claimed that Trump failed to "specifically name and condemn" the white supremacist groups responsible for actions of domestic terrorism and for reasserting that both sides were to blame.