John Carney found out the hard way that the internet is just like the Hunger Games.
The Breitbart finance and economics editor was incredibly disturbed by the cover of Vogue's September issue, which features actress Jennifer Lawrence posing on a boat in front of the Statue of Liberty.
What exactly is so offensive about a monument to a free, welcoming America? It all goes back to Stephen Miller.
During a press briefing last week, the White House senior policy adviser had a contentious exchange with CNN's Jim Acosta about the Statue of Liberty. Acosta quoted from "The New Colossus," the Emma Lazarus sonnet inscribed on the side of the statue, while asking a question about immigration. In his response, Miller stated the poem was "added later" and "not actually part of the original Statue of Liberty."
This is technically true—as its name suggests,  the statue is a monument to liberty and not immigration. And "The New Colossus" was engraved on the statue in 1903 (16 years after the statue was erected). Because Lazarus was an abolitionist, however, the poem did give the statue extra significance—which hasn't been controversial until now.
But because of Miller's remarks, Republicans have been on the offensive about the Statue of Liberty for the last week. Hence Carney's response, which he expanded upon in later tweets.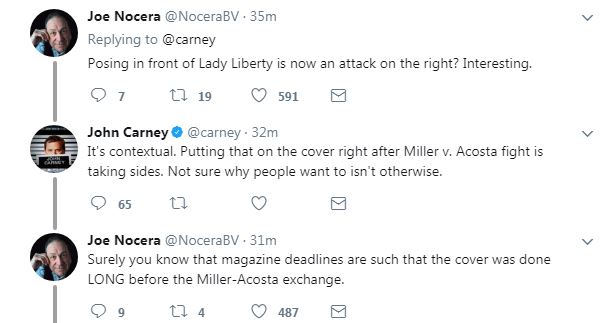 Indeed, Vogue communications director Zara Rahim revealed that photographer Annie Lebowitz shot Lawrence's Vogue cover in June, well before the Miller-Acosta controversy.
Even more ironically, one of Breitbart's logos actually includes the Statue of Liberty.
This whole situation gave the internet a much-needed laugh.
Carney refused to back down in the face of these insults, however—he referred to the Statue of Liberty as a "leftist…sacred object. Must worship green lady!"
The Statue of Liberty shot is one of four Vogue September covers, including one which features a painting of Lawrence.