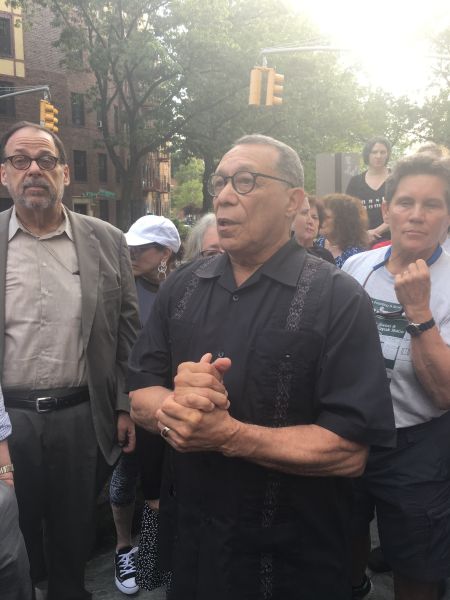 Interfaith leaders gathered in the Riverdale section of the Bronx on Sunday evening with dozens of others to show support for victims of violence at a white nationalist rally in Charlottesville, Va., over the weekend.
A group of neo-Nazis and white supremacists marched through the University of Virginia's campus on Friday night holding tiki torches and screaming "blood and soil," a Nazi slogan, encircling counter-protesters and hurling their torches at them.
The following day, white nationalist and alt-right groups hosted a "Unite the Right" rally to protest the city's decision to get rid of a statue of confederate General Robert E. Lee. James Alex Fields Jr., 20, of Ohio, drove his car into counter-protesters and killed 32-year-old Charlottesville resident Heather Heyer, while injuring at least 19 other counter-protesters. Fields's high school teacher said that he "was very big into Nazism" and "really bought into this white supremacist thing."
The "Emergency Anti-Hate Vigil" was held at the Riverdale–Spuyten Duyvil–Kingsbridge Memorial Bell Tower in the Riverdale section of the Bronx. Participants said they wanted to stand up in protest against the white nationalist rally in Charlottesville and condemn hate, bigotry, racism, anti-Semitism and terrorism committed by white nationalists. The Interfaith Clergy Council of Riverdale, Kingsbridge and Spuyten Duyvil sponsored the vigil.
The Rev. Andrew Butler, rector at Christ Church Riverdale, said that it "seems like we were here for one of these not long ago," referring to a vigil they held in the wake of the mass shooting at Pulse, a gay nightclub in Orlando, in June. He noted that "whenever we turn on the radio or the TV, there's always something bad."
Butler said that he is from Virginia and spent a lot of time in Charlottesville "so it's especially touching for me." He said that he "grew up in that culture" — he went to Stonewall Jackson Middle School, Lee Davis High School and his marching band was called the Marching Confederates.
"That was 30 years ago and I look back on that and I think, 'Wait a minute. There's something wrong with that,'" Butler said. "And now I'm living in Riverdale in the Bronx in the most incredible, diverse community. My parish is the most diverse church I've ever served at and there's something beautiful about different people coming together around a single purpose. For my folks, it's for worship."
He noted that the majority of the people in attendance at Sunday's vigil were white, and stressed the importance of being aware of the challenges with which people of color and marginalized groups generally deal.
"I know that there is a vigil tomorrow down at Church of the Mediator at the bottom of the hill, at 231 and something," Butler continued. "Same time tomorrow night. And there are people there who felt like there seems to be more minorities down the bottom of the hill than up here Sometimes even though we're diverse, I feel like we live in a bubble."
In another incident, white nationalists hit Deandre Harris, a 20-year-old who moved to Charlottesville from Suffolk, Va., in 2015 for a job at a local high school, with a pole. The U.S. Department of Justice said that it has opened a civil rights probe, and Virginia Gov. Terry McAuliffe called on white supremacists to "leave America."
Bishop Angelo Rosario, the pastor of the Church of God's Children who runs Bronx Borough President Ruben Diaz, Jr.'s Bronx Clergy Task Force, said that human beings have the ability to "fight against evil." He recalled going to Vietnam in 1968 during the Vietnam War and how people of all faiths and of all races "were fighting together to stop evil."
"I remember coming back home and not being recognized for what we'd done but we had Christians, Jews, Muslims, African American, Hispanic shedding their blood in order to keep the United States free so that we may be able to stay free," Rosario said. "Thou shalt not kill. And the only way that we can destroy evil is by coming together, holding arms and holding our hearts together to make a difference."
He noted that the task force he oversees is diverse — and that people unite over prayer.
"We have all denominations and everyone coming together in prayer," Rosario continued. "And the greatest thing besides prayer is our standing together with one faith because we are people of faith. We stand together."
Bronx Assemblyman Jeffry Dinowitz, who represents Riverdale, Woodlawn Heights, North Riverdale and Kingsbridge, said that the fact that such a large crowd turned out for the vigil "on just a few hours notice" is indicative of the community's commitment to peace. He said President Trump's election last year "crystallized" a new form of open white nationalism in the United States, although he also acknowledged that this strain of racist views preceded Trump's election. "The people who are saying these horrible things, they're saying they're great Americans. They wanna take America back. They wanna make America white again, or is it great again — I forget, one of those," he said. "That's what they want."
Participating organizations include Christ Church Riverdale, Congregation Tehillah, Conservative Synagogue Adath Israel of Riverdale, Episcopal Church of the Mediator, Hebrew Home at Riverdale and Manhattan College's Holocaust, Genocide and Interfaith Education Center.