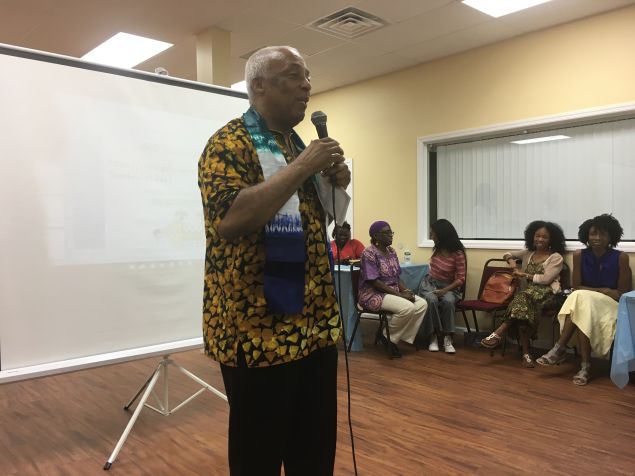 Brooklyn Assemblyman Charles Barron— a self-proclaimed black radical and socialist — and his wife, Councilwoman Inez Barron, blasted the federal government for not paying attention to the mudslide and flooding in Sierra Leone.
More than 1,000 people have died from the Aug. 14 mudslide and flood, according to Elenoroh Jokomie Metzger, the head of the women of Regent, and Reverend Bishop Emeritus Arnold Temple. Rescuers and aid groups predicted that it was unlikely that the majority of the more than 600 individuals who went missing would survive. Sierra Leonean immigrant and New York City resident Prince Valcarcel, along with his niece, lost at least six relatives.
Roughly 60 community residents and leaders gathered at St. Paul Baptist Church in the East New York section of Brooklyn — which the Barrons represent — for the "Show Your Love for Sierra Leone" fundraiser on Monday night. Sponsors included the Barrons and the Union of Sierra Leonean Organizations in NYC.
At the time Barron made his comments, the U.S. government was tending to the victims of Hurricane Harvey in the Houston area, where catastrophic flooding has paralyzed the city.
Charles Barron noted that the death of 16 individuals after two vehicle attacks in Spain as well as three deaths in the aftermath of the white nationalist rally in Charlottesville, Va. received more coverage than the mudslides.
"We will not allow this nation, this city to prioritize the death of Europeans … We will not allow them to prioritize the death of the three people who died in Virginia, Charlottesville, all over the news and forget about the thousands of Africans that died in Sierra Leone," Barron said.
He added that there was also a mudslide in the Democratic Republic of Congo that claimed 200 lives.
His wife, Inez Barron, said that they received a call informing them of the "severity" of the circumstances in in Sierra Leone.
"When black communities are traumatized and suffer disasters … this society, this government does not publicize the issue, whether it's right here, down to the Southern states that suffered the disaster or whether it's across the seas," Barron said. "So we certainly know that we have an obligation to respond to the need of the people wherever they are, whether they're local, national or international."
The Barrons run Operation P.O.W.E.R., a community organization that draws from the ideology of the Black Panther Party— to which Charles Barron once belonged — mostly controls the Democratic party in East New York and was one of the fundraiser's sponsors.