What does a "denim love letter" from fashion photographer Bruce Weber look like? That's what Frame set out to uncover, when they sent the bearded icon and Vogue mainstay a box of boyfriend jeans, artfully distressed jackets and Western style shirts. The brand's founders, Erik Torstensson and Jens Grede, trusted the professional with his instincts and let Weber do whatever he deemed necessary to express his "modern interpretation of denim." They didn't even constrict him with menial details such as deadlines.
The resulting images saw models (and a dog named Pixie) wearing turbans made from layers of twisted and knotted denim. Shot at Weber's Florida estate, located in the wealthy enclave of Golden Beach, these images are reminiscent of another one of fashion's favorite photographers: Mario Testino. The Peruvian lensman has staked his claim on beautiful people who are scantily clad in white terrycloth—usually with a towel turban atop their heads. Officially known as the Towel Series, Testino has shot everyone from Kristen Stewart to Gigi Hadid, plus Anna Wintour, Kate Moss and Ansel Elgort, all donning a towel which has been styled in a creative manner.
In fact, the towel series is similarly based in a feeling of liberation. "I think girls and guys feel this freedom at being able to express themselves because there is no predetermined way of how they should put the towel on. You can do anything you want…wear it however you want," the photographer noted on his website.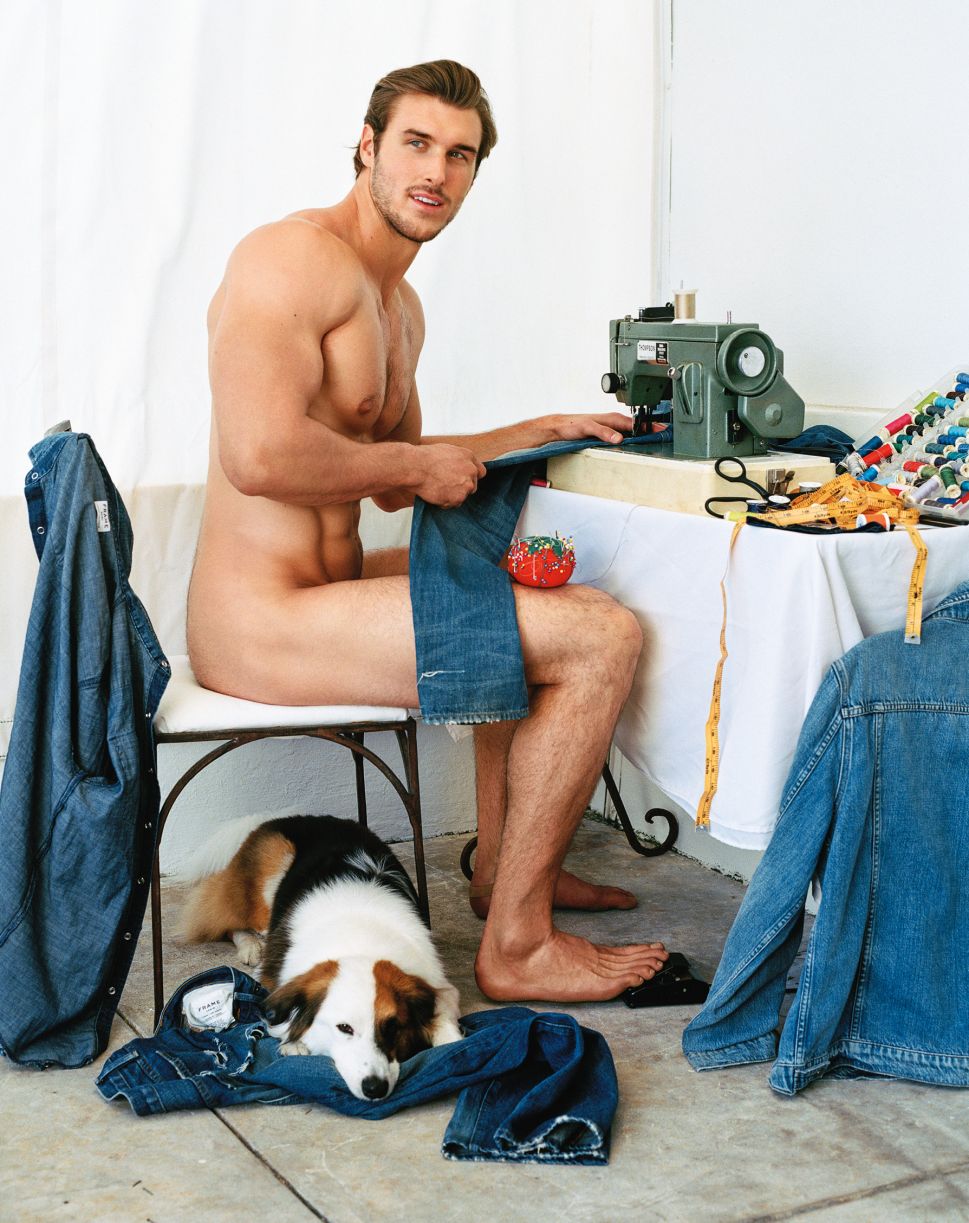 However, Weber's work with Frame does go well beyond being inspired by a fellow photog. He offers a bit of advice on dealing with the sad state of society in 2017: "The world is so crazy these days—just stay at home, get out of your jeans and customize them," is scrawled in white script over a few of the images. And yes, he even captures a photo of an entirely nude male model taking his advice to heart, as he goes at his jeans with a sewing machine, with a dog napping at his bare heels.
There are also a few images that are a nod to Weber's signature all-American aesthetic, like shots of buff men showing off their abs in tattered shorts and a middle aged woman who exudes an air of natural beauty while reposing on a wicker chair.
But what did the Frame founders think of the images that Weber provided for them? "Like any of Bruce's images, we were over-consumed by the beauty of them," Torstensson and Grede told W. "We were overjoyed with Bruce's fresh interpretation of denim and while there was a cohesiveness to the images, each were so different and provoked a new emotion every-time we looked at them."
It's true, seeing an image of a pup wearing a denim turban is guaranteed to provoke at least a smile.