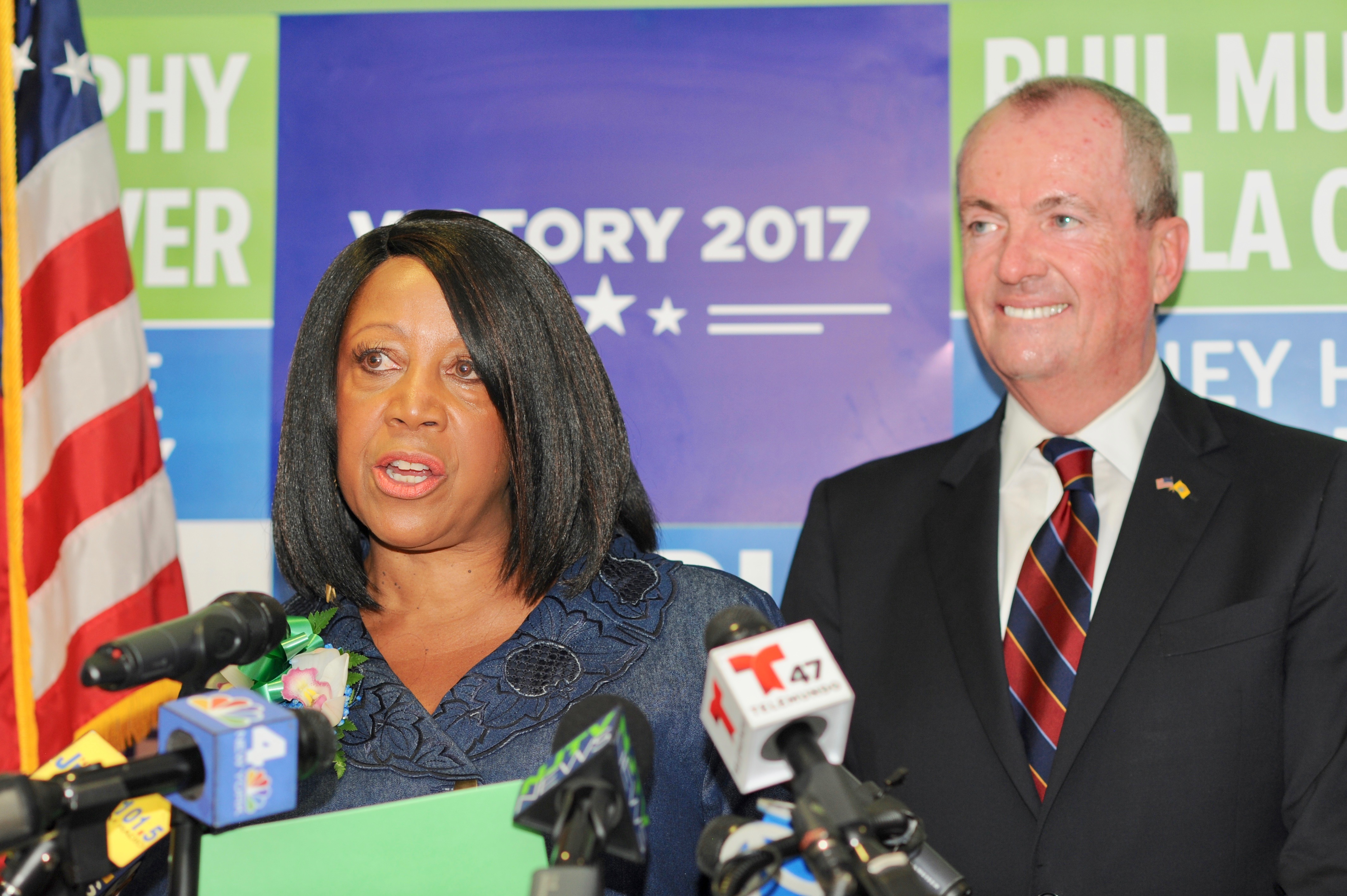 Democrats plan to run Sheila Oliver for lieutenant governor and for re-election to the Assembly in the 34th legislative district this November, arguing that state law allows her to seek both offices at the same time, even though she would only be able to occupy one of them.
New Jersey law generally bars candidates from appearing twice on the same ballot.
But, technically speaking, the state regulation at issue bars candidates from accepting "a nomination by petition" for more than one office in a single general election. Since Oliver was selected by Democratic gubernatorial nominee Phil Murphy — and not nominated by petition — Democrats say the regulation does not apply to her or any lieutenant governor nominee.
"The candidate for lieutenant governor in New Jersey is by selection, not by petition, which is the distinction in the law," said Rajiv Parikh, general counsel for the New Jersey Democratic State Committee. "On the voting machines and on the ballots, there is only one button or one bubble for the gubernatorial and lieutenant governor candidate slate."
Murphy campaign spokesman Derek Roseman confirmed that Oliver will run for both offices. "We're following the guidance and interpretation of … our state party counsel," he said.
What is clear in the law is that Oliver would not be able to fill both offices if she won because of a prohibition on dual office-holding.
The office of lieutenant governor is relatively new, created by constitutional amendment in 2006 and currently filled by Kim Guadagno, who is the first and only occupant to date. She is now the Republican nominee for governor.
This year marks the first time a candidate for lieutenant governor also appears as a candidate for a different office. Although it's uncharted territory in New Jersey, Democrats compared it to the office of U.S. vice president. In 2012, Rep. Paul Ryan, now the House speaker, ran for re-election to his congressional seat in Wisconsin while also serving as the running mate for Republican presidential candidate Mitt Romney.
Republicans Nick Surgent and Ghalib Mahmoud are running for Assembly seats in the 34th district against Oliver and Assemblyman Tom Giblin (D-Essex). It's considered one of the safest Democratic districts in the state.
If Murphy and Oliver win in November, she would have to vacate the Assembly seat and leave it to the Democratic committees in Essex and Passaic counties to choose a replacement. That person would fill the seat until a special election in 2018, Parikh said.
By running Oliver for both offices, Democrats are ensuring they can hand-pick her replacement after the election and avoiding the expenses and the process of recruiting a new candidate in advance of the November election. Essex County Democratic Committee Chairman LeRoy Jones said his party isn't taking any chances. Although Murphy is heavily favored to win the election, there is a chance he could lose, he said.
"If she vacated the seat now and something unexpected happens and Murphy lost, we would be without a seasoned legislator," Jones said. "So you kind of err on the side of conservatism and caution and you move forward accordingly."
Jones said he didn't see an issue with waiting until after the election to potentially choose an unelected interim lawmaker to represent the district, which includes Clifton in Passaic County, and Orange, East Orange and Montclair in Essex County.
"Anybody at that time can file for the seat and run as they would in any other election," Jones said. "We have a responsibility to have the district represented going forward from January to June and then thereafter. So this is no different than any other vacancy that would be created."
Jones declined to name any potential candidates to replace Oliver, who has been in the Assembly since 2004 and led the lower house as speaker from 2010 to 2014.
"Right now we're focused on ensuring that Phil Murphy and Sheila Oliver are elected as governor and lieutenant governor," he said.