All the way from Pocasset to Provincetown, Cape Cod is dotted with the perfect spots to indulge in a sweet treat. But it's the odd flavors that might catch your eye on menus up and down the Cape. Here's a roundup of some of the area's most delicious (and in some cases, unusual) frozen treats that you can't find anywhere else.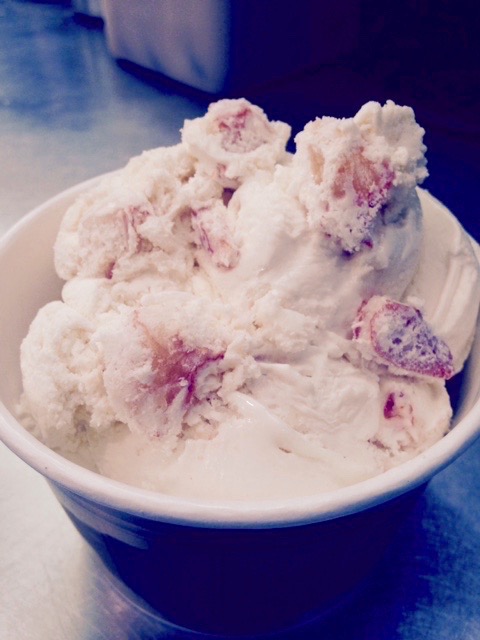 Around for over 30 years, Ben and Bill's Chocolate Emporium first concocted their famous Lobster Ice Cream in their Maine location. It went on to become a local phenomenon, with folks coming from far and wide to grab a bite. There's over a pound of buttered lobster in each two-and-a-half galloon bucket of ice cream, but if you really want to stock up, it's available for take-home by the quart. 
Tucked away near the Cape Cod National Seashore in Eastham, Nauset goes peak New England with their Cape Cod Cranberry flavor. Also adored by many is Purple Cow, a blend of black raspberry ice cream with dark chocolate chips and white chocolate chunks.
Known for unique flavors like Lavender Honeycomb and Rosemary Fig made by Katie herself, Katie's Ice Cream is a family business in Hyannis. But don't expect to get the low down on their famous Cape Cod Sand flavor; it's a secret family recipe.
To say their flavor options are unique would be an understatement. In business since 1934, Four Seas makes enough flavors to make your head spin. Or ache with brain freeze, at least. Go for Craigville Beach, made with a burnt sugar base with white and dark chocolate flecks, chocolate shells, and macadamias, or the special Chip Chocolate—created with melted chocolate that solidifies when it hits the frozen ice cream. Cantaloupe is also a popular option.
From Hyannis Heath Bar, to Great Island Grape-Nut, it's no struggle to find Cape-inspired flavors at Cape Cod Creamery. We'd suggest Monomoy Mud Pie, a coffee chocolate chip and hot fudge fusion named for the desolate eight-mile-long island south of Chatham.
Now that's a sundae.
This is one school you won't mind going to. All three locations of this iconic Cape Cod sundae joint are decorated with plenty of old-timey kitsch to go with its scoops. Grab a slice of the Ice CreamPie, which tastes even better if you pair it with their classic Sundae School paper hats.
It's all in the family at Somerset, an old-fashioned ice creamery that dates back to before WWII. Their trademark flavor is Cranberry Bog, made with dark chocolate, walnuts, and dried cranberries. If you're looking for a lighter choice, stop by the Catumet location for the Cranberry frozen yogurt. 
Jaws himself would enjoy Smitty's popular Shark's Tooth flavor, which blends chocolate ice cream with white chocolate chips (the previously mentioned "teeth.") There's also Cape Cod Crunch, a vanilla ice cream base with Craisins, chocolate chips, and Grape-Nuts.
A father-daughter run business in Mashpee, Polar Cave is as fun to hang out in as it is to eat. Check out the walls filled with vintage Coca-Cola memorabilia while enjoying a scoop of one of their trademark flavors, like the appropriately named Mashpee Mud, a blend of coffee ice cream with fudge swirls, crushed Oreo's, dark chocolate chunks and Almonds.  
Originally opened when a retired navy captain and his wife couldn't find ice cream they liked in Dennis, the Smuggler has been in business since 1979. They've put their own spin on the Cape's beloved Grape Nut ice cream with Anna's Beach Plum, a vanilla Grape-Nut ice cream with a swirl of beach plum jam that's (naturally) been freshly picked on the Cape. 
Grab and go from The Local Scoop.
Known for their artisan, hand-made ice cream popsicles, the Local Scoop has a unique spin on classic ice cream.  If you can't make it to their Orleans shop for a Salted Caramel pop with crushed pretzels on top, keep an eye out for the "Pop Mobile" at food truck events and festivals.