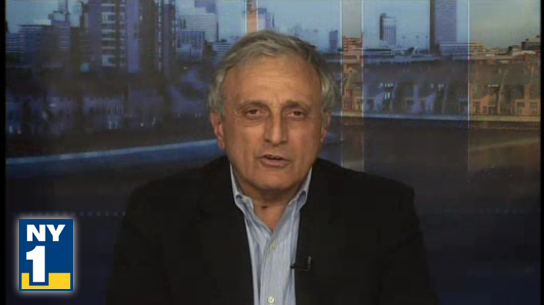 Buffalo businessman Carl Paladino, a 2010 GOP gubernatorial candidate and President Trump's New York State campaign co-chairman, was kicked off the Buffalo School Board on Thursday.
State Education Department Commissioner MaryEllen Elia approved the Buffalo School Board's request that Paladino be removed from the board. But the decision stemmed from the fact that he disclosed confidential information from one of the board's executive sessions — not because of a series of vulgar and unhinged comments he made about former President Barack Obama, his wife and a senior adviser.
"The record demonstrates that respondent disclosed confidential information regarding collective negotiations under the Taylor Law which he gained in the course of his participation as a board member in executive session, and that his disclosures constituted a willful violation of law warranting his removal from office," Elia wrote in a formal decision.
In December 2016, when asked what he would like to happen most in 2017 by Art Voice, Paladino said he wanted Obama, then still president, to catch mad cow disease "after being caught having relations with a Herford."
In that scenario, Paladino said, Obama would die before his trial and be buried in a cow pasture next to his former senior adviser Valerie Jarrett, who would have died weeks before "after being convicted of sedition and treason, when a jihadi cell mate mistook her for being a nice person and decapitated her."
When asked whom he would like to see go away in 2017, Paladino, who was elected to the school board in 2013, told Art Voice said former First Lady Michelle Obama should "return to being a male and let loose in the outback of Zimbabwe where she lives comfortably in a cave with Maxie, the gorilla."
Paladino will be ineligible for appointment or election to any district office for one year. The decision comes following a hearing in Albany in June.
In the wake of Paladino's comments, the board asked him to step down and warned that they would petition for his removal after his remarks were met with protests. He issued an apology but did not resign.
The board ultimately opted to have him removed for revealing sensitive information, not over his comments about the Obamas.
Paladino is no stranger to controversy.
In August 2016, he said there was "no doubt" that Obama — a practicing Christian — was Muslim. During his 2010 run for governor, Paladino suggested that Obama "worships himself."
He also attracted attention in April 2016 when he said that Trump would get "the raccoons out of the basement." Although it was not certain that he was talking about Obama, the word "coon"   — the abbreviated version of the word "raccoon" — is typically used as a slur for black people.
There were other controversial moments on the 2010 campaign trail. He drew outrage over comments he made about the attire at gay pride parades, and for emails he allegedly sent to friends and associates over the years that included photos of naked women, videos of bestiality and material that seemed to compare African-Americans to chimpanzees.