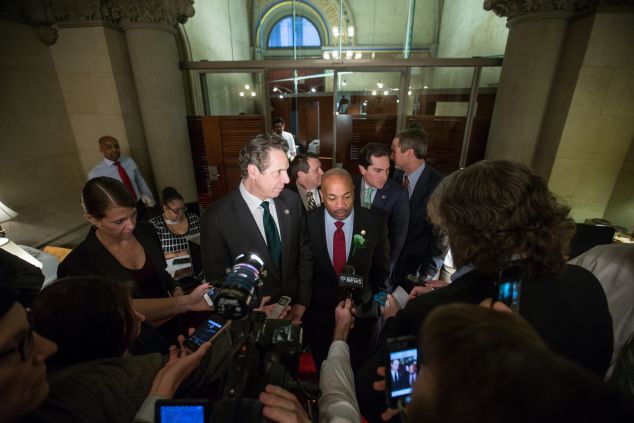 State Assembly Speaker Carl Heastie thinks that Gov. Andrew Cuomo will run for president in 2020 and that he has a record "other people might be interested in."
The governor has said repeatedly that he hopes to secure a third term in 2018 and for months avoided direct confrontations with President Trump — a longtime donor and associate — in public appearances. Last month, Cuomo finally addressed Trump by name and attacked him for failing to come forward with a $1 trillion infrastructure package that he promised.
Cuomo also has been speaking out on a number of national issues in recent months, calling on congressional Democrats to protect former President Barack Obama's Affordable Care Act. He wrote an op-ed in June blasting Trump's immigration policies. In April, he hired Maria Comella, a Republican who shaped Gov. Chris Christie's presidential campaign. In March, he hired two Florida fundraisers to assist him with planning events and forming relations with Democratic donors in that crucial swing state.
The Assembly speaker said that when he and Cuomo talk, "he doesn't talk to me about presidential ambitions" and reiterated that their relationship "is fine right now."
"I'm trying to work with him to solve the crisis with the MTA," Heastie continued. "But I'd say for the things that he has accomplished, I'd say across the state, will be a resume that I'm sure other people might be interested in, the things that have been accomplished here. But he and I don't really talk about his — if he has them — presidential ambitions."
But he does think Cuomo will run.
"I think, I'd say any big-state Democrat is a credible person right now but I do think New York is the Empire State," Heastie said. "I think the governor of the state of New York will be on that list."
In his first term, Cuomo implemented socially liberal policies such as same-sex marriage legalization and gun control, although also caught flak from left-wing groups for his fiscal conservatism and clashing with public employee unions. After his re-election in 2014, the governor pursued and brought to fruition a minimum wage hike and a paid family leave program and announced big infrastructure spending plans and a free public college tuition plan.
But his second term saw several of his top aides and donors indicted on charges of bribery and rigging bids for economic development contracts, along with reports of other substantial state giveaways to the governor's donors.
He has been comfortable working with a Republican-controlled state Senate and has drawn criticism for not helping Democrats, who have a majority, regain control of that chamber. And recently, he's been sparring with Mayor Bill de Blasio on who should fund the short-term plan to revamp New York City's subway system. The MTA is a state-run agency and thus under Cuomo's authority.
In February, Sen. Kirsten Gillibrand said that the governor would "be a great candidate" for president, adding that she appreciated his focus on marriage equality. Retired Congressman Charles Rangel and the Rev. Al Sharpton both told Observer in April that the governor has emerged as the early favorite for the 2020 Democratic nomination for president.
Heastie said that he and Cuomo are "OK" and noted that despite disagreements, they are always able to find solutions for the benefit of the state.
"It's just the executive and the legislature, you're gonna disagree but the governor's a Democrat, I'm a Democrat," he said. "I'd say on most things, we do agree. We do have our, I'd say our tough moments but in the end, we always come out and we try to do the best thing for the state of New York."