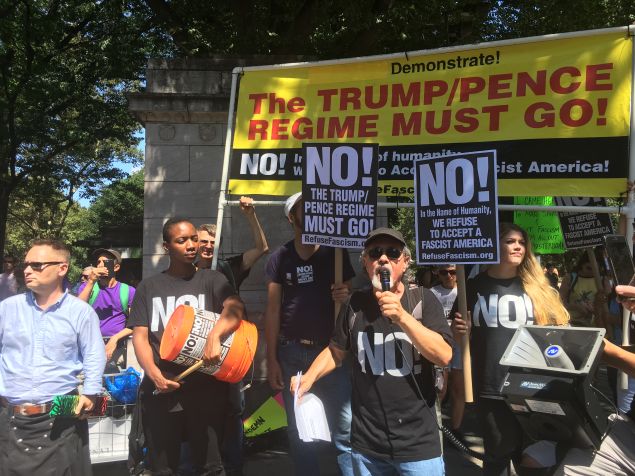 Activists took to the streets Sunday afternoon to denounce "racist thugs marching through the streets" following the deadly violence stemming from a white nationalist rally in Charlottesville, Va., over the weekend.
On Friday night, white nationalists marched through the University of Virginia's campus holding tiki torches and shouting "You will not replace us" and "blood and soil," a Nazi slogan. They surrounded counter-protesters and flung their torches at them.
The march took place in Charlottesville on the eve before white nationalist and alt-right groups held a "Unite the Right" rally to protest the city's decision to take down a statue of confederate General Robert E. Lee. James Alex Fields Jr., a 20-year-old Ohio resident, drove his car into a crowd of counter-protesters and killed 32-year-old Charlottesville resident Heather Heyer, while injuring at least 19 other individuals. His high school teacher said that he "was very big into Nazism" and "really bought into this white supremacist thing."
In a separate altercation, Deandre Harris, a 20-year-old who moved to Charlottesville from Suffolk, Va., in 2015 for a job at a local high school, was pummeled with a pole by a group of white protesters.
The New York City rally, hosted by the New York City chapter of activist group Refuse Fascism on Sunday, kicked off in Columbus Circle and concluded in Times Square after the organization was unable to access Trump Tower.
"We're out here to send a message to the world: we will not tolerate these racist thugs marching through the streets and terminating black people, Latino people, immigrants … and LGBT people," said Travis Morales, who sits on the steering committee of the New York City chapter of Refuse Fascism. "Is that the message we're sending to the world?"
Morales sharply criticized Trump because he "won't denounce or condemn these racist murderers."
"As you saw that car plowing into that crowd, if you were outraged and angry when you saw those bodies being thrown up in the air, were you screaming at the TV when you saw these racist thugs chanting 'Blood and soil,' which was a Nazi slogan, as they carried campaign signs in support of Trump as well as pro-Nazi slogans and signs, Confederate, KKK flags," Morales said. "If that angered you and you don't wanna see that this is the future of this country under a Trump-Pence regime, if you wanna see this not happen, then we gotta get serious. We gotta get organized."
The U.S. Department of Justice announced Saturday that it has started a civil rights investigation, and Virginia Gov. Terry McAuliffe called on white supremacists to "leave America."
Trump said that he denounced "in the strongest possible terms this egregious display of hatred, bigotry, and violence on many sides" — sparking criticism from Democrats and Republicans over the fact that he did not lay the blame exclusively on the white nationalists — and called for an end to "the hate and the division."
In response to the controversy, the White House later maintained that he "very strongly" denounces all types of violence, bigotry and hatred and said that that includes "white supremacists, KKK, neo-Nazi and all extremist groups."
As he recounted his experience in Charlottesville, Black Lives Matter of Greater New York President Hawk Newsome's voice was hoarse because he and other activists were pepper-sprayed and hit with tear gas. He told attendees to look behind them at the Trump supporters crashing their rally and pointed out that "standing directly behind them are police officers."
"You had people with AK-47s, M-16s and various assault rifles facing us peaceful protesters and all police officers were a block away," Newsome said. "You understand me? These people were about to crash with us. They were hitting us with bottles with cement in them."
"Find a group and get organized," he said. "We will win this fight but the only way that we will win is if we stand together. United we stand and divided we fall."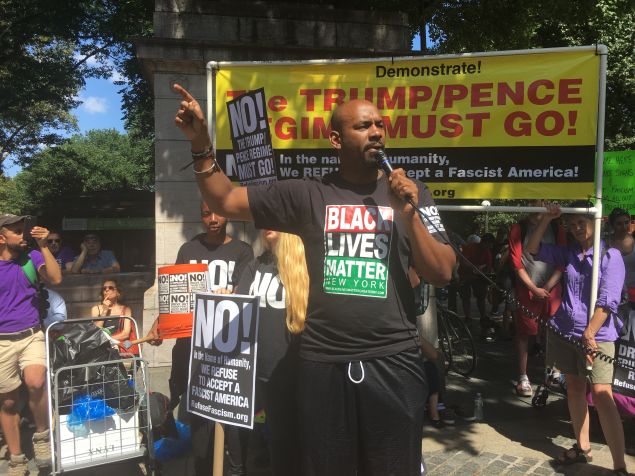 The Black Lives Matter leader charged that police officers were "actually happy that we were getting hit with rocks and sticks."
Jay Walker, who also sits on the steering committee of the New York chapter of Refuse Fascism, said that the white supremacy that was expressed "so publicly, so badly and so boldly" in Charlottesville is a "re-emergence of something that this country has not seen since the '60s."
Walker, who is black, grew up in southeastern Virginia — noting that Richmond was the capital of the confederacy — and recalled stories of Klansmen burning crosses in a field when he was growing up.
"They knew their place then, these Klansmen, these neo-Nazis," Walker said. "They knew that they were not accepted and acceptable in polite society. They knew that nobody but themselves wanted to hear their hatred, wanted to hear their nastiness, wanted to be around them at all."
He said that it should not be a surprise to anyone that they are coming out of the shadows given the manner in which Trump ran his campaign.
"His campaign appealed to white supremacists, to Klansmen, to Nazis, to xenophobes, to every single possible hate group that you can imagine and they spent a year and a half doing it," he said. "So is there any wonder there's a rise in hate crimes? Is there any wonder the Klansmen are walking around without their hoods on now?"
---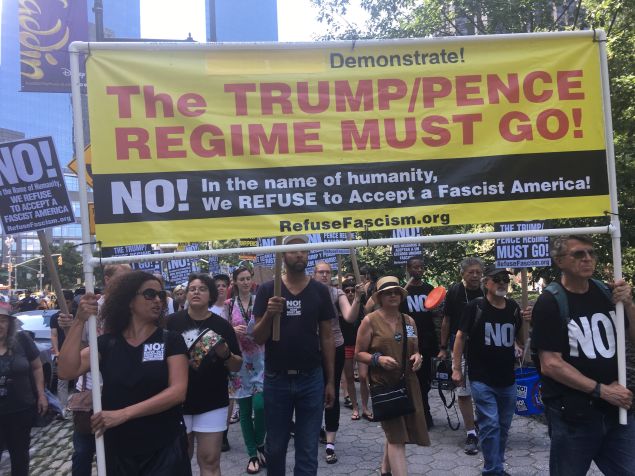 Gov. Andrew Cuomo launched a petition calling on Trump to clearly condemn and denounce white supremacy, while Mayor Bill de Blasio blasted the violence as an "act of domestic terrorism" and urged Trump to "condemn the white supremacist movement clearly" before marching in the Dominican Day Parade.