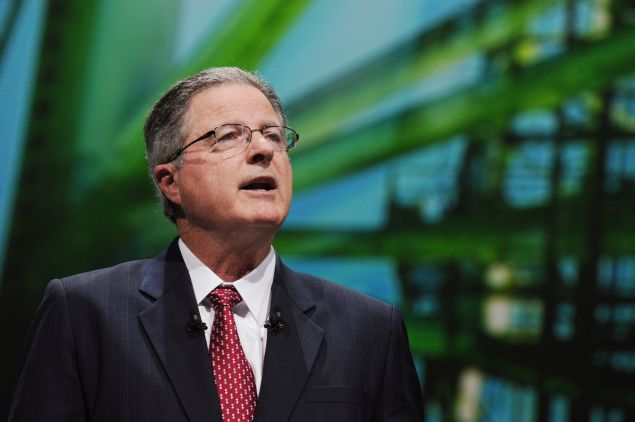 Chevron CEO John Watson is planning to step down, with an official announcement coming within the next month. To ensure an orderly transition, he will likely remain at the California-based oil giant until his successor is approved by the company's board, according to The Wall Street Journal. Company stock rose roughly 0.5 percent as a result of the news.
Watson joined Chevron as a financial analyst in 1980, and has been CEO and board chairman of the world's second largest oil company since 2010. The 60-year-old is leaving before the company's mandatory retirement age of 65 to make room for younger leaders, and according to Journal sources Watson's decision was not a surprise to the board.
Chevron's shareholder returns increased more than 80 percent with Watson at the helm—it reported $1.5 billion in earnings for the last quarter. The company also quit processing crude oil in western Europe and expanded demand centers in Asia and Latin America.
But thanks to rising oil prices, Watson's tenure had some costly missteps—two failed gas export projects in Australia cost Chevron and its partners almost $90 billion last year.
Watson also courted controversy with his stance on climate change—he believed it would be a good thing for Chevron, spurring more of the planet to use natural gas. He also opposed carbon taxes.
The leading candidate to succeed Watson is Chevron vice chairman Michael Wirth, a 56-year-old refining specialist who's been with the company since 1982. Board members reportedly want Wirth to cut costs and streamline operations at Chevron's large processing plants.
Chevron is staying tight-lipped about Watson's future—a company spokesperson told the Observer that "we do not comment on rumor or speculation."