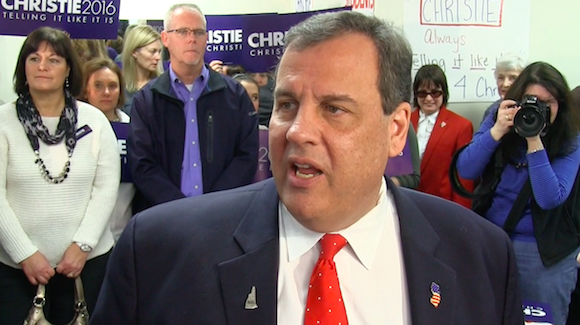 Gov. Chris Christie said he wouldn't have pardoned Sheriff Joe Arpaio of Arizona, who was convicted of criminal contempt for ignoring a court order to stop racially profiling and detaining Latinos, some of whom were U.S. citizens.
President Trump pardoned Arpaio on Friday, as Hurricane Harvey barreled toward Texas, a move that sparked controversy given Arpaio's record. Christie, a former U.S. attorney for New Jersey, did not delve deeply into the details of the case, saying only that Arpaio never expressed remorse for his actions.
"One of the prerequisites you look for in giving a pardon is contrition for what you were convicted of. I didn't see that in Sheriff Apraio," Christie said Wednesday on MSNBC's Morning Joe. "This is not one that I would do because of the person not seeming contrite for what he was convicted of."
As Harvey hammered Texas for the sixth straight day, Christie made the rounds on the cable news networks to play the role of natural disaster expert, calling on his experience as the governor who handled Superstorm Sandy in 2012 and its aftermath.
Christie made five appearances in two days on CNN, Fox News and MSNBC. He offered advice on how to recover from super storms and bashed U.S. Sen. Ted Cruz and other Texas lawmakers for voting against recovery funds in 2012 for New Jersey and New York.
"Let me be very clear about this: Senator Cruz was playing politics in 2012. He tried to make himself look like the biggest conservative," Christie said Wednesday on CNN's New Day.
Christie seemed to shoot down speculation that he would appoint himself to the Senate if Sen. Bob Menendez was forced to resign after his corruption trial.
"I don't see that happening," he told Fox News host Neil Cavuto on Tuesday. "I really do believe that some of us are built for executive positions and some of us are built for legislative positions, and I think I'm much more of an executive branch kind of guy."
That answer didn't stop Cavuto from accidently calling Christie a senator at the end of the interview. "You're getting me in trouble," the governor said.
He was asked again Wednesday on Morning Joe and didn't completely rule out the possibility. "I don't give Shermanesque statements on anything," he said.
Christie's handling of Sandy helped make him a darling of the Republican Party, lifting his approval ratings into the seventies and fueling speculation that he could one day be president. But his approval ratings are at historic lows now, and he was asked what his biggest mistake was as governor.
"Hiring the people who pulled the shenanigans at the bridge. That was my biggest mistake," he said, referring to the infamous 2013 Bridgegate scandal that dogged his administration and doomed his political ambition.
Christie said he felt sympathy for his former aides — Bridget Anne Kelly and Bill Baroni — who have been sentenced to prison for their roles in the George Washington Bridge scandal.
"How can you not feel sympathy for a woman who's a single mother with four children who is going to have to go to prison? I wouldn't want to see that happen to anyone," Christie said. "But I will also tell you that I am to this day still incensed at people who would use pubic power, public authority that was given to them by someone who was elected by the people to conduct themselves in that way."