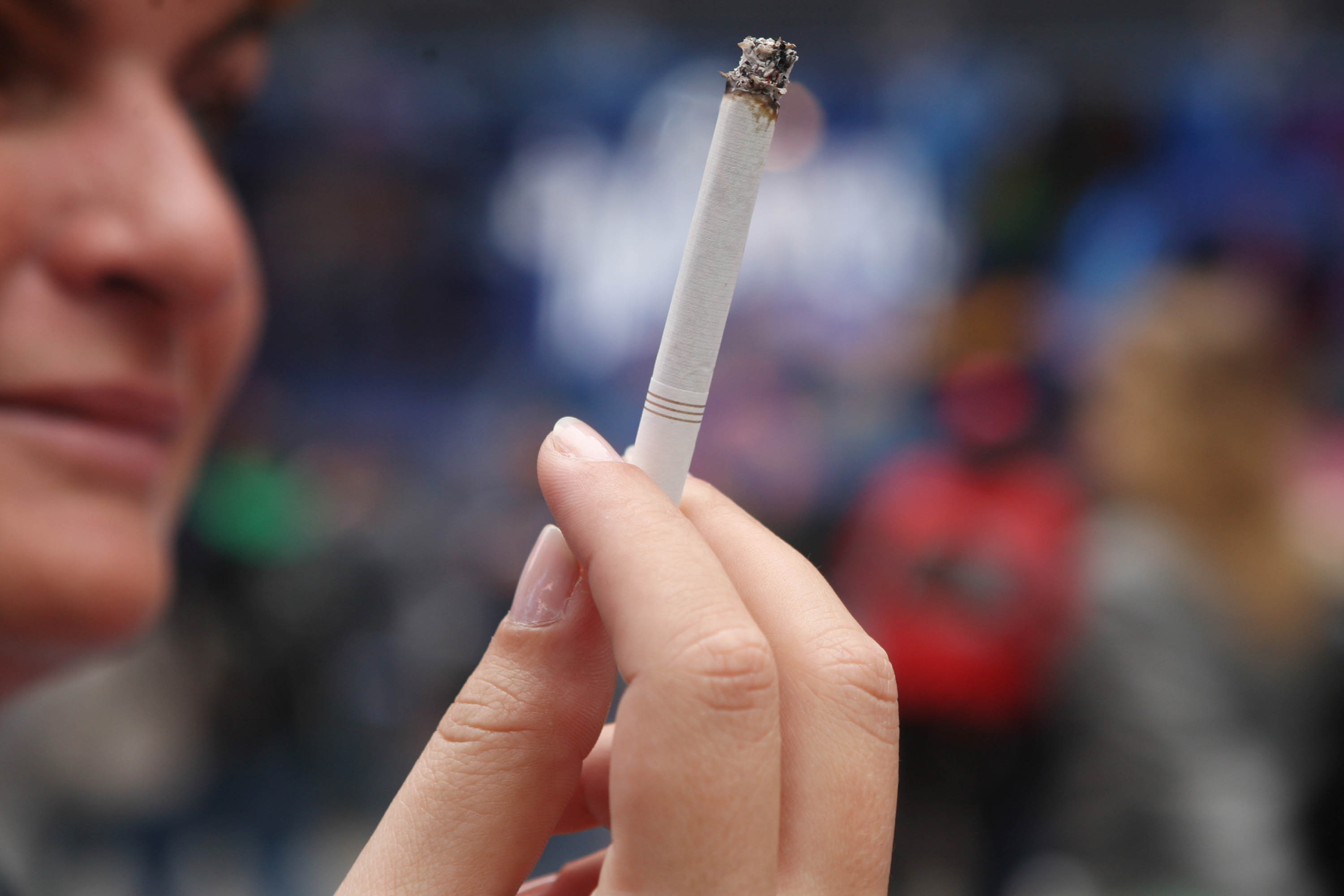 New Jersey towns would be allowed to make smoking in public a civil offense instead of a disorderly person's charge, which carries a penalty of up to 30 days in prison and a fine of up to $200, under a bill signed by Gov. Chris Christie on Monday.
Municipalities can now adopt ordinances to reduce the penalty to a fine of up to $200, removing the possibility of jail time and a criminal record that can harm a person's job prospects.
"Criminal penalties can be time-consuming, costly and can create a host of unintended consequences," state Sen. Bob Gordon (D-Bergen), a bill sponsor, said in a statement. "Municipalities want to have strong laws in place that deter smoking in public places, but they also want the option to levy penalties that don't unduly punish a violator."
The bill was one of 50 signed by Christie on Monday before he heads overseas for a family vacation. The governor conditionally vetoed one bill that would require colleges to increase transparency of student tuition and fee costs.
Christie signed a bill to criminalize "flakka," a cheap synthetic drug that's been associated with violent behavior in recent years. Under the legislation (A2176), those convicted of possessing, selling or manufacturing more than an ounce of the drug can face five to 10 years in prison and a $150,000 fine. Violators caught with less than an ounce could get three to five years of jail time and a $15,000 fine.
Flakka, or alpha-pyrrolidinopentiophenone, is considered a close cousin to the synthetic drug known as "bath salts" and has been tied to death, paranoia and violence, according to a news release from Assembly Democrats.
"Flakka has been linked to a number of psychotic symptoms and violent attacks, threatening the safety of communities across the nation," Assemblyman Adam Taliaferro (D-Gloucester), a bill sponsor, said in a statement. "With this law, New Jersey will be proactive about preventing this dangerous drug from taking over in our state."
Incredibly, New Jersey is now officially the "Garden State" under another bill signed by Christie. The law (A3427) makes the well-known New Jersey nickname the state's slogan.
The phrase dates to 1876, when a Cherry Hill farm owner named Abraham Browning referred to New Jersey as the "Garden State" during the Philadelphia Centennial exhibition to describe the state's geographical and agricultural relationship with New York and Pennsylvania, according to the bill statement. A 1954 state law required "Garden State" to be imprinted on every New Jersey license plate.
Christie signed a bill to allow more victims and witnesses of sex crimes to testify in court through closed circuit television. The new law (S1326) removes an age restriction that let only those 16 and younger testify via CCTV during certain sexual assault, child abuse or domestic violence cases. The remote broadcasts allow witnesses to testify without having to see or hear the defendant during the proceeding.
"Allowing more survivors and witnesses of sex crimes to utilize CCTV is critical to reducing the number of cases that go unreported every year," Sen. Steven Oroho (R-Sussex), a bill sponsor, said in a statement. "Everyone who has endured such a traumatic experience should have the opportunity to testify without fear of retribution. Age shouldn't stand in the way."
And Christie signed a bill that would give him greater power over the New York Harbor Waterfront Commission, if New York lawmakers go along with the plan. The bill (S3074) would give governors of both states authority to block actions taken by the commission, a bi-state agency that combats corruption at the ports. Under the bill, the governors would have 10 days to veto minutes from the commission's meetings and would have authority to approve or reject new regulations and retention agreements. The law must still be enacted in New York to take effect.
Christie said the commission needs to "modernize its practices" and accused the agency of allowing "brief but damaging labor shortages" at the ports in a letter he sent to commission Executive Director Walter Arsenault.
"This measure ensures the commission continues to effectively carry out its important investigation and licensing responsibilities with appropriate independence, and is more accountable," Christie wrote.
State Sen. Ray Lesniak (D-Union) sponsored the bill and said gubernatorial oversight was needed so the commission doesn't "abuse their powers."
"This is an agency that has operated independently for far too long and this law is long overdue," he said in a statement.