So imagine working on a road crew in the summer, driving around the state patching potholes and painting lines on highways. It has to be on of the roughest jobs out there, but your boss comes up to you and says, "We've got a job for you where you get to sit in the air conditioned truck cabin all day. All you have to do is drive slowly."
So then you say, "Sounds great. What's my truck doing?"
"Oh, it's really easy," your boss says. "It's just there to take the hit if a semi comes around the bend going 75 miles per hour and doesn't slow down as it approaches our road crew running about 60 miles per hour slower."
Does that seem like a crazy job? Maybe so, but this is real work that real human beings have in the real world. According to the Department of Transportation, work zone crashes have been on the rise, with more than 9,000 in 2015.
"Just in the last four years, there have been 26 incidents where a member of the traveling public struck a CDOT impact protection vehicle—that's almost seven per year," Shailen Bhatt, CDOT's executive director, said in a press release. "This is a dangerously high number when you consider that in some instances, a CDOT employee is sitting in the driver's seat of the vehicle that was hit."
If ever a job were ripe to be stolen by a robot, this is one. Colorado recently demo'ed a self-driving system built so that no human has to sit inside the truck built to absorb collisions. The truck mounted attenuator (also known as a crash truck) will very precisely follow a work zone vehicle. By running driverless, the robot crash truck protects people riding in the lead vehicle without putting any human beings in danger.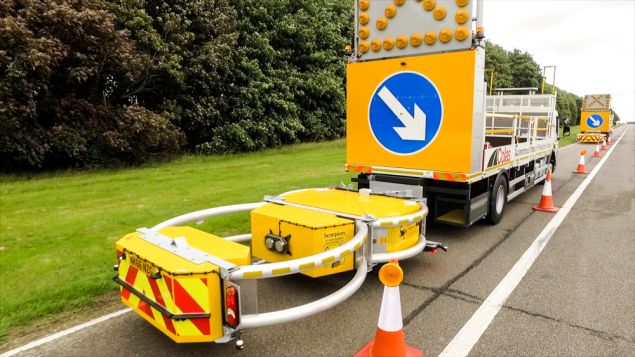 Colorado has released a video of the first public demonstration drive. The demonstration took place in Fort Collins (home of Colorado State), during a real operation where a road crew repainted lines on a segment of road while the crash truck followed along. The video is shot from above at a distance, so viewers can see the lines on the road getting brighter as the paint truck drives by. Inside the cab of the following truck, it's clear that there is no one in there.
The self-driving system has some other advantages over a human operator. It uses an extremely precise GPS system designed to match the lead vehicle's route within 4 inches. This is important because drives are insane people. As CDOT personnel explain in the video, when a following crash truck lets too much space open up between it and the working vehicle, drivers will sometimes slip in between them in order to pass both in oncoming traffic. Keeping that distance as tight as is safely feasible should discourage this behavior.
Second, in a collision, the truck needs to stop as quickly as possible. If it's hit hard, it's important that the brakes are applied quickly to help prevent it from slamming into the vehicle with the workers. A self-driving system will have better reaction times in such a situation than a human.
The truck is also equipped with camera and speed detection technology so it will have an accurate record of events leading up to any collisions. Crew in the lead vehicle also have access to data about the robot truck's performance and remote controls in case of emergency operations.
When we spoke to CDOT for our recent investigation into rules around testing autonomous vehicles, a spokesperson expressed enthusiasm for the industry. EasyMile, one of the leaders in the autonomous trolley industry, set up its U.S. HQ in Denver this month, according to the Denver Post.
Colorado claims that this is the first live demonstration of one of the vehicles on an active road during a real operation. No details have been released yet about how many of these trucks are in operation in the state or a timeline for completely automating this role. The autonomous impact protection vehicle truck is a project of CDOT's technology project, RoadX. The truck was built in collaboration with Colas UK (which has been testing this technology), Royal Truck & Equipment (which built the truck), and Kratos Defense (which enabled autonomous functions).
Up to this point, Kratos has specialized in building autonomous systems for combat situations in order to minimize risk for the armed forces. This is a new direction for the company, but the same principle applies: taking workers out of harms way.
Good jobs are tough to come by, especially for blue collar workers, but this seems like one gig that everyone can agree is better taken off the payroll.