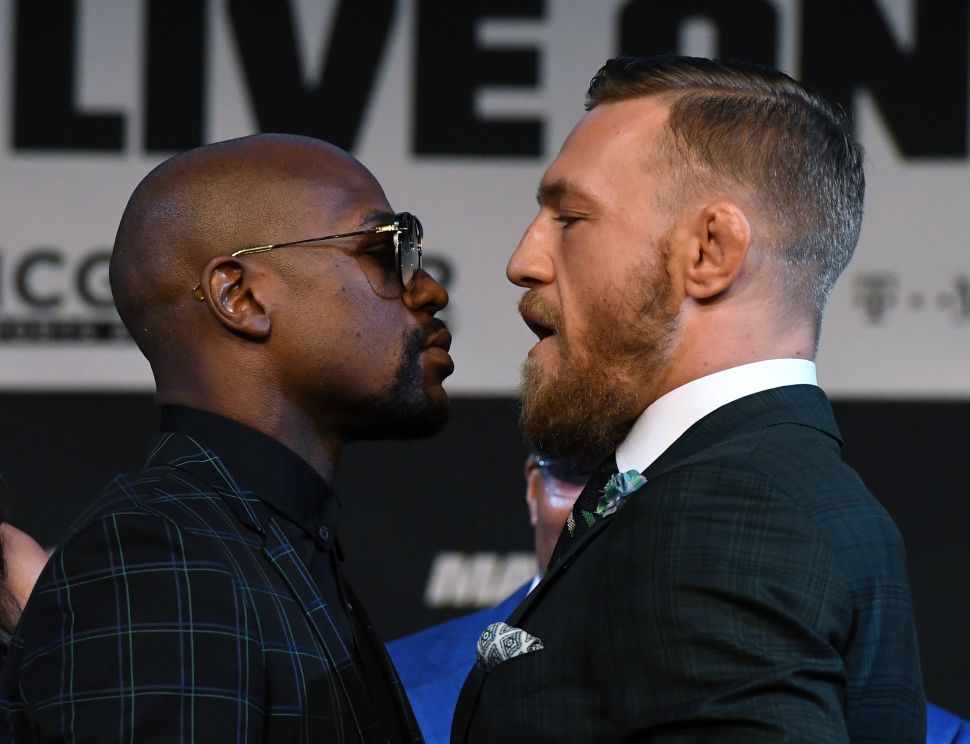 No, Saturday's fight between Floyd Mayweather and Conor McGregor isn't going to save boxing or destroy Mixed Martial Arts, but it is going to make an earth-shattering amount of money for a pay-per-view fight event. Deadline is reporting that the bout is projected to generate $700 million worldwide based on its $99.95 rental fee.
To put that astronomical number in perspective, the 2015 fight between Mayweather and Manny Pacquiao generated a staggering 4.6 million U.S. buys for a then-unheard-of $460 million domestic and $600 million total, per Deadline. Put another way: If the fight reaches the $700 million mark, it would be the ninth highest-grossing film of 2017 so far, according to Box Office Mojo. Some aggressive industry insiders are even whispering about the $1 billion threshold.
Despite the fact that McGregor, 29, has never competed in a single professional boxing bout, his contest with Mayweather, 40, is considered a superfight for the ages. We guess that's just what happens when the two-division UFC champion takes on the undefeated 11-time world boxing champ. Mayweather has the experience and technical advantage, though he is coming off a two-year layoff. McGregor has age and size on his side.
So how much money is each fighter earning for this spectacle? The exact figures are unknown as they depend on PPV buys, ticket sales and sponsorships. But Mayweather is expected to top the reported $100 million he earned in the Pacquiao bout while McGregor should pocket $50 million to $70 million, per Deadline. Estimated ticket venue sales for the fight are expected to top $90 million, easily besting the $72 million made by Mayweather-Pacquiao. The biggest ticket sales a McGregor UFC fight generated was just under $18 million when he defeated Eddie Alvarez to become the lightweight champion at UFC 205.
While boxing has been struggling along over the last decade-plus, MMA and specifically the UFC have been enjoying a meteoric rise. Last year, WME-IMG purchased the UFC for $1 billion while Mayweather's most recent fight against Andre Berto sold just 550,000 PPV buys for an estimated $38 million. The hope is that this fiasco of fists helps both sports.